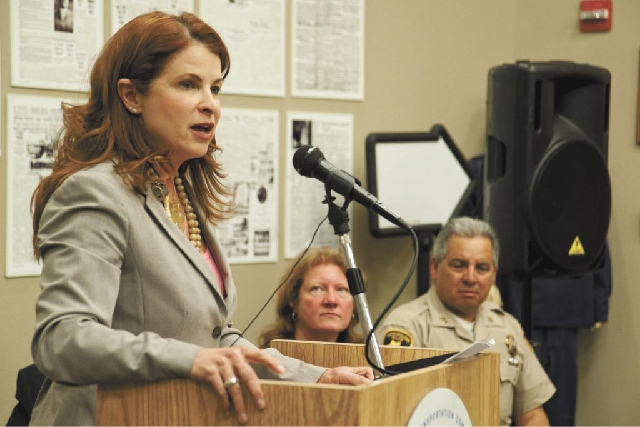 Flashing yellow left-turn arrows have been popping up at intersections all over town the past three-plus years, and more are on their way.
Designed to make traffic flow more smoothly, the lights require drivers to yield to oncoming traffic when they're flashing yellow. The lights then turn solid yellow and then red, just as other stoplights do.
State and local officials touted the new traffic lights on Tuesday, marking the halfway point of installing about 400 of them throughout the valley.
They said the lights, which are paid for primarily through a $4 million federal program funneled through the Nevada Department of Transportation, are safer and reduce congestion.
The first one was installed in 2009 in downtown Henderson, at the intersection of Van Wagenen Street and Pacific Avenue.
Debra March, a Henderson council member who is also a member of the Regional Transportation Commission, said data the city has collected show the new lights reduce crashes.
She said in the first four months of 2012, there were 35 crashes because of someone failing to yield while making a left turn.
In the last four months of 2012, after many of the lights had been installed, there were 28 crashes for the same reason, a 20 percent reduction.
Data from Clark County offer similar results. A sampling of several intersections showed a reduction from 19 crashes to six. A 10-year study by the Federal Highway Administration showed they reduce crashes, too.
The lights are gaining popularity nationwide, with 43 states having installed them.
The RTC is working with the state, Clark County and the cities to determine where the lights should be installed.
So far, more than 200 have been installed, and another 189 are planned throughout the valley.
The lights cost about $26,000 each, and though they're paid for mostly with federal money, it is the local agency's responsibility to maintain them.
Contact reporter Richard Lake at rlake@reviewjournal.com or 702-383-0307.