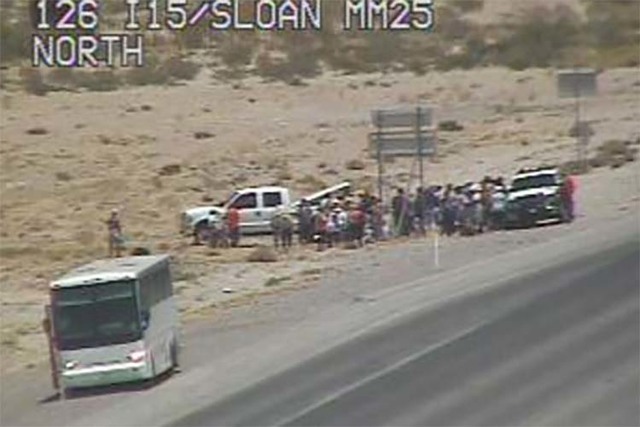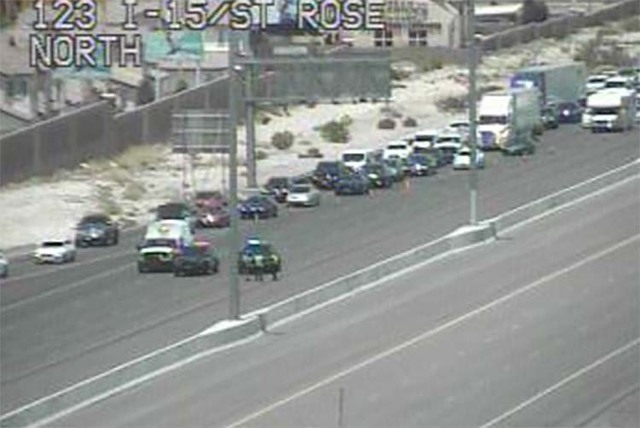 Interstate 15 has reopened after a false bomb threat forced its closure for about an hour Wednesday south of Las Vegas.
The freeway reopened about 1:10 p.m., according to the Regional Transportation Commission.
A passenger on a Silver Line tour bus called his grandmother to report that another person on the bus would not let people off and claimed to have a bomb, Nevada Highway Patrol trooper Jason Buratczuk said.
Traffic was diverted to St. Rose Parkway during the closure.
The grandmother notified local authorities. Authorities arrived at the bus, which had pulled off to the side of the southbound lanes of I-15 near mile marker 26. Troopers were able to get everyone off the bus, according to NHP.
The person claiming to have a bomb was taken into custody, and Metro's armor division declared the bus safe. No device was found, Buratczuk said.
The person in custody is being questioned by the Bureau of Alcohol, Tobacco, Firearms and Explosives, the FBI, and local authorities.
Medical personnel were on scene to assist with heat-related injuries. The National Weather Service reported that the temperature was 103 degrees near Sloan.
Another bus was headed to the location to pick up the passengers, Buratczuk said.
A white pickup could be seen near the group of people, and it appeared to have delivered a canopy to provide shade.
Review-Journal reporter Christian Bertolaccini contributed to this story. Contact Lawren Linehan at llinehan@reviewjournal.com or at 702-383-0381. Find @lawrenlinehan on Twitter.