Las Vegas drivers getting through Day 1 of 'Big Squeeze' — TIME LAPSE
Updated March 21, 2017 - 2:59 pm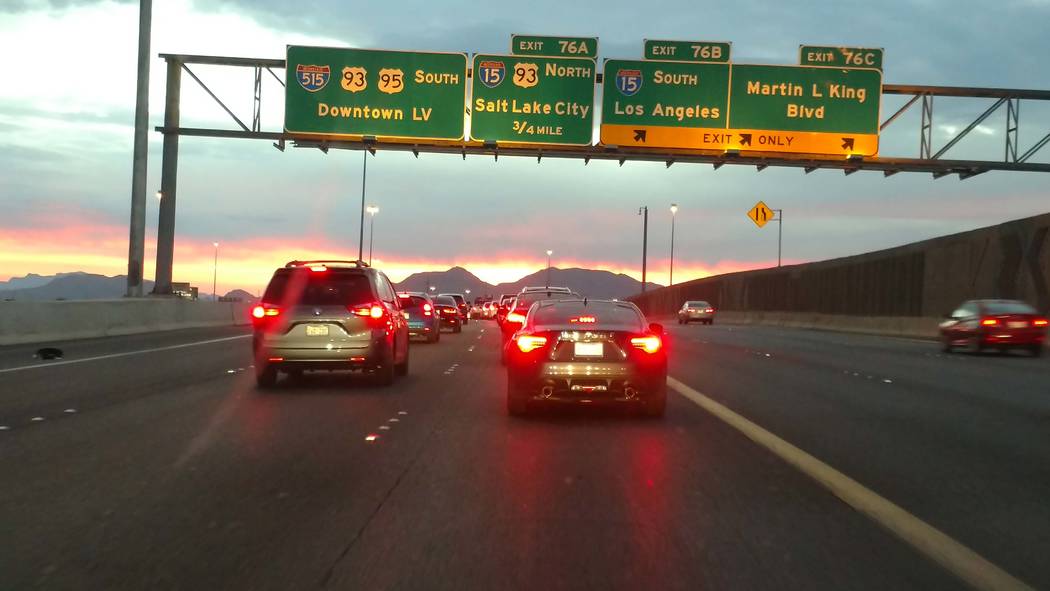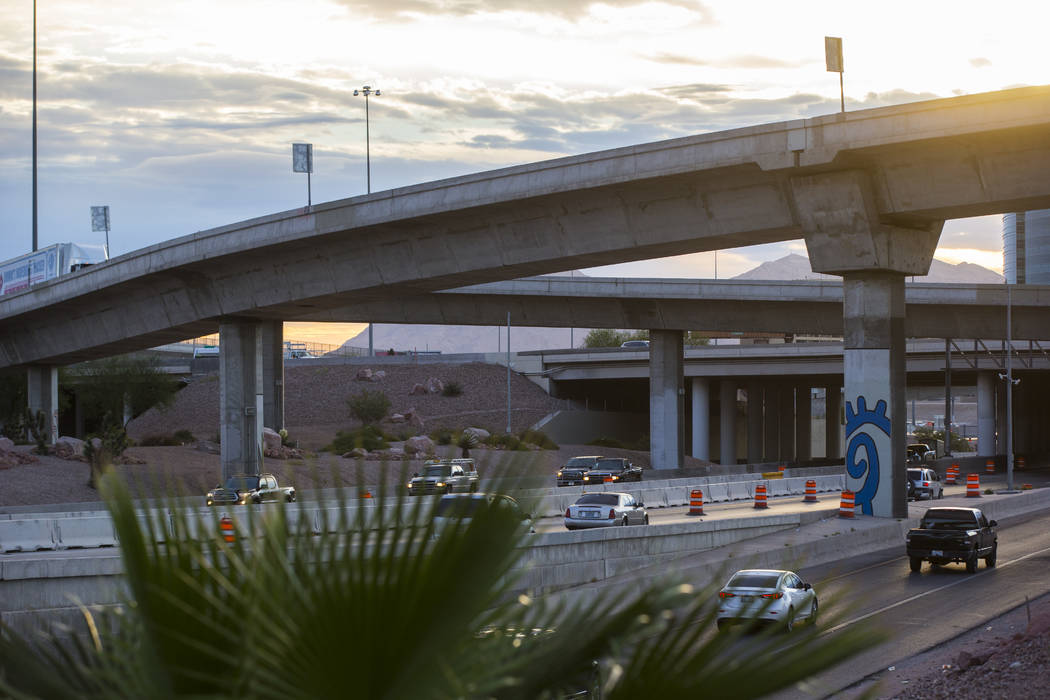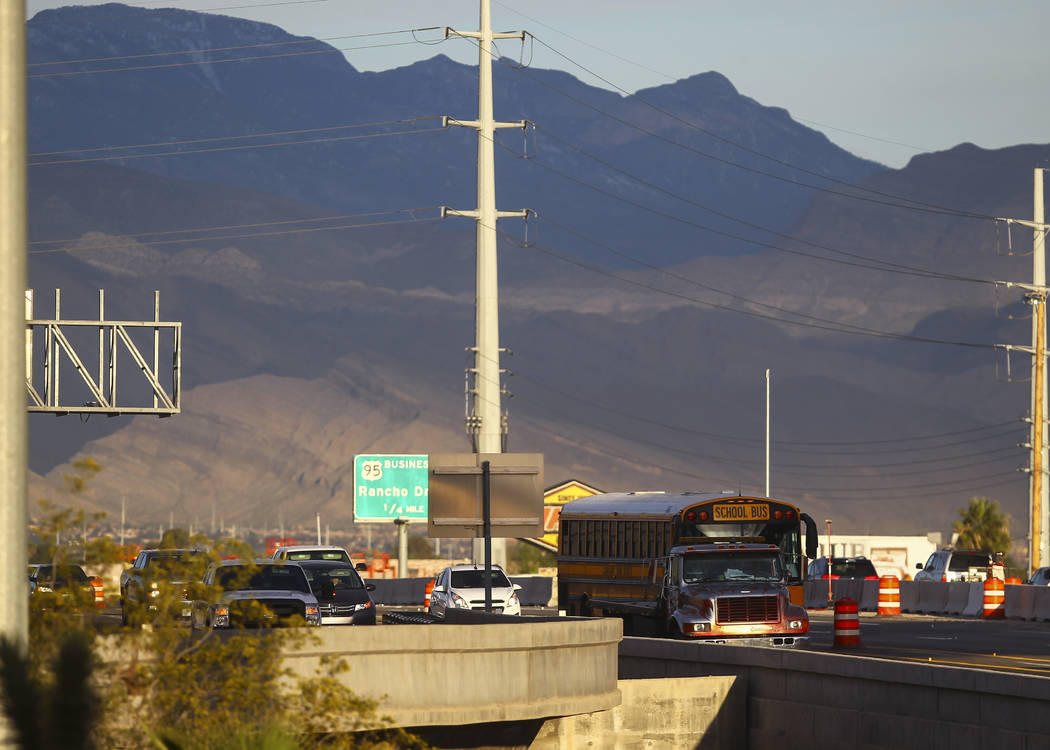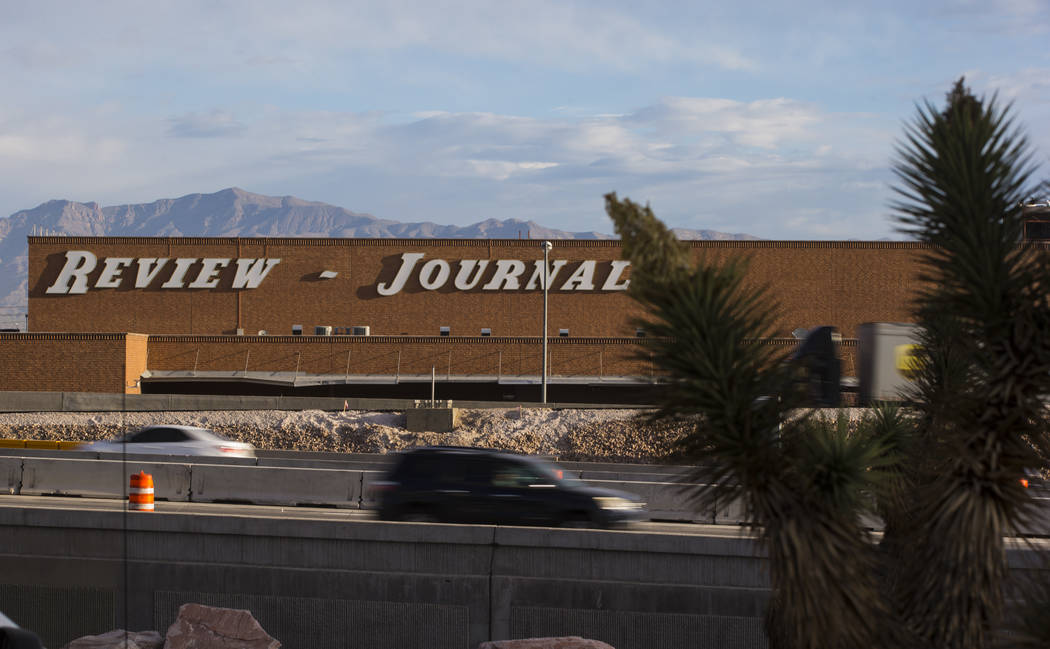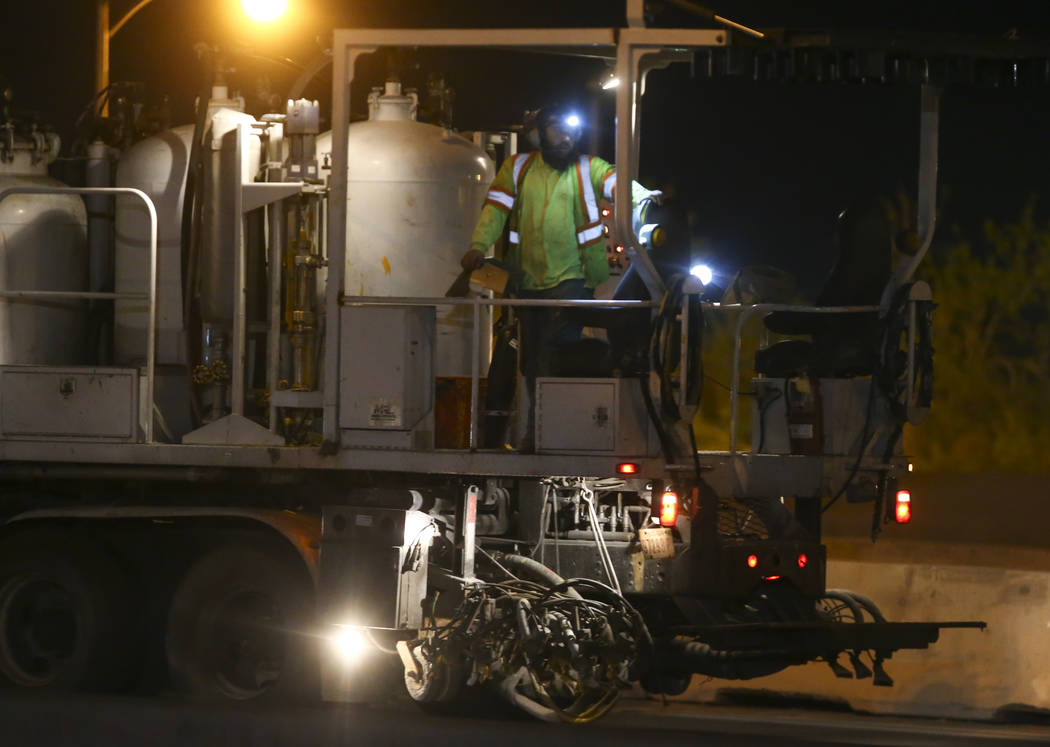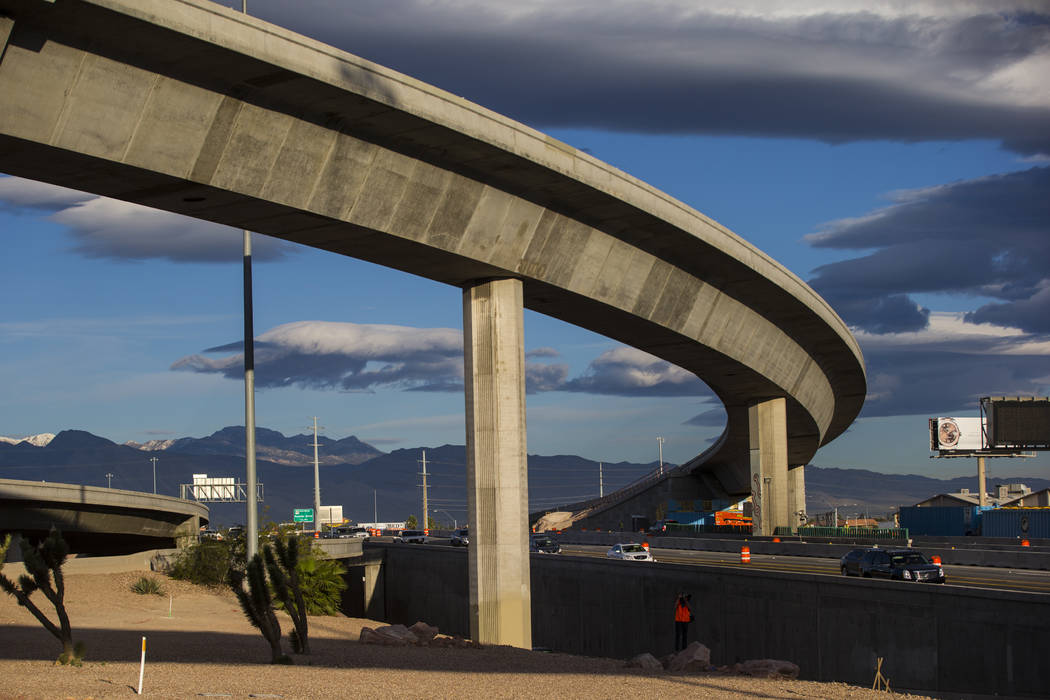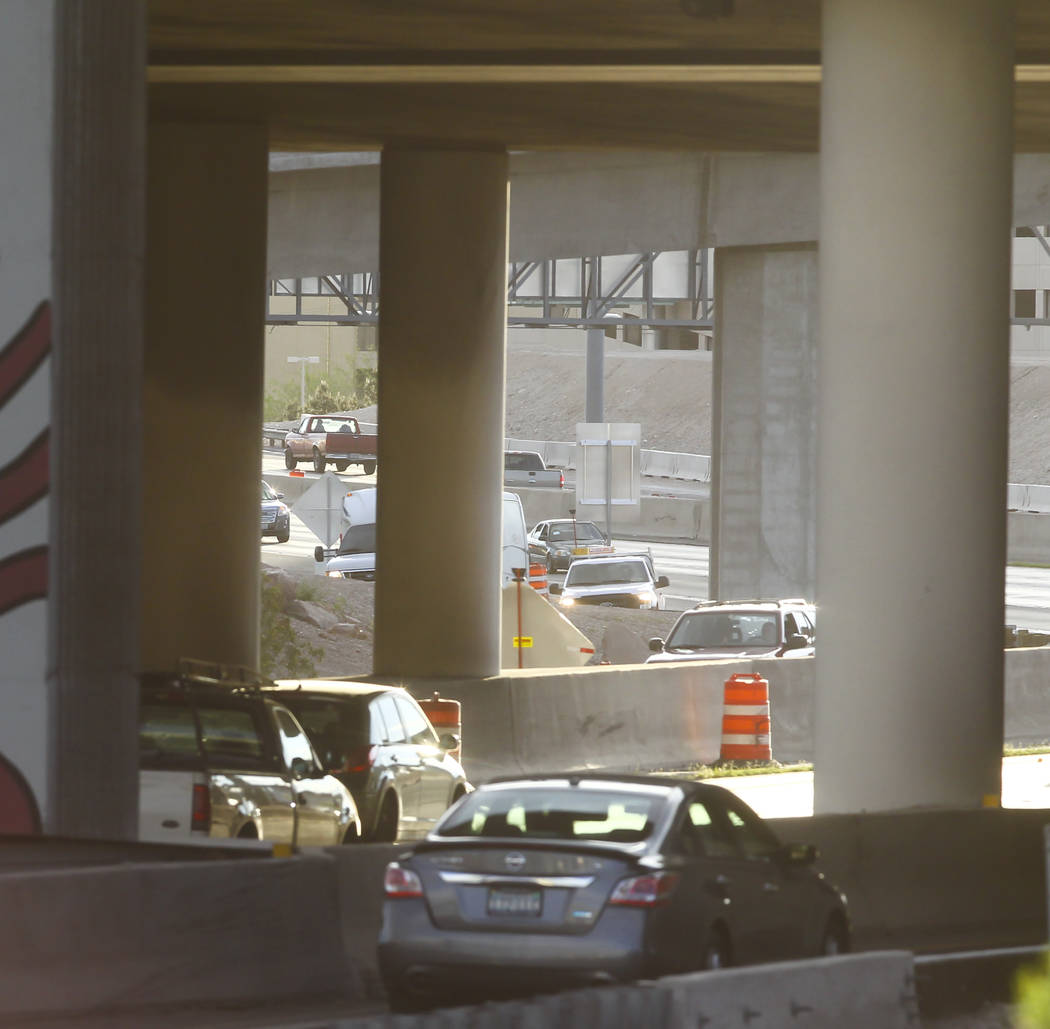 Despite the anticipated traffic jams and a handful of crashes, motorists on Tuesday appeared to embrace "The Big Squeeze" during the first morning commute involving lane closures on U.S. Highway 95, local transportation officials said.
But it's just the first day of a lengthy project affecting roughly 219,000 vehicles daily.
Over the next 10 months, thousands of drivers are losing a mile-long stretch of traffic lane in each direction of the highway between Rancho Drive to just east of Interstate 15 near downtown Las Vegas.
"Consequently, the first few days of new lane changes are always the toughest," said Tony Illia, a spokesman for the Nevada Department of Transportation.
"Motorists must learn a new configuration, gauging its effectiveness, and possibly alter commute routes," Illia said. "However, we feel that motorists responded positively to the lanes changes."
Northbound traffic on U.S. 95 was jammed well past Eastern Avenue during peak travel times, while southbound lanes were backed up to Valley View Boulevard.
Near the construction zone, two crashes reported along southbound U.S. 95 at Valley View brought some delays, causing backups to Decatur Boulevard, said Angela Castro, a spokeswoman for the Regional Transportation Commission of Southern Nevada. Traffic delays started about 30 minutes earlier than usual during the morning commute on the northbound U.S. 95 near Charleston Boulevard and lasted roughly 30 minutes later than normal.
"Although traffic congestion began earlier and lasted longer than normal, backups were not as bad as anticipated," Illia said.
Commuters attempted to take alternate routes during the Tuesday morning commute, creating unusually heavy traffic as far south as the 215 Beltway near Henderson and McCarran International Airport. In the Green Valley area, vehicles were backed up between the Airport Connector and Stephanie Street, presumably because "drivers may have been avoiding the Big Squeeze by using the Southern Beltway," Castro said.
Traditional alternate routes closer to downtown Las Vegas led to major back-ups on Rancho Drive, Decatur Boulevard, Valley View, Washington Avenue, Bonanza Road and Martin Luther King Boulevard. Rancho, Decatur and Valley View were on the list of alternate street routes suggested by NDOT, along with Las Vegas Boulevard and Eastern Avenue.
"Overall, it looks like a smooth morning," Castro said.
To help keep traffic moving on U.S. 95, NDOT is asking drivers to practice "zipper merging" rather than merging early. The practice encourages motorists to use both lanes up to the point where they converge, then alternate turns.
The message didn't quite appear to resonate with motorists on Tuesday. Some significant problems were reported with vehicles slamming on their brakes and forcing their way into the left lanes at the Spaghetti Bowl.
NDOT officials said initial feedback on zipper merging was positive so far, but acknowledged that it may take some time for drivers to adjust.
The "Big Squeeze" tightened its grip on Las Vegas motorists Monday night, when crews placed orange cones and barriers to gradually close traffic lanes on U.S. 95.
For the next 10 months, crews will split the northbound and southbound lanes of U.S. 95 by 70 feet, creating enough room to build a 81-foot-tall flyover ramp for high-occupancy vehicles.
Lane closures will shift during various phases of construction. When completed, the carpool ramps will connect southbound U.S. 95 to southbound I-15 and northbound I-15 to northbound U.S. 95.
The work falls under the larger umbrella of Project Neon, a $1 billion effort to redesign and add traffic lanes along I-15 from the U.S. 95 interchange to Sahara Avenue by fall 2019. A third, yet-to-be-named closure is anticipated in 2018.
The RTC and NDOT will monitor 118 signals on 14 major roadways surrounding the Spaghetti Bowl interchange as drivers seek alternate routes, Castro said.
Fifty-four cameras mounted on traffic signals will be focused on those streets, with live footage beamed to the RTC's traffic management center. From there, workers will make real-time adjustments to signals, depending on the ebb and flow of traffic.
Through January, motorists can expect to see periodic closures along nearby freeway ramps and surface streets, starting with the northbound U.S. 95 exit ramp to Rancho Drive from Thursday to June 21.
Additionally, the on-ramp and off-ramp connecting Martin Luther King Boulevard and northbound U.S. 95 will close from 10 p.m. Friday to 5 a.m. Monday. During that same time, Martin Luther King Boulevard will be closed in both directions between Bonanza Road and U.S. 95 for bridge demolition.
Review-Journal staff writer Mark Davis contributed to this story. Contact Art Marroquin at amarroquin@reviewjournal.com or 702-383-0336. Follow @AMarroquin_LV on Twitter.