Marathon to force road closures along Strip, downtown this weekend
Updated November 9, 2018 - 9:04 pm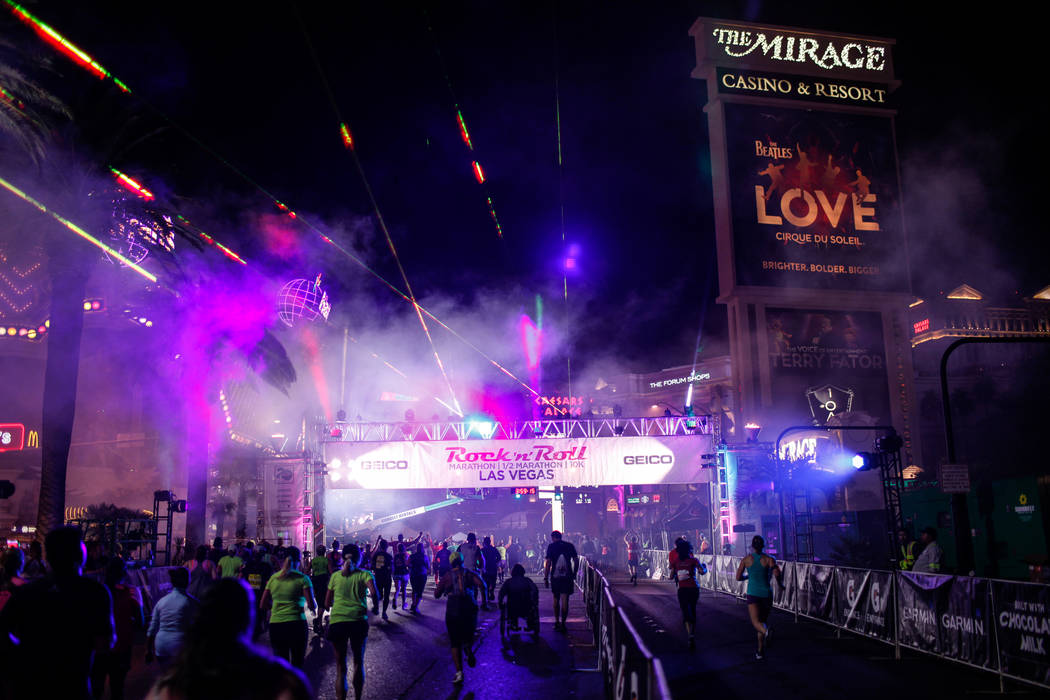 The Rock 'n' Roll Las Vegas Marathon will cause road closures throughout the weekend on Las Vegas Boulevard, at Interstate 15 exit ramps and downtown.
The main closures on Sunday will start as early as 9 a.m. at the Strip, according to the marathon's website. Drivers on I-15 will be unable to use eastbound exit ramps from Charleston Boulevard to Russell Road from 2:30 p.m. to 10:30 p.m. Sunday, the Nevada Highway Patrol said.
Las Vegas Boulevard will be closed most of Sunday from Sunset Road to Ogden Avenue, with sections of the road open to traffic at different times, according to the marathon's website.
Saturday road closures
Road closures Saturday will last from about 4:30 p.m. to 9 p.m. near the Strip and will include both directions of West Resorts World Drive, northbound on Sammy Davis Jr. Drive and eastbound on Bridge Lane. Different sections of the roads will reopen to drivers earlier in the night.
Sunday Strip road closures
Drivers should expect Las Vegas Boulevard to be shut down from downtown to Sunset throughout the day Sunday, Metro said.
The longest road closure will be from 9 a.m. Sunday to 2 a.m. Monday on Las Vegas Boulevard southbound from Spring Mountain Road to Flamingo Road. The northbound section will be closed from 2:30 p.m. to 11:30 p.m.
Both directions of Las Vegas Boulevard from Sunset to Harmon Avenue will be closed from 3:30 p.m. to 8 p.m., though closure of the northbound lanes will start an hour earlier.
Sunday downtown road closures
Las Vegas Boulevard going north into downtown will be closed from Spring Mountain Road to Ogden Street from 2:30 p.m. to about 9 p.m., with St. Louis Avenue to Ogden remaining closed until 9:30 p.m.
Entire sections in both directions of Carson Avenue, Seventh Street, Fremont Street, Main Street, Oakey Boulevard, Casino Center, Utah Avenue, Third Street, Colorado Avenue, Fourth Street, Bridger Avenue, Clark Avenue and Bonneville Avenue will be closed at different times from about 2:30 p.m. to 10 p.m.
Veterans Day downtown closures
In addition to the racing events, the Veterans Day Parade will close streets even earlier in downtown Sunday. Closures of Fourth Street between Ogden and Coolidge Avenue will begin at 7 a.m., and sections of Ogden near Fourth Street will be closed for the parade, which starts at 10 a.m., according to the city of Las Vegas.
Katelyn Newberg Las Vegas Review-Journal