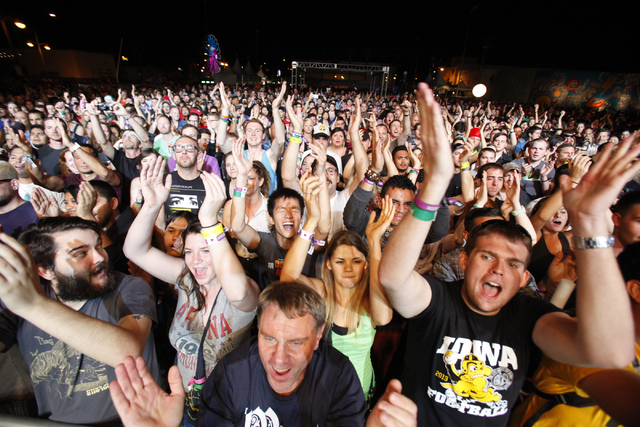 Life will be beautiful in downtown Las Vegas for the three-day Life Is Beautiful music, food and art festival later this week, but it might not be too pretty for motorists using city streets.
To prepare for the event, which runs Friday to Oct. 26, streets and alleys will begin closing today, continuing through Oct. 26. As organizers close down the festival grounds, which cover portions of 15 city blocks, some streets will remain closed Oct. 27-28 with all streets scheduled to be reopened by Oct. 29, just in time for Oct. 31's Nevada Day and Halloween parades.
A series of closures to prepare festival grounds begins today. The city of Las Vegas said portions of downtown bordered by Las Vegas Boulevard to the west, Carson Avenue to the south, 10th Street to the east and Mesquite Avenue to the north would be affected and streets and businesses outside that perimeter would be open and accessible.
The city already has closed 10th Street between Carson and Fremont.
Beginning today, these streets will be closed: Eighth Street between Carson and Fremont, Ninth Street between Carson and Ogden avenues, 10th Street between Fremont and Ogden, Ogden between Ninth and the alleys between 10th and 11th streets and the north-south alley between 10th and 11th.
On Monday, Stewart Avenue will be closed between Sixth and Seventh streets.
On Tuesday, these streets will be closed: Seventh Street between Carson and Fremont and Ogden and Stewart, Sixth Street between Ogden and Stewart, the north half of Ogden from east of Las Vegas Boulevard to Seventh and the north half of Stewart from Las Vegas Boulevard to Sixth.
On Wednesday, these streets will close: Fremont between Sixth and 10th, Seventh between Fremont and Ogden, Eighth between Fremont and Stewart, Ogden and Stewart between Seventh and Eighth, and Carson between Sixth and Eighth.
On Friday, the first day of the festival, just after midnight, these streets will be closed through midnight on Oct. 26: Fremont from Las Vegas Boulevard to Sixth, Sixth between Bridger and Ogden avenues, and Seventh, Eighth and Ninth between Bridger and Carson.
In addition, Las Vegas Boulevard will be partially closed at times between Stewart and Carson at the end of each night during the festival.
Tickets are still available for Life Is Beautiful with daily general admission $105 or $250 for a three-day pass. VIP tickets are $250 a day or $595 for a three-day pass.
More than 70 performers on four stages and dozens of artists, chefs and guest speakers are scheduled at this year's event. More than 60,000 people attended the inaugural Life Is Beautiful festival last year.
Contact Richard N. Velotta at rvelotta@reviewjournal.com or 702-477-3893. Find him on Twitter: @RickVelotta