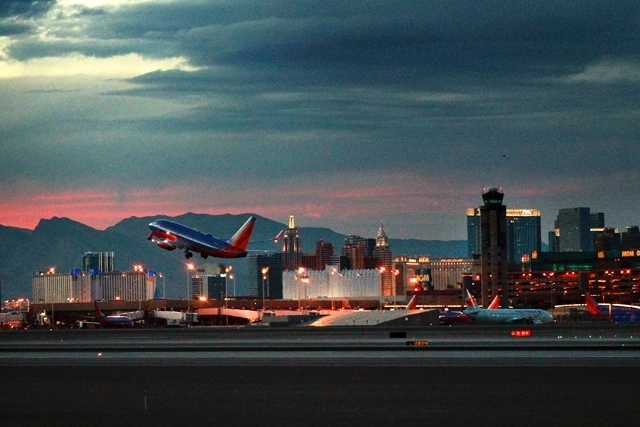 It's how whales fly.
Your jet pulls up to a hangar, and you have no worries about elbowing your way to the baggage carousel, whether a taxi driver will take the long way to the Strip or whether you'll have to go through a body scanner on the way home. Oh, and in-flight meals and drinks don't cost extra.
That's the experience with the new Las Vegas Sands Corp. terminal on the west side of McCarran International Airport, at least for those who add enough zeroes to their wagering. The company held a soiree in June for a select group — reporters not invited — to tantalize people with the possibility of avoiding steerage class on the airlines.
What it looks like in the nonutility areas we're not sure. Mahogany and marble? Upper-end Ikea? Something in between? The company gave no details.
According to the ground lease the company's Sands Aviation subsidiary signed with the Clark County Department of Aviation two years ago, the project included 343,000 square feet. Since rent collection started in April, an airport spokeswoman said, the terminal was finished on schedule in March.
The lease called for another 227,000 square feet to be tacked on by September 2014.
This amounts to a convenience store compared with Signature Flight support, which has leased 3.7 million square feet to cover a wide range of private planes. However, Sands has gunned the afterburners compared with Strip rivals; the Caesars Entertainment Corp. has its own hangar — 96,000 square feet — for its planes, while Wynn Resorts Ltd. and MGM Resorts International take space in others' facilities.
The Sands terminal now houses a 12-plane air force, ranging from an eight-seat Hawker 800XP to the compact version of the Boeing 747, the company's proxy statement shows. Management believes, the proxy states, that the planes "provide the company with a significant competitive advantage in attracting customers to the company's properties." And, by the way, the company thinks they are nicer than what you can get from a ho-hum regular charter.
The company pays entities controlled by Chairman and CEO Sheldon Adelson for using the planes, instead of owning them in-house as the other hotel-casino companies do. Sands Aviation provides the crews and everything else.
Wynn Resorts could take the same route. In January, the company granted Chairman and CEO Steve Wynn an option to purchase its planes at book value in return for ceding an option to buy two acres of the golf course behind the two hotels.
• • •
The U.S. Government Accountability Office reported in June that the pending merger between American Airlines and US Airways would shrink competition on a dozen nonstop routes and more than 1,600 other involving a connection.
From McCarran, the two carriers fly to nine destinations that don't overlap: Miami, Los Angeles, Dallas-Fort Worth, Chicago and New York for American; Phoenix, Charlotte, N.C., Philadelphia and Washington, D.C.
But the GAO study did not run through the list of connecting markets, so it is difficult to tell how the market and fares would change to a city such as San Antonio, which requires a stop in an intermediate hub.
The GAO sampled tickets from 2011 and 2012 from 13,963 city pairs to determine that the number of airlines would be reduced to 1,665. By contrast, the United-Continental merger three years ago affected only 530 routes.
Joining US Airways and American would bolster competition on 210 pairs.
The net effect would be that an estimated 53 million passengers would see fewer choices and 17.5 million more.
Based on passenger 2013 passenger counts through April, US/American would rank as McCarran's second-largest airline at 1.4 million passengers, well behind market leader Southwest at 5.3 million but ahead of No. 3 Delta at 1.3 million. How the merger would change flight schedules is unknown.