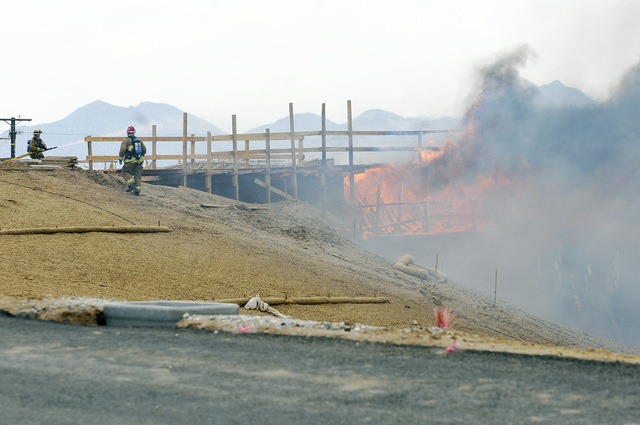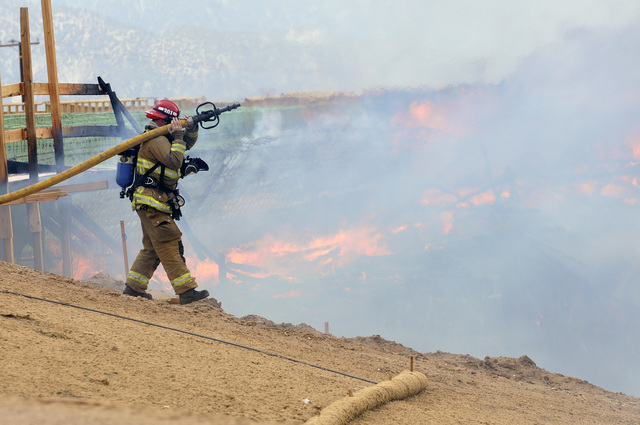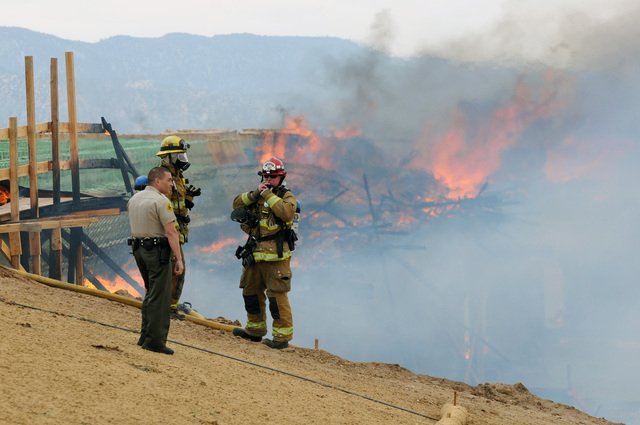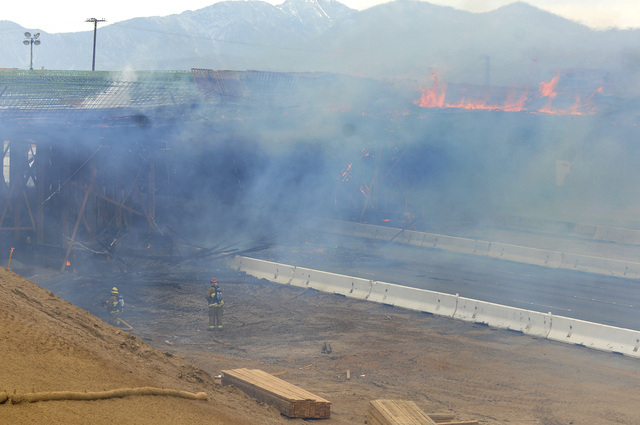 HESPERIA, Calif. — Northbound lanes of Interstate 15 reopened Tuesday evening after a fire at a bridge construction site closed the artery connecting Los Angeles and Las Vegas the day before.
Southbound lanes weren't expected to reopen until Wednesday morning.
The blaze, which burned through the night, reduced the bridge's wooden support structure to ash and caused steel girders to sag into the freeway below. Crews used heavy equipment to slowly drag collapsed remnants out of lanes.
Northbound lanes leading to Las Vegas opened at about 5:20 p.m. Tuesday.
"We still have a lot of work to do to restore traffic," said Ray Wolfe, director of the San Bernardino Associated Governments.
The road closure happened about 160 miles outside of Las Vegas and didn't appear to be affecting traffic in Southern Nevada, according to Damon Hodge, a spokesman for the Nevada Department of Transportation.
Redirection to alternate routes may have been an inconvenience, Las Vegas Convention and Visitors Authority spokeswoman Dawn Christensen said, but there's no data to support negative impacts on tourism.
Southern California commuters and travelers were urged to find alternate routes, including highways 138 and 18. Officials said drivers should stay away from the Cajon Pass, which is just south of the area of Interstate 15 closed by the fire. Traffic was backed up for several miles to the north early Tuesday.
The interstate was closed around 1:30 p.m. Monday because of falling debris.
The blaze was started when a construction worker's blowtorch accidentally ignited the wooden supports of the Ranchero Road overpass bridge, San Bernardino County Fire Capt. Josh Wilkins said.
Dozens of firefighters battled the blaze in windy conditions, with limited access to water and with the danger that the wooden skeleton of the football-field-sized bridge would collapse.
Caltrans crews worked into the evening demolishing remnants of the wooden skeleton of the bridge, which had been under construction since early 2013, agency spokeswoman Terri Kasinga said.
When the fire erupted, Caltrans contractors were still working on top of the bridge and unaware of the blaze until being evacuated by firefighters because the flames were being pushed away by the wind. One worker suffered smoke inhalation, Wilkins said.
"The Cajon Pass is going to be a nightmare for the next 24 to 48 hours at least," Wilkins said Monday night.
Reporters Kimber Laux and Annalise Porter contributed to this report. Contact them at 702-383-0264.