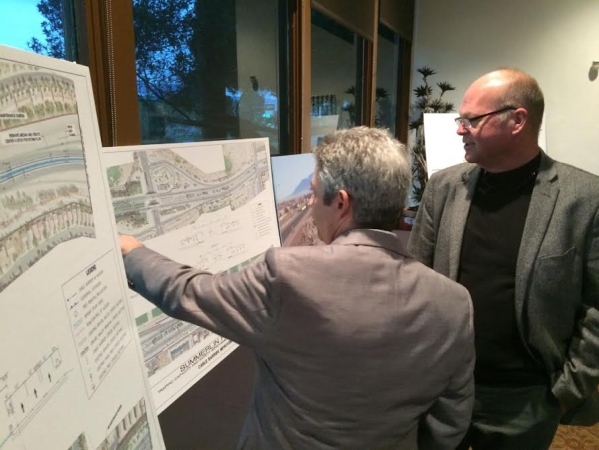 It was once dubbed the "Road to Nowhere," but 20-plus years later, Summerlin Parkway is used by so many motorists that it's due for upgrades.
On Dec. 8, Ward 2 City Councilman Bob Beers joined Eric Meyer, engineering project manager for the city's Public Works Department, at Angel Park for a community meeting to explain the upcoming improvements to help keep traffic flowing on that stretch of road.
"Anyone who uses Summerlin Parkway a lot knows there's a lot of congestion," Meyer said. "We have a number of improvements that we're proposing to do that should help alleviate some of that."
How much congestion is there? Meyer said the easternmost portion of the roadway (to the Rainbow Curve at U.S. Highway 95) is utilized by 100,000 vehicles each day. As one works their way westward, the numbers fall off so that at the Rampart Boulevard exit, it's 60,000 to 70,000 per day. Near the 215 Beltway interchange, it's about 20,000 vehicles a day, he said.
"Once the funding became available, we already had ideas for things we wanted to do," Meyer said. "Based on the available funding, we try to program the most important improvements."
Marlyne Rohan, a Summerlin resident, has been using the parkway since it opened, now driving on it at least three times a week. She said her concern was how much of a disruption the roadwork would create, especially after the sewer work on Rampart was only just completed.
She said that project "was handled very nicely; the company doing the repairs sent out notices and kept us informed. I mimeographed the notices and sent them to my friends who have businesses. I'm always concerned when I hear of roadwork. … I knew it (Summerlin Parkway) would get upgrades in the future. I didn't realize the future was now."
At the front of the room were 10 placards with the plans for each section of the parkway. The entire project is expected to be constructed in three phases, in a partnership between the city and the Nevada Department of Transportation.
Phase one will see the installation of a cable barrier along the median from approximately Buffalo Drive to the 215 Beltway interchange, to keep wayward westbound cars from crossing into eastbound traffic and vice versa. The parkway has seen incidents, sometimes fatal, where such a cable system might have prevented crashes from spilling into oncoming traffic.
One of the 10 placards featured a photo of a highway in Albuquerque, N.M., showing the type of cable barrier that likely will be installed.
"Two things brought this about; one was our folks are (aware) of the occasional cross-median accidents and the availability of federal funding," Beers said.
Funding for this phase comes from the Regional Transportation Commission of Southern Nevada's Fuel Revenue Indexing (FRI) funds and Federal Highway Safety Improvement funds. The entire cost of the project is expected to be $11.3 million, with phase one costing $2.4 million. Construction on phase one is expected to begin in the spring.
Phase two is set to construct improvements to the westbound Rampart off-ramp, expanding it to a two-lane off-ramp plus widening to provide triple west-to-south left-turn lanes. Other modifications are planned to improve sight distance, roadway lighting and changes to the traffic signal system at that intersection.
Also in phase one, the HOV lane for merging traffic off of the northbound U.S. Highway 95 HOV bridge onto Summerlin Parkway will be extended, giving drivers more time to merge with westbound traffic on the parkway.
"Right now, it makes for a pretty jammed-up experience," Beers said.
For outdoor enthusiasts, phase two includes the construction of the Angel Park Trail connector that will extend the trail farther west from Durango Drive to Rampart. The money for that portion comes from transportation commission FRI funds and Federal Recreation Trails Program grant funds.
"Eventually, we'll have all-over-the valley walking if you want, bicycle if you want, skateboard if you want, away from vehicle paved surface," Beers said.
The estimated cost of phase two is $3.6 million. Phase two's start date is expected to be in the summer.
Phase three plans include constructing an auxiliary lane between the northbound beltway to eastbound Summerlin Parkway ramp and the Anasazi Drive off-ramp; auxiliary lanes between Town Center Drive and Rampart in the eastbound and westbound directions; and an eastbound auxiliary lane between Rampart and Buffalo. The estimated cost of phase three is $5.3 million.
If construction funding can be secured for phase three, that project would likely start in summer 2017.
Meyer said an HOV lane was a consideration and that increasing the number of lanes on Summerlin Parkway was a task for the future.
"Anyone who uses the parkway probably wants to see more lanes, and we're keeping an eye on things," Meyer said. "We have to look at ways to better manage the lanes we do have."
Beers weighed in on the possibility of three or four lanes each way as well as an HOV lane. The latter comes with its own concerns.
"(With) the HOV lane, the goal is to get people to carpool, and that's not what's happening," Beers said. "At city hall, where there are parking spots of HOV vehicles, they're vacant.
"In our community — unlike Boston or New York City, where HOV lanes were invented — we are a spread-out community, and we don't all work the same place, and we don't all live in the same place, so carpooling is really not something for Nevadans to do. So, the HOV lanes turn out to be a tremendous convenience for people with children and couples, but as far as a carpool lane, not so much. But the federal programs which give us money for HOV lanes do not follow up by measuring if they actually achieve their public policy goal, so that's at play in the background."
He said designating them as HOV lanes for only certain times of the day was one consideration.
— To reach Summerlin Area View reporter Jan Hogan, email her at jhogan@viewnews.com or call 702-387-2949.