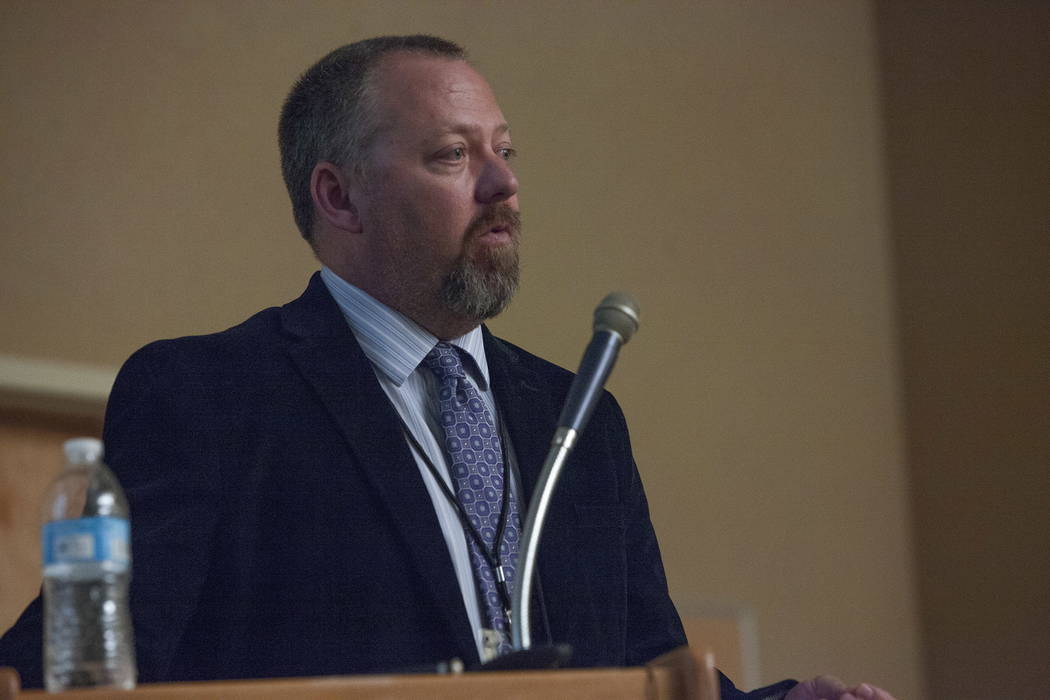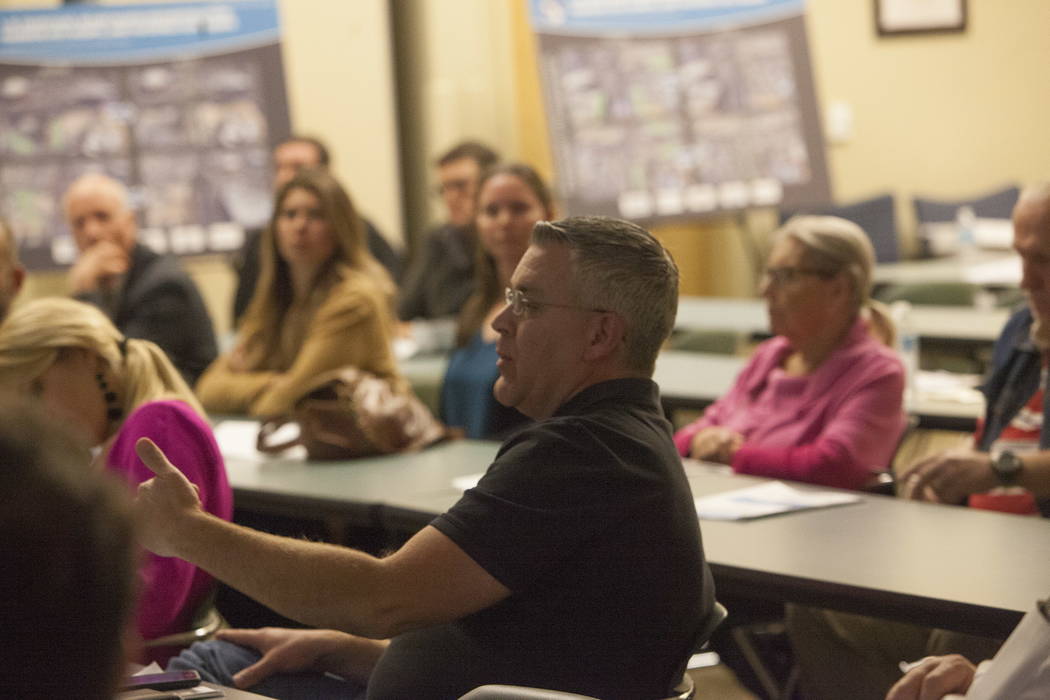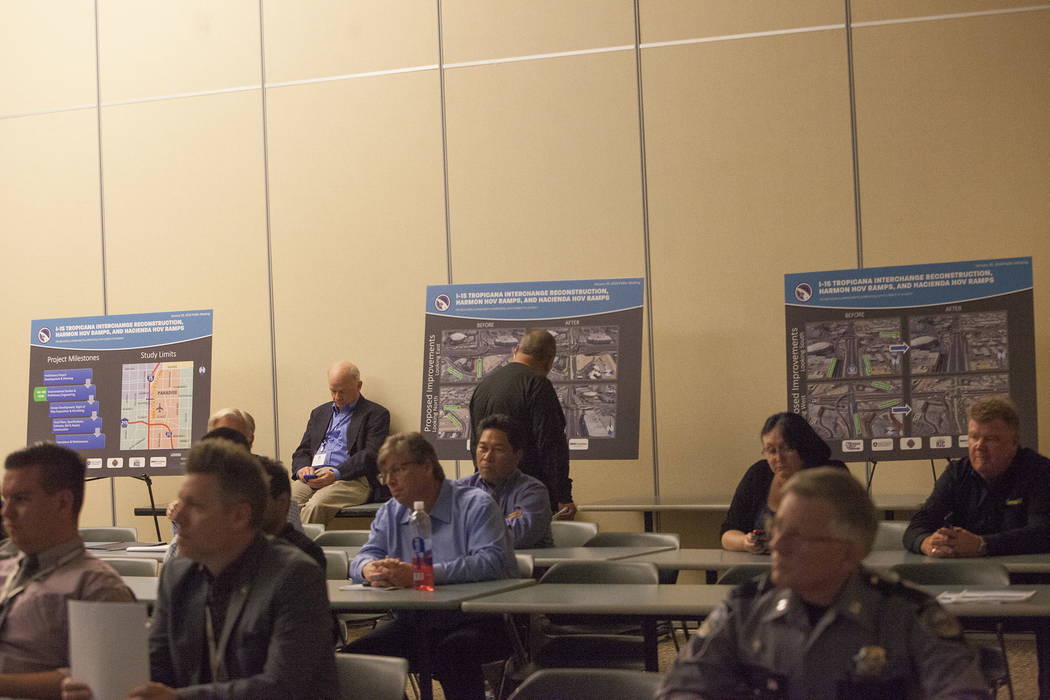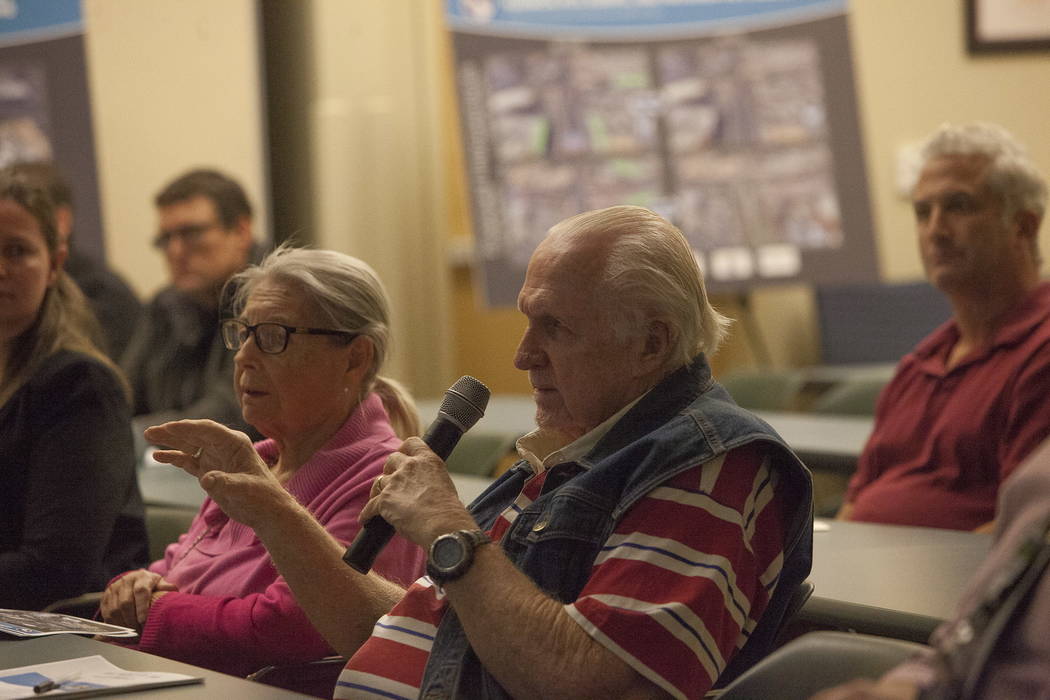 Reconfiguring the Tropicana Avenue interchange and building a pair of direct-access carpool lanes could help relieve congestion on Interstate 15, the Nevada Department of Transportation said.
About 60 people gathered Tuesday night for a public meeting to discuss the $200 million improvement projects scheduled to start in 2020, the same year the Raiders are slated to kick off their first season at the 65,000-seat domed stadium on Russell Road, just west of I-15.
"Our project actually came along before the Raiders were ever coming to Las Vegas," Jeff Lerud, an NDOT senior project manager, said during the meeting at the Clark County Development Services Center.
"I think the fact that we're out there improving the Tropicana interchange and increasing the mobility in that whole Las Vegas Strip area is going to be a benefit to the Raiders stadium as a side benefit," Lerud said. "But we're not doing anything specific for the Raiders."
Lerud said he met earlier Tuesday with members of the Las Vegas Stadium Authority, who will coordinate a future meeting with Raiders officials to further discuss the project.
NDOT is planning to redesign the interchange with a flyover ramp at I-15, along with building direct-access ramps that would link a new carpool lane to Harmon and Hacienda avenues.
Lerud said the improvements are part of a long-range plan for the region because the overpass bridge at Tropicana Avenue lacks sufficient clearance over I-15.
The project is also expected to help relieve traffic along northbound I-15 that regularly backs up past Russell Road and the 215 Beltway, along with creating room for future freeway expansions.
"We just went through a closure on Dean Martin (Drive) that was a disaster, so I hope we don't see the same thing happening on Harmon and on Tropicana," Las Vegas resident Tom D'Antonio said while asking about access to surrounding businesses during construction.
Lerud said NDOT will coordinate with business owners before work begins.
Environmental and engineering studies are underway for both projects, officials said.
To pay the estimated $200 million price tag for the projects, NDOT officials are considering selling bonds. Investors would be repaid with money generated by a fuel revenue index tax approved by Clark County voters in 2016.
Restructuring the Tropicana interchange and building HOV ramps for Hacienda and Harmon were outlined in a report released in October 2016 recommending at least $899 million in Las Vegas freeway improvements be fast-tracked to accommodate the Raiders stadium.
The carpool exit ramps, rising from the center of I-15 to the Hacienda and Harmon overpasses, were initially planned for construction in 2035. The Regional Transportation Commission of Southern Nevada's board of directors agreed this month to place it on a list of accelerated road improvements.
Contact Art Marroquin at amarroquin@reviewjournal.com or 702-383-0336. Find @AMarroquin_LV on Twitter.
Public comments sought
The Nevada Department of Transportation and the Federal Highway Administration are seeking comments about improvements planned for the Tropicana Avenue interchange at Interstate 15 through 5 p.m. Feb. 16.
Mail: Jeff Lerud, PE, Senior Project Manager, Nevada Department of Transportation, 123 E. Washington Ave., Las Vegas, Nevada, 89101.
Email: Jlerud@dot.nv.gov. Mention "I-15 Tropicana" in the subject line.