RTC adding increased bus service for shorter waits in Las Vegas
Updated December 3, 2018 - 9:44 pm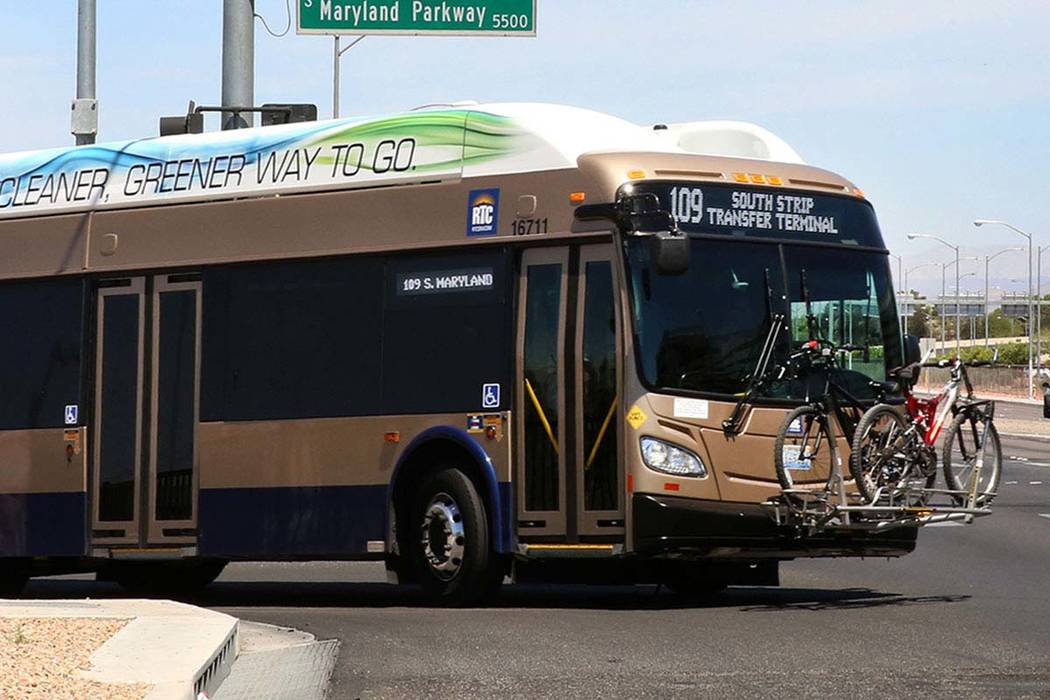 Las Vegas residents who use public transportation to get around the city can expect quicker service time on select bus routes.
Nine of the most popular routes in the city saw service increases go into effect Sunday, the Regional Transportation Commission of Southern Nevada announced last week.
The annual service change now has 15 of the RTC's 39 routes running every 20 minutes or better during weekday daytime hours, increasing convenience.
"We know that additional frequency and shorter wait times are improvements that are really important to our transit riders," said Tina Quigley, RTC general manager. "Now, many of transit riders can expect a 20-minute or less wait time, allowing them to spend less time traveling to their destinations and more time on things that are important to them."
Some of the routes with increased service include Route 115 (Nellis Boulevard/Stephanie Street) into a growing area of Henderson, doubled to a 20-minute frequency; Route 210 (Lake Mead Boulevard), which now runs every 20 minutes during weekday daytime hours; and the Boulder Highway Express, which saw its Saturday afternoon frequency increased to 15 minutes.
Frequency on all arterial routes also has been simplified to four categories — 60, 30, 20, and 15 minutes — during weekday daytime hours. The changes equate to less wait time and improved transfers for riders.
The RTC also is updating its rideRTC app with safety in mind.
The rideRTC app will integrate rider safety app Transit Watch.
"Today, more than 70 percent of our transit customers use smartphones, and we've seen more than 200,000 downloads of our rideRTC app, where our passengers can easily plan their route, find their bus and buy their fare," Quigley said. "So we are excited about the expanded capabilities with Transit Watch and Transit+."
The new app upgrade allows bus passengers to report nonemergency incidents like suspicious activity and safety issues on their smartphones, with the reports going directly to the RTC's security contractor dispatch center.
When a report is received, the submission is reviewed, and a follow-up to the appropriate agency, such as the Metropolitan Police Department, will occur if the situation warrants it.
Users must update the rideRTC app for Transit Watch to be included and operational on their phones. The app will be available for download by the end of the year.
The app is not intended for emergencies; instead, users are urged to call 911, as they would in any other emergency.
Additionally, the RTC can use the platform to leverage data to better understand travel patterns, operational performance and security needs, Quigley said.
"This valuable insight will help us create a more efficient transit system and transportation network that can better respond to the mobility needs of our community," she said.
Contact Mick Akers at makers@reviewjournal.com or 702-387-2920. Follow @mickakers on Twitter.
RTC eyeing the environment
The Regional Transportation Commission of Southern Nevada has been adding buses that run on compressed natural gas (CNG) to reduce its carbon footprint.
Total RTC transit buses: 404
Buses running on CNG: 231
Buses running on diesel fuel: 173
Planned CNG buses to replace diesel fuel in 2019: 55
Total of CNG buses expected in RTC fleet by the end of 2019: 286