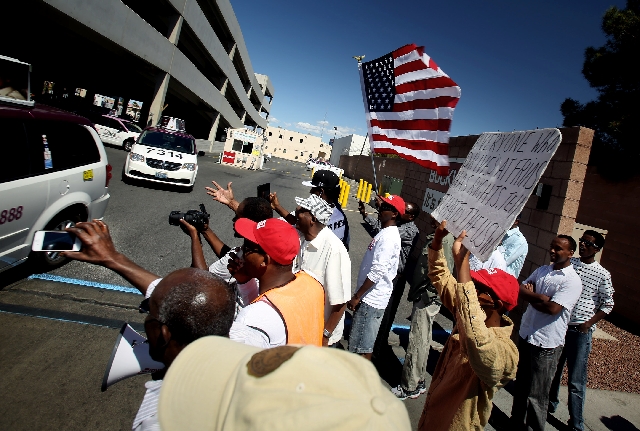 A group that has staged a wildcat strike against Frias Transportation Management, Las Vegas' largest taxi company, claims to have drawn the support of more than one-fourth of the drivers.
Unhappy with the contract terms offered by the company and accepted by United Steelworkers Union officials without a local vote, the group assembled at the Mandalay Bay parking lot Friday evening and then turned in their cabs in midshift to start the walkout. Yonas Tessema, the former Frias unit president for the union's Local 711A, said the lists of strikers show about 500 names out of nearly 1,900 drivers companywide.
Further, Tessema said, counts conducted by striking drivers stationed across the street from the Frias yard show that the company is putting only about half of its allotted cabs on the streets. Frias owns five brands that hold 710 operating permits known as medallions, nearly 30 percent of the total for Las Vegas, but not all of them are good seven days a week.
Frias management did not return calls seeking comment Tuesday.
By contrast, Yellow Checker Star Transportation officials say they have averaged 50 percent to 60 percent of capacity since its union drivers went on a sanctioned strike a month ago. The numbers have been higher on weekends and during daytime shifts.
"We will be out as long as it takes to reopen contract talks," Tessema said. He had no estimate of how long the strike might last.
Because the strike was not approved by the Steelworkers hierarchy, the drivers could face termination and no back pay if they were to be reinstated.
Among other provisions, the drivers seek better pay and job security.
Besides the round-the-clock presence outside the company yard, the drivers have taken other actions, such as driving down the Strip on Monday night as a group to raise their profile.
Contact reporter Tim O'Reiley at toreiley@reviewjournal.
com or 702-387-5290.