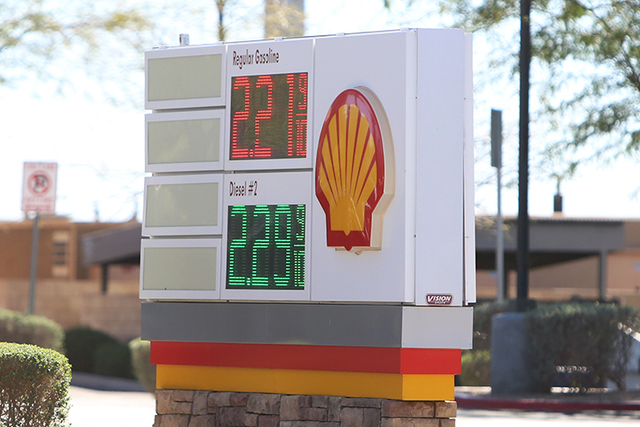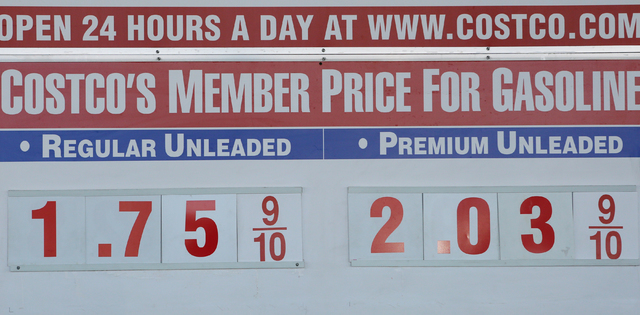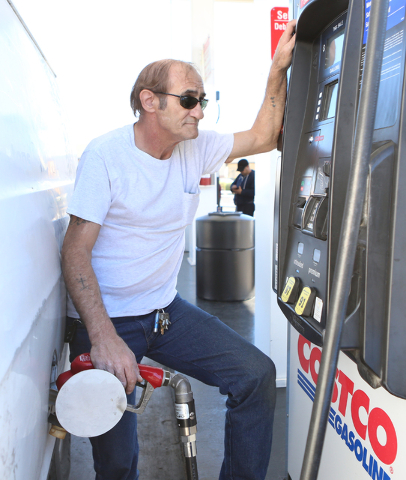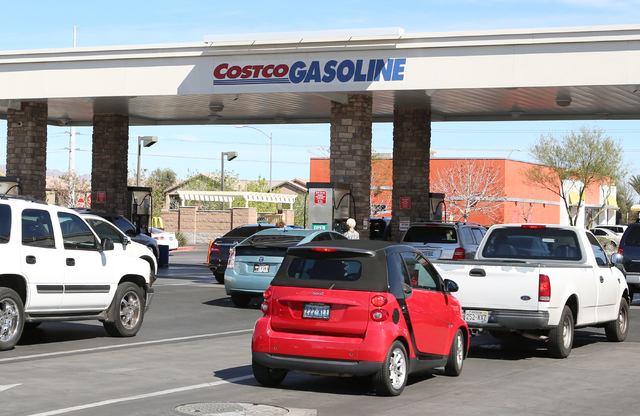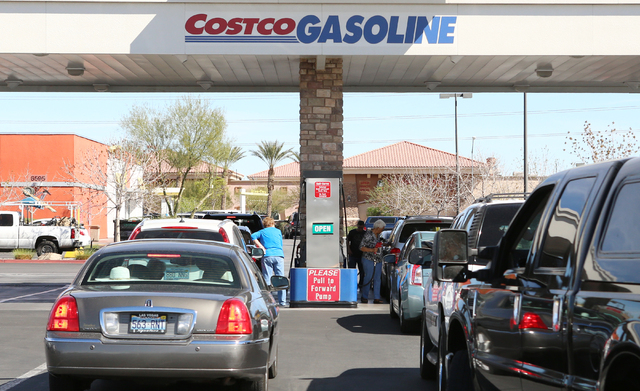 There's still some bargains around at Las Vegas gas stations, but the low prices motorists have paid at the pump are coming to an end — at least for now.
Gasoline price tracking website GasBuddy.com reported an average price Wednesday for regular unleaded was $2.04. That's up from $1.93 a gallon on Feb. 26 and up 3.2 cents from Tuesday and nearly 7 cents more than last week.
Last month, analysts predicted price hikes were coming in March as part of seasonal maintenance by refineries to prepare for the summer driving season. That limits production in refineries that start producing a summer blend of gasoline.
Summer blend reduces air pollution in warmer temperatures. It is more expensive to produce, and costs are passed on to the consumer. It is mandated by April 1 in California and by June 1 in Nevada, but there is a transition phase underway. Most of Nevada's gasoline is delivered from California.
"This happens everywhere regardless of what's happening globally," AAA spokeswoman Cynthia Harris said. "Prices do tick up because of the summer blend. There's nothing to be alarmed about. This is the typical flow of the oil industry."
Patrick DeHaan, a senior petroleum analyst at GasBuddy, said it's not only the move to a summer blend at refineries, but oil prices have risen more than $12 a barrel in less than a month from a low of $26 as part of an effort by OPEC to limit production.
"Unfortunately it's not a surprise and not consoling to motorists out there paying more," DeHaan said. "Prices appear to be going up as they do every late winter and early spring. Whatever you want to call it, the sweetness of Valentine's Day is over, and we face the bitterness of higher gas prices."
DeHaan said Las Vegas motorists could see average gasoline prices increase somewhere between 35 cents to 70 cents a gallon over the next three months. He said they peak as late as early June before they stabilize and even fall slightly over the summer.
That means motorists should expect to pay anywhere between $2.50 and $2.90 a gallon before prices decline in the fall and approach $2 a gallon by the end of the year, DeHaan said. Summer prices could range from $2.35 to $2.70 a gallon, he said.
Though the average price is $2.04 a gallon in Las Vegas, there are still deals. Many stations were reporting prices in the $1.70s, according to GasBuddy. DeHaan said the lowest price recorded this year at Las Vegas stations that he is aware of was in the low $1.60s a gallon.
No one should be disappointed with the price increases that are typical for this time of year. There's a bright side, DeHaan said. Prices are down 16.5 cents from the $2.20 average in February and down 85 cents from the 2015 average of $2.90.
"This summer's prices will be the cheapest gas at the pump in a decade," DeHaan said. "Once we see October and November, we will see prices falling more dramatically."
In its report Tuesday, AAA said Sparks has the state's highest pump price with an average of $2.28 a gallon. Carson City had the lowest at $1.95. It listed Las Vegas at $2.01, Henderson at $2.02 and North Las Vegas at 1.98. The national average is $1.81.
Harris said the price of crude oil and abundant supplies should keep a ceiling on how high gasoline prices move in the coming months. She added that barring any unexpected disruptions in supply, drivers should continue to benefit from savings at the pump.
The biggest unknown for the market remains how much production returns at a Torrance, Calif., refinery that has operated at a limited capacity because of an explosion in 2015.
At the Fuel Zone Mart on Las Vegas Boulevard South, prices for cash purchases stood at $1.77 a gallon for regular unleaded less than two weeks ago but was $1.99 on Wednesday. It was $2.25 a gallon for those using credit cards.
Customers aren't happy with oil companies based on price increases they're seeing around the valley.
"It's a scam," said James Mojica, a San Bernardino, Calif., resident who has a time-share in Las Vegas. "You have the winter blend and summer blend, and who knows that and why is it going up 30 cents more. What happened to all the winter blend? You can't do that. You are cross-mixing both blends when you put them in. It doesn't make sense to me. Companies are getting richer off of us."
Not everyone, however, noticed the price hikes because they continue to see low prices in some stations around the valley.
"I just looked at one by my house, and it was $1.87," North Las Vegas resident Leonardo Irving said. "As long as they're not going up in the $3 to $4 range, it's not too bad."