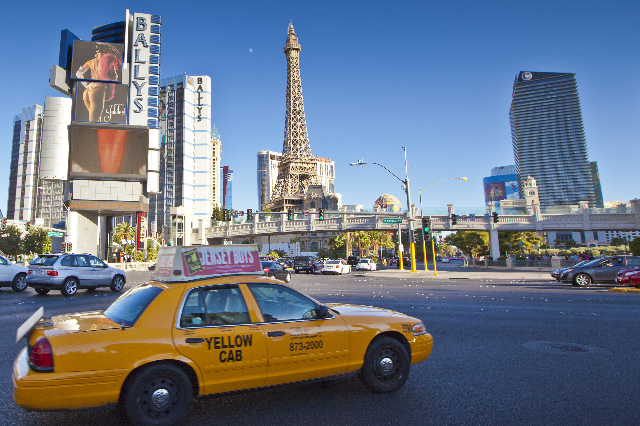 Southern Nevada taxi rates will go up at the end of the week with a slight bump in the drop and mileage rates and a 3 percent tax that also will affect limousines and transportation network companies.
The Nevada Taxicab Authority on Monday unanimously approved adding 5 cents to the base fare, known in the industry as the "drop," from $3.45 to $3.50. It also reallocated a 20-cent-per-mile fuel surcharge, putting 8 cents of it into the basic mileage rate and lowering the fuel surcharge to 12 cents a mile.
The fuel surcharge is added when gasoline prices climb to predetermined rates.
But the biggest change for taxi customers will be a 3 percent tax on revenue collected on a ride, including the fare, any fuel surcharge and the fee assessed for a credit-card transaction. The new tax takes effect Friday, but the process of changing meters to show the new rates isn't expected to be completed until Sunday.
About 20 percent of Clark County's taxi fleet of just more than 3,000 vehicles are equipped with high-tech metering systems that can be changed with a few computer keystrokes. But the rest of them have to be changed manually by Nevada Taxicab Authority officers that will work through the weekend to update the entire fleet. It's a job that costs the authority about $9,000 to undertake.
Once the work is completed, rides will cost $3.50 and the mileage cost will run 69 cents per quarter-mile, up from 67 cents.
The meters also will tack on the 3 percent tax. Authority officials say cab companies will be responsible for attaching signs to their vehicles advising customers of the "3 percent state excise tax on all rates and fees," even though the state Taxation Department characterizes it as a "transportation recovery fee."
The fee is designed to feed $5 million a year into the state highway fund and $19 million a year to help build a new medical school for the University of Nevada, Las Vegas. Anything collected beyond that would go into the state's general fund.
The authority board justified the 5-cent increase in the drop as a "technology fee." The board later in the meeting reviewed a presentation from Verifone's Way2ride smartphone application, a system that currently is being tested by Nellis Cab Co.
Jamie Pino, director of operations for Nellis, said the system has been installed in 10 Nellis vehicles and after three weeks of operations, it has performed flawlessly.
Officials with Verifone said the app works similarly to Uber's ride-hailing technology. It's operational in New York City and Philadelphia and is expected to be in multiple markets by the end of the year.
Contact reporter Richard N. Velotta at rvelotta@reviewjournal.com or 702-477-3893. Follow @RickVelotta on Twitter.