Travelers expected to pack Las Vegas roads Thanksgiving weekend
Updated November 21, 2018 - 6:34 pm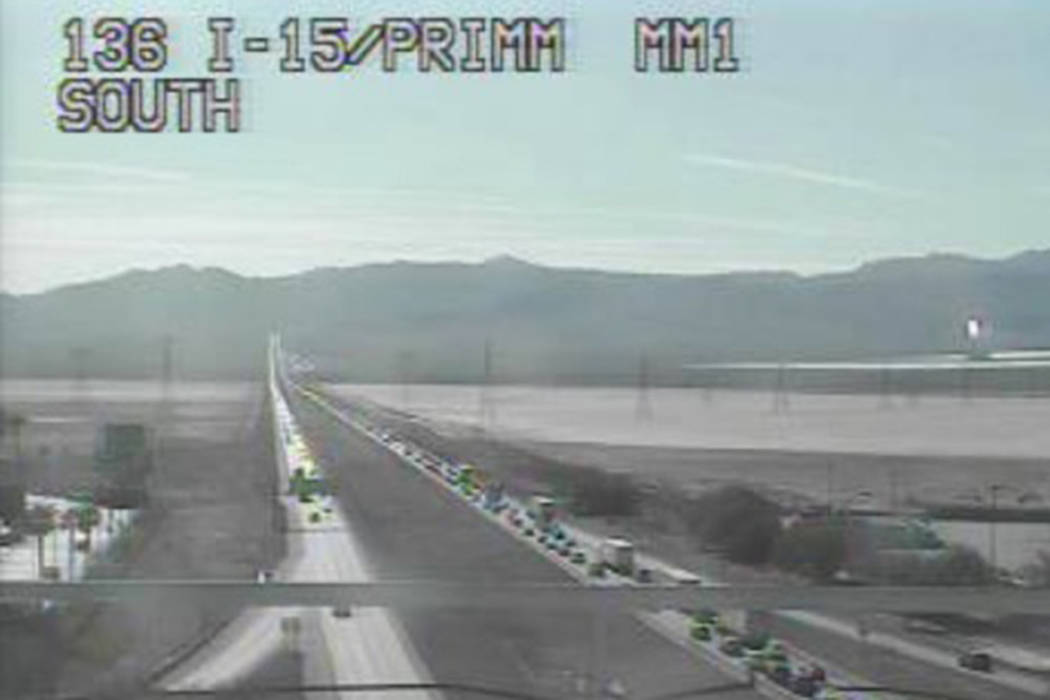 Las Vegas motorists who waited until Thanksgiving Day to head out of town can expect light delays heading toward Southern California.
Peak traffic times for Interstate 15 southbound on Thursday are between 8 a.m. and 1 p.m. Delays are expected to be under 10 minutes near Primm.
Holiday traffic caused minor congestion Wednesday afternoon on I-15 southbound near Primm, according to the Regional Transportation Commission of Southern Nevada's traffic management center. Drivers experienced delays of less than 10 minutes, RTC said.
Drivers coming into Las Vegas on I-15 northbound can expect peak traffic times between noon and 3 p.m. Thursday, RTC said.
Once the Thanksgiving feast is gone and friends and families say their goodbyes, travelers headed back to Southern California this weekend should brace for a mess.
Images of the miles-long backup of I-15 southbound at Primm have become a holiday mainstay, and with more drivers expected to be on the road this Thanksgiving than last year, motorists should expect more of the same.
With the majority of the 300,000 visitors expected to converge on Las Vegas by road, delays of up to an hour and 40 minutes are possible during peak traffic hours, according to the RTC.
Peak driving hours for those headed back to Southern California on I-15 are between 11 a.m. and 6 p.m. Saturday and from 8 a.m. and 8 p.m. Sunday, the RTC said.
AAA is forecasting the busiest Thanksgiving travel period since 2005. Most people who will travel at least 50 miles from home are going by car, according to the auto club. They will be able to take advantage of a big decline in gasoline prices caused by lower oil prices. The nationwide average pump price Wednesday was $2.60 a gallon, down 25 cents from a month ago.
Meanwhile, airports around the country were busy Wednesday, with more than 1,500 delayed flights by early afternoon on the East Coast. A few dozen flights were canceled, with about 40 of those in San Francisco, according to tracking service FlightAware.
"It has been a good day so far. The weather has been very cooperative," said American Airlines spokesman Ross Feinstein. "It's busy, but this Sunday and Monday will be busier travel days for us."
Contact Mick Akers at makers@reviewjournal.com or 702-387-2920. Follow @mickakers on Twitter. The Associated Press contributed to this report.
Peak I-15 traffic times
Thursday: 8 a.m. and 1 p.m.
Delay Times: Under 10 minutes near Primm.
Saturday: 11 a.m. and 6 p.m.
Sunday: 8 a.m. and 8 p.m.
Delay Times: Up to 1 hour and 40 minutes