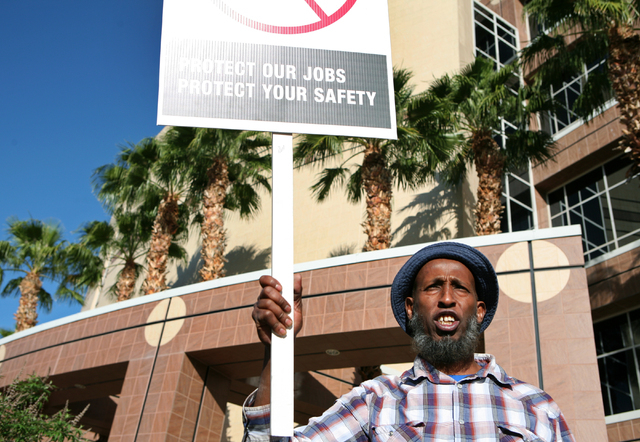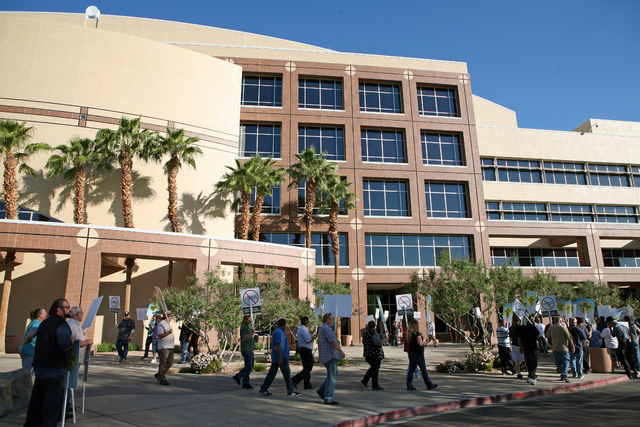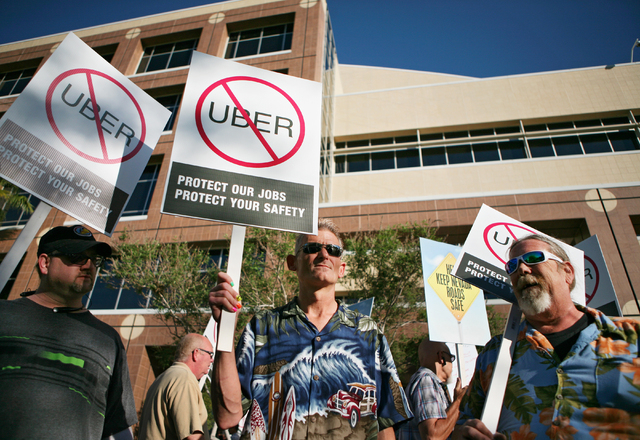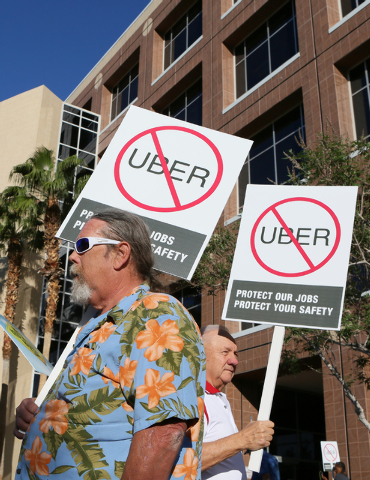 Two transportation heavyweights went toe-to-toe for the first time in the state on Monday in the high-stakes fight over whether the ride-hailing company Uber would be allowed to operate legally in Nevada.
By most accounts, Monday's battle ended in a draw. The fight pitted Uber, a multibillion-dollar technology company based in San Francisco and its contracted drivers against representatives of Nevada's multimillion-dollar taxi and limousine companies and their employee drivers.
The fight between the two sides has been anticipated since Uber started operating in October and a month later stopped service in the state after losing a court case. After bowing out, Uber officials made it clear that they would seek legislation enabling operation.
Commerce, Labor and Energy committee chairman James Settelmeyer, R-Minden, was saved by the bell — the bell that called the Senate to session — after three hours of committee testimony on two bills relating to the operation of so-called transportation network companies. The bills are expected to be further debated at a later date.
Under the bill introduced by the committee just before last week's deadline, transportation network companies, or TNCs, would be regulated by the Public Utilities Commission of Nevada. TNCs use a smartphone application to provide communication between a person who needs a ride with a person who drives a vehicle.
Proponents of the bill were led by Steve Thompson, Uber's general manager, and other company executives. They were opposed by former Democratic Sen. Richard Bryan and former Republican Gov. Robert List, historically political rivals who now find themselves on the same side against Uber.
Jonathan Schwartz, a director for Yellow-Checker-Star, Southern Nevada's second-largest taxi group, also testified on behalf of the cab industry.
Most of the points made in the three hours of testimony on Senate Bill 439, the proposal that sets the framework for TNCs operating in the state, and Senate Bill 440, which would specify insurance changes for TNCs, have been publicly debated since it became clear that Uber was going to take a legislative route toward operating in the state.
Uber contends that it is a technology company, not a transportation provider, and therefore not subject to transportation regulations overseen by the Nevada Transportation Authority and the Nevada Taxicab Authority.
Opponents argue that because Uber's contracted drivers transport passengers in the same way as taxi and limousine companies, they should be subject to the same rules.
Taxi and limo companies say Uber drivers aren't as safe as their company drivers because they are vetted through FBI background checks that include fingerprinting. Uber counters that they have independent background checks that are more stringent than taxi industry reviews because they look into incidents that occurred up to seven years ago instead of up to three by the industry.
Uber supporters say allowing the company to operate would strengthen the economy because thousands of jobs would be created. Opponents say Uber's presence would actually damage the economy because Uber drivers, as independent contractors, wouldn't receive company benefits. If cab drivers defect to work for Uber, the state would lose an estimated $5.6 million in tax revenue, according to a report by financial expert Guy Hobbs. Taxi companies also pay a fee to pick up passengers at McCarran International Airport, which would be lost if Uber picks up airport market share.
Prior to Monday's testimony, about 60 cab drivers Southern Nevada taxi drivers rallied outside the Grant Sawyer Building. A smaller demonstration occurred outside the Capitol in Carson City against the proposed legislation.
Shouting slogans like "No, no, Uber's gotta go," and carrying signs that read "Protect our jobs, protect your safety," demonstrators marched in a circle near the entrance of Las Vegas' state government office while lawmakers inside prepared for the hearing.
"We're calling awareness to safety issues," said Allen Peller, a 23-year cab driver with Ace Cab.
"If they think they want to be here, they should admit that they're a taxi company and not a technology company and follow the same regulations we follow."
As the protest drew to a close, drivers entered the building and went to the hearing room that already was packed — with Uber drivers and supporters.
In the hearing room, Uber officials passed out black T-shirts printed with "Uber Nevada" on them for drivers to show support for the bills.
Settelmeyer also received a letter supporting the legislation from Gary Shapiro, president and CEO of the Consumer Electronics Association, which stages the Consumer Electronics Show every January. Shapiro urged lawmakers to "to preserve Nevada's pro-innovation, pro-business reputation by passing Senate Bill 439."
Contact reporter Richard N. Velotta at rvelotta@reviewjournal.com or 702-477-3893. Find on Twitter: @RickVelotta.

RELATED STORIES
Henderson business leaders back Uber's return
Despite Uber petition, service is still illegal in Nevada
See all of our coverage: 2015 Nevada Legislature.
RELATED
Showdown for Uber in Nevada expected in Carson City
EDITORIAL: Legislature must let Uber operate in Nevada