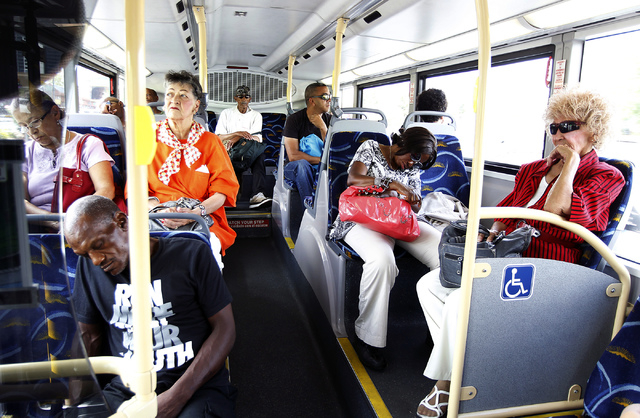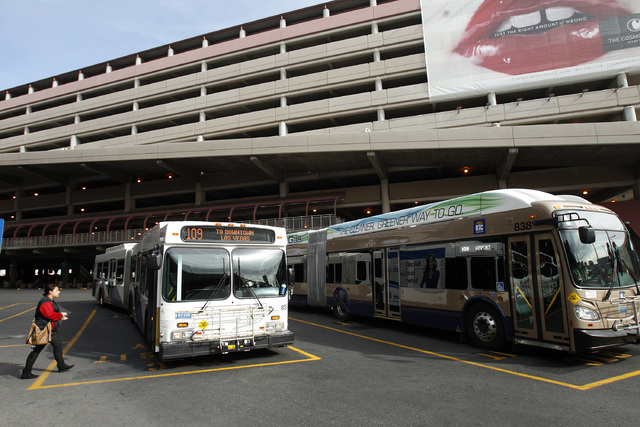 Does Southern Nevada get its fair share of transportation funding from the state?
It's an issue that has been revisited on numerous occasions, most recently at Thursday's Regional Transportation Commission of Southern Nevada meeting.
Larry Brown, who chairs the commission, told Nevada Transportation Department Director Rudy Malfabon that he's counting on him to recommend equitable funding for numerous Southern Nevada projects in 2015.
"Equitable," in his terms, isn't about getting the same level of funding as Northern Nevada projects but a level proportional to the amount collected from Southern Nevada taxpayers.
"We need someone to be a champion for Southern Nevada," Brown, a Clark County commissioner, said in response to Malfabon's monthly board report.
"We're still seeing evidence of (the funding of Southern Nevada projects) being inequitable and that's unacceptable," Brown said.
Questions about transportation funding equity were raised in September and October as the Nevada Legislature convened in a special session to offer incentives to the Tesla Motor Co. to locate its $5 billion lithium-ion battery gigafactory in a business park east of Reno.
In October, the State Transportation Board approved a $70 million design-build project for state Route 439, also known as the USA Parkway, a 21-mile extension of a four-lane highway connecting Interstate 80 with U.S. Highway 50 in Storey and Lyon counties that would give two points of access to the Tesla battery plant.
State officials gave assurances to Southern Nevada officials that approval of the project a year ahead of schedule would not affect Southern Nevada transportation projects.
But Brown's biggest beef is that highway projects that are a priority to Southern Nevada often fall upon local taxpayers when the state says it doesn't have the money to build and maintain them. That happened with the 215 Beltway, built primarily with Clark County funds.
Malfabon noted that the state is an active participant in the Interstate 11 bypass of Boulder City, although the state is only tackling two of the 15 miles of the project.
The state opened bids on its portion of the project last month and determined that Fisher Sand & Gravel offered a bid of $83 million for the 2-mile section of the highway closest to Las Vegas, $3 million more than a bid from Las Vegas Paving for an asphalt surface. The State Transportation Board will consider awarding a bid for the project in February.
Malfabon also said the state is dedicated to the $1.5 billion Project Neon revamp of the Spaghetti Bowl freeway interchange of Interstate 15 and U.S. Highway 95 as well as the Beltway interchange with U.S. 95 in northwest Las Vegas, which is expected to be advertised for bidding next month.
Brown also is concerned that the USA Parkway project includes purchase of the right of way in addition to construction costs. In many highway projects beneficial to economic development, property owners will give the right of way to the government.
Brown's discussion with Malfabon came after Transportation Commission officials were given a summary of fuel revenue indexing projects paid for with increases in fuel taxes. The program expires at the end of 2016, but transportation officials hope the funding source will be extended.
Through Dec. 31, fuel tax indexing paid for 83 design and construction projects valued at $164 million, providing 2,121 jobs, most of them to local small businesses.
Contact Richard N. Velotta at rvelotta@reviewjournal.com or 702-477-3893. Find him on Twitter: @RickVelotta.