XpressWest executives have talked Hyperloop One about high-speed rail project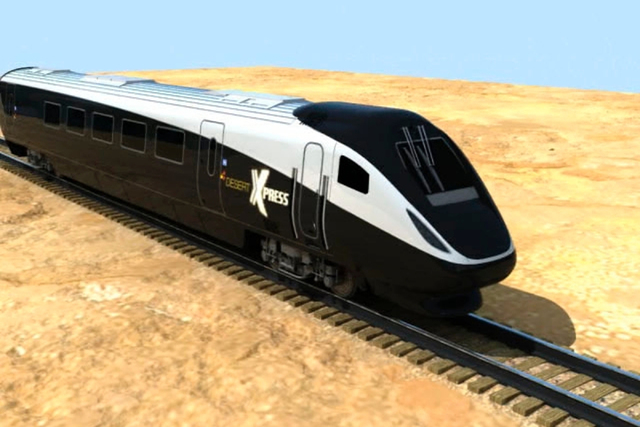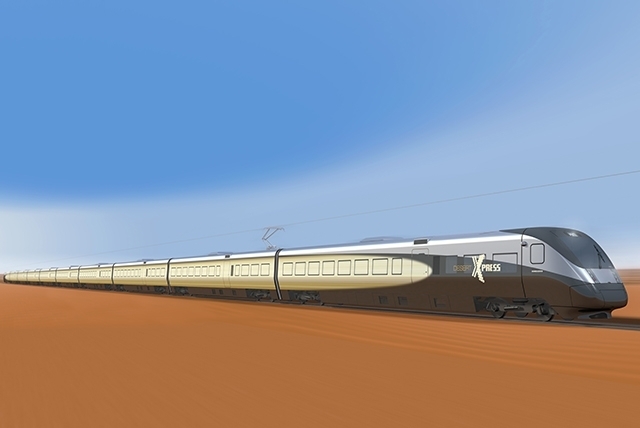 Executives with XpressWest, the company franchised to build a high-speed rail line between Las Vegas and Southern California, have talked with officials with Hyperloop One, the high-tech, high-speed transport system under development in North Las Vegas.
But don't expect any changes in the rail company's strategy to build a steel-wheels-on-rails system that would link Las Vegas with Victorville, California, with future plans to expand to Palmdale, California, and downtown Los Angeles.
Responding to a question from a member of the Nevada High-Speed Rail Authority on Tuesday, XpressWest Chief Operating Officer Andrew Mack said company officials talked with the developers of Hyperloop, a technology that would use magnetically levitated pods to carry passengers and cargo at speeds of more than 600 mph through tubes.
"We're not advocates of any one technology, but if it's viable, we'd consider it," Mack said.
But he also said that when XpressWest applied for and received the exclusive franchise to develop a high-speed system connecting Southern Nevada with Southern California, one requirement was to develop a system compatible with and interoperable with existing high-speed rail technology, such as the one proposed for the California High-Speed Rail System.
Mack and a financial consultant gave the authority board an update on XpressWest's $8 billion, 185-mile, dual-track system with no grade crossings between Las Vegas and Victorville, roughly along the Interstate 15 right-of-way.
The project's second phase would extend the track 50 miles west from Victorville to Palmdale, where it would intersect with existing commuter rail service.
Eventually, that commuter rail would be upgraded to high-speed rail when the California system is completed. In the third phase, XpressWest trains would link directly to the California line.
The fully electric, standard-gauge train would have multiple units capable of operating on California High-Speed Rail tracks. The company envisions an average round-trip fare of $100 with trains running every 20 minutes to and from Victorville during peak periods.
A station would be built in Las Vegas on the west side of I-15, just north of Russell Road.
While testing the viability of its system at the Apex Industrial Park, Hyperloop One has begun an international competition to determine the best place to build the first operating Hyperloop system. The deadline for submissions is in September; a winner is expected to be selected in March.
Meanwhile, XpressWest is working to keep its existing entitlements current as a long list of federal and state agencies review the proposal.
Portions of the three phases of the XpressWest project are underway with environmental reviews in progress between Anaheim and Palmdale and between Burbank and Los Angeles' Union Station.
XpressWest's next big undertaking is completing an investment-grade ridership and revenue study evaluating service between Anaheim, Los Angeles, Burbank, Palmdale, Victorville, Las Vegas and Northern California being conducted by international transportation consultant Steer Davies Gleave.
Eliot Jamison, a senior vice president for investment banking and financial services company Macquarie Group Ltd., is working for XpressWest to verify financing of the project through a consortium affiliated with China Rail International. Jamison said the focus is with the Chinese joint-venture partners, but the consultants are viewing other financing alternatives, seeking the best combination of cost, certainty and terms.
Mack said groundbreaking on the project, once forecast for fall, has been pushed back to early 2017. The government entities involved in approvals have stalled the regulatory process, he said, and the company wants to close on a financing plan by early next year.
He said the Federal Aviation Administration will have to weigh in on the project because some of the track entering Las Vegas near Mandalay Bay will be elevated and every catenary pole must be reviewed because the track will pass below runway flight paths at McCarran International Airport.
Jamison said investors have shown strong interest in the project and that financing is "progressing well."
Contact Richard N. Velotta at rvelotta@reviewjournal.com or 702-477-3893. Find him on Twitter: @RickVelotta