$1 million-plus advertising buy supports Republican Roberson, attacks opponents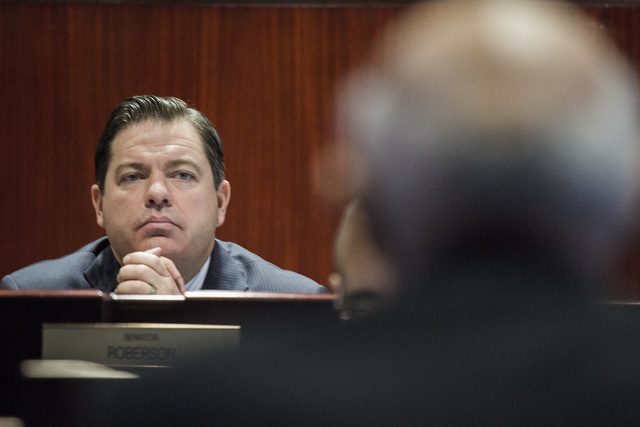 A political nonprofit on Wednesday bought nearly $1.6 million worth of advertisements that support Republican Michael Roberson and attack his opponents in Tuesday's 3rd Congressional District primary.
Ending Spending Inc. spent about $520,000 on ads supporting Roberson, according to Federal Election Commission filings. The organization also spent about $767,000 and $280,000 for ads opposing Danny Tarkanian and Michele Fiore, respectively. The ads began airing on local network stations Wednesday.
The founder and chairman of the nonprofit is billionaire Joe Ricketts, who started the online stock brokerage company TD Ameritrade. As a nonprofit, Ending Spending does not have to disclose its donors. The group paid Alexandria, Virginia-based media buying companies Del Cielo Media LLC and FP1 Digital LLC to place the ads, according to the FCC filings.
UNLV associate political science professor David Damore said the buy signals a sense of urgency — or even panic — for Roberson.
"This move isn't a sign of strength," Damore said Friday.
Damore said the race for the open House seat has become more competitive than Roberson likely anticipated because of a number of factors.
First, in Tarkanian, Roberson faces a candidate with high name recognition. Tarkanian is the son of legendary UNLV basketball coach Jerry Tarkanian.
Roberson also faces a rift within the Republican Party that resulted from the 2015 Legislature, Damore said. As state Senate majority leader, Roberson led passage of $1.5 billion in new and extended taxes to fund Gov. Brian Sandoval's two-year budget. Tarkanian especially has railed on Roberson's vote for the taxes, which became a line in the sand for party members.
That divide, Damore said, "is still raw."
"It's sort of the worst-case scenario for him," Damore said of Roberson's primary matchup.
At least one of Roberson's opponents views the big buys as a good thing, despite the dollar amount spent opposing her.
"Thank you Michael Roberson's friends for spending money advertising myself. It tells me Michael Roberson's in the tank, and he can't attack folks on his own," Fiore said Thursday night. Fiore, an assemblywoman, voted against the taxes last year. "They've got to spend a million to try to raise his recognition up. People in Nevada are tired of lying politicians, and that's the only thing that's happening right now."
Tarkanian declined comment when reached by phone Friday.
Roberson's campaign did not respond to requests for comment Thursday or Friday.
According to its website, Ending Spending's goal is to rein in government spending, pay down the national debt and "restore fiscal responsibility in Washington, D.C."
The group has used similar late-cycle buys with success in past races around the country, including the 2014 U.S. Senate race in Colorado between incumbent Democrat Mark Udall and Republican Cory Gardner, a fiscal conservative. Ending Spending spent more than $3.3 million on ads attacking Udall, and an additional $2.9 million supporting Gardner — all in the final 10 days of the general election cycle, according to past FEC filings. Gardner defeated Udall by less than 2 points.
Las Vegas Sands Corp. Chairman and CEO Sheldon Adelson and his wife, Miriam Adelson, in 2012 donated $1.15 million to the Ending Spending Action Fund, a super PAC associated with the nonprofit group. The Las Vegas Review-Journal is owned by the Adelson family.
Contact reporter Colton Lochhead at clochhead@reviewjournal.com or 702-383-4638. Follow @ColtonLochhead on Twitter.