10 restaurants that need to come to Las Vegas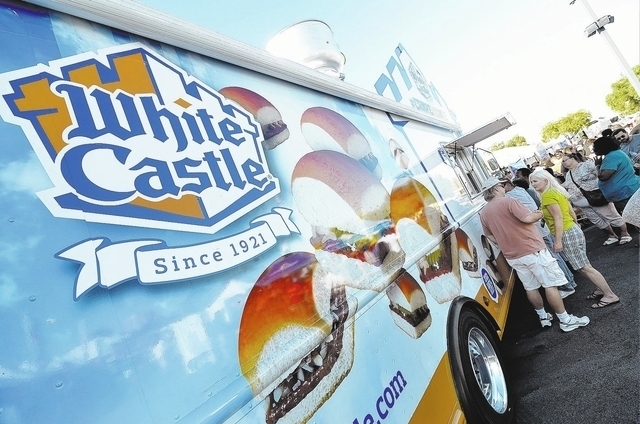 Tourists coming to Las Vegas often get excited about chain restaurants like In-N-Out that they don't have in their hometowns — but what about the restaurants we're missing out on? We took to Facebook to find out which chains Las Vegans want most, and nearly 600 comments later, here's what you had to say:
White Castle
White Castle was far and away the most popular suggestion. Called the most influential burger of all time, a White Castle slider — from a restaurant, not the freezer aisle — is only available in the midwest, the south and New York. Cravers line up for hours at the Las Vegas Foodie Fest to get a taste, so we know a brick-and-mortar version would do well in the valley.
Shakey's Pizza
Shakey's, founded in Sacramento, Calif., sold only beer when it first opened because its pizza ovens weren't ready. It then used the beer profit to buy pizza ingredients. Shakey's has only 59 locations, most of which are in California. If you've never been, you'd have to drive to the Los Angeles area to check it out.
Whataburger
In contrast to Shakey's, Whataburger has more than 700 U.S. restaurants, but they're concentrated in 10 states in the South. Fun fact: Whataburger and What-A-Burger, a different chain located in Virginia and the Carolinas, operated for two decades without realizing one another's existence. They sued each other in 2002, but were both allowed to retain their names.
Waffle House
Waffle House, or "Hangover Haven," as one Facebook commenter called it, has more than 1,700 locations in 25 states. Like Whataburger, most of these are in the South, but Waffle House has developed into a cultural icon whose name is recognizable throughout the country.
Dave and Busters
You've probably seen Dave and Busters commercials, and you've probably been annoyed by Dave and Busters commercials since you'd have to drive to L.A. to pay the restaurant-bar-arcade combo a visit. The Internet rumor mill thinks there's a Dave and Busters coming to the Shops at Summerlin, but nothing official has been announced.
Portillo's
Maybe the amount of former Chicagoans living in Las Vegas influenced this one: Portillo's is mostly found in the Chicago metro area, with a couple locations in Southern California and Arizona. The restaurant specializes in Chicago-style food and is known for its hot dogs.
Texas Roadhouse
Western-themed steak house Texas Roadhouse is located in 46 states, including Nevada, but you'd have to drive to Reno if you didn't want to cross state lines. A closer option is St. George. The restaurant is known for the free buckets of peanuts found on every table and the peanut shells all over the floor.
Tim Hortons
Our Canadian audience made itself known with Tim Hortons, a Canadian chain known for its coffee and doughnuts. Although its largest presence is in Canada, it has a healthy 859 locations in the U.S. — but most of those are in the northeast.
Peet's Coffee & Tea
You can find Peet's Coffee on the shelves at Whole Foods and Von's, but if you want a cafe, you'll have to head to — you guessed it — California. Peet's devotees know the company predates its more well-known competitor, Starbucks.
Bojangles
North Carolina-based Bojangles is known for its Cajun-fried chicken and buttermilk biscuits. Most of its restaurants are southeast, and if you need a substitute out West, the closest you'll come is Popeye's.
Follow the RJ on Twitter: @reviewjournal
Contact Stephanie Grimes at sgrimes@reviewjournal.com. Find her on Twitter: @stephgrimes