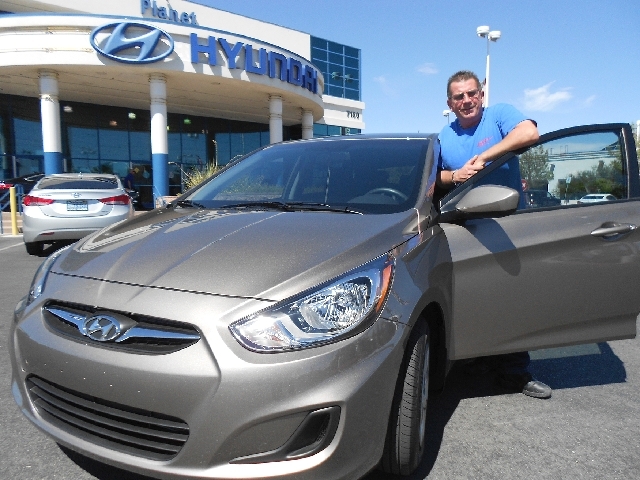 Las Vegas resident Kirk Peters drove a 1994 Buick Century for two years before being referred to Planet Hyundai Sahara by his supervisor.
He recently purchased a 2013 Hyundai Accent and said he is glad to have a car that is impressive looking, has great power and gas mileage in the high 20s .
"When the power steering line went out in the Century, I just said to myself that I wasn't putting any more money into that car," said Peters, a native of Southern California. "My supervisor, Jason Webber of Western Casework Corp., advised that I go see the people at Planet Hyundai Sahara.
"I hadn't had a new car for 10 years," Peters said. "It's nice to get up any morning and know that I can do whatever I want with the reliability of a Hyundai. You have the sense of freedom along with the security of knowing that you can get from point A to point B without any hassles."
The freedom includes more than going to work in the morning, he said.
"I love to go to southern Utah and visit both Zion National Park and Bryce Canyon. I love visiting areas throughout the country and especially in southern Utah because of the beauty, the water, the trees and the spiritual and mystical aspects of the USA."
Peters said he also appreciates the warranty that came with his new car.
"No question about it, the warranty is awesome. Then, I needed to deal with some financial issues, and (sales consultant) Tony Fisher helped guide me to where I could get a lower finance rate down the road. Tony didn't push me into anything and I appreciate that. He guided me before the sale and after the sale, and I was very comfortable with him."
The interior and amenities in the Accent also pleased Peters .
"It's very impressive inside and, considering that I'm a pretty big guy, there is lots of room for me. I still have plenty to learn about the car, but with all of the instrument controls, it's certainly a nice vehicle to own."
Peters said he has recommended Planet Hyundai to some of his friends.
"I'm proud to own this car, and I'm not the least bit afraid to recommend this dealership and particularly this brand to others."
Planet Hyundai dealerships include Planet Hyundai Sahara, 7150 W. Sahara Ave., the Planet Hyundai Used Car Superstore, 7100 W. Sahara Ave., and Planet Hyundai Centennial, 6200 Centennial Center Blvd.
Further information can be found by visiting www.planetlv.com or by calling 702-938-1400 (Sahara) or 702-483-2200 (Centennial).