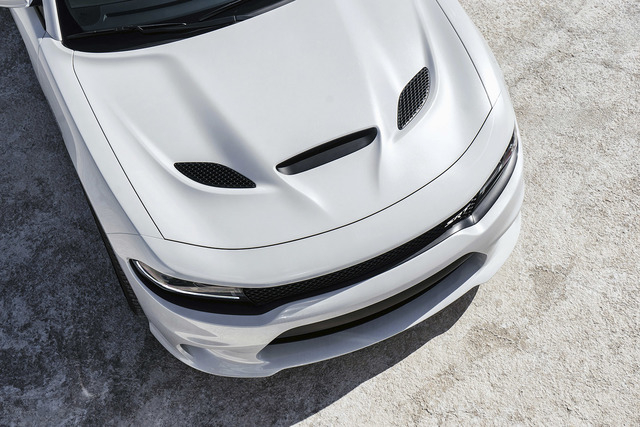 We don't need NASCAR.
That was the essence of a decision made by Chrysler Corp.'s management a few years back when it canceled Dodge's participation in North America's pre-eminent stock-car racing series.
Back then, it seemed like Dodge might be de-emphasizing performance, but no one would have guessed that the exact opposite would happen — with a 707-horsepower, four-door family car.
Like the related Challenger Hellcat, the Charger version uses a mostly new 6.2-liter V-8 engine with a big belt-driven supercharger sitting on top. There might be no practical point to 707 horsepower, but it does make from some good bragging rights, especially when the Dodge Viper sports car makes less power. It's also how the newly restructured Fiat Chrysler Automobiles is getting plenty of folks enthused about the Dodge brand that turns 100 in 2015. Maybe that's the point.
Dodge claims that the current Charger was somehow inspired by the second-generation 1968-1970 cars. No matter how hard you squint, it's tough to see, but the most obvious change for 2015 is a new aero-look nose that replaces the open-mouth grille. It bears some resemblance to that of the compact Dart sedan, actually. A lightweight aluminum hood (with an added power bulge on Hellcat versions), new fenders and a reshaped rear deck also add significant visual impact, as does the rear roof pillar that has been moved slightly rearward to accentuate the Charger's fastback shape. There's now a total of 14 different wheel designs, but what you get largely depends on which Charger model you select.
The interior has also been updated, but not quite to the same extent as the body. The redesigned control panel now comes with a standard 7-inch, touch-screen display, with a larger 8.4-inch version available.
Other than the SRT Hellcat's supercharged V-8, most of the Charger's engine choices are similar to the 2014-model-year offerings. The entry-level SE and SXT get the 3.6-liter V-6 that makes a respectable 292 horsepower, or 300 horses when equipped with the Rallye Appearance Group that includes a cold-air intake and a sport-tuned exhaust. For those placing a priority on fuel economy, the V-6 Charger is rated at a solid 19 mpg in the city and 31 on the highway.
The R/T and R/T Road &Track models run with a 370-horsepower 5.7-liter "Hemi" V-8, while the new-for-2015 R/T Scat Pack and SRT 392 models use a 485-horsepower 6.4-liter V-8 (up from 470 horsepower for 2014).
All powerplants are mated to eight-speed automatic transmissions. An electronic floor shifter replaces the previous cable linkage unit, and paddle-shift controls are standard with most models, including, of course, the Hellcat.
All-wheel-drive is on the Charger's option list, but it's now only available with the V-6. Previously, it could be ordered with the 5.7-liter V-8. The system is automatically activated when tire slip is detected, whenever the windshield wipers are functioning (which likely means wet/slick roads) or in cold-weather driving conditions. The rest of the time, the car remains in rear-wheel-drive mode.
At a base price of $30,000 (with destination charges included), the SXT arrives with plenty of amenities such as dual-zone air conditioning, keyless entry and start and a six-speaker audio system. The SXT adds heated front seats and a 12-way power driver's seat, while the R/T starts with heated and ventilated front seats, leather coverings, backup camera and heated steering wheel
As you would expect, the $65,000 SRT Hellcat comes with plenty of performance-related goodies, including a beefed up transmission, plus two electronic key fobs: a black one that reins in engine output to 500; and a red one that unleashes all 707 horsepower and 650 pound-feet of torque. There are also settings on the "performance pages" of the touch-screen for the suspension as well as "launch control" to make the quickest possible getaways without tire spin.
The 2015 Charger makes an enticingly bold statement regardless of what's under the hood. And as for getting out of NASCAR? Well, this Dodge might actually be faster, anyway. Is there a better attention-getter? Not likely.