2nd Congressional District candidates spar at Reno debate
October 5, 2016 - 5:00 pm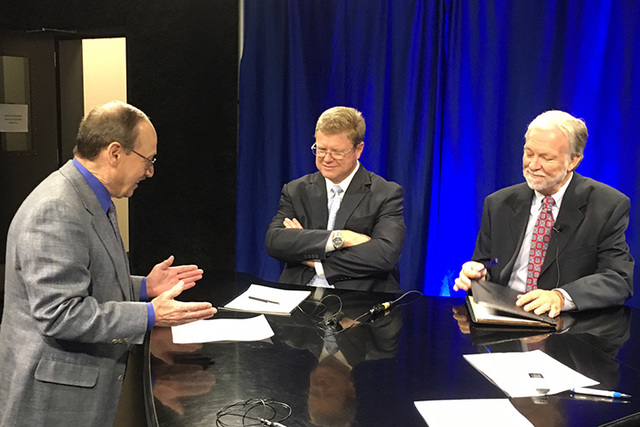 RENO — Chip Evans, the Democratic candidate seeking the 2nd Congressional District in the upcoming general election, said Wednesday that GOP incumbent Mark Amodei's five years in office are enough.
"Mr. Amodei has not represented the people well and it's time for a change," he said.
Amodei, who has served the Northern Nevada and rural district since September 2011, countered in a debate taped for airing later this week that he has represented his constituents well. He pointed to the passage of a lands bills to help both preserve wilderness and expand economic opportunities in the district as one example.
The 30-minute discussion taped for the "Nevada Newsmakers" public affairs television program did not generate much in the way of fireworks.
Evans, a Reno resident, faces an uphill battle in the race. No Democrat has ever won the district, which has 166,000 active registered GOP voters to 122,000 Democrats.
The debate, more of a question-and-answer session, addressed issues ranging from Obamacare to the potential transfer of public lands to Nevada and President Barack Obama's unilateral decision to create one national monument in Nevada, Basin and Range, with another, Gold Butte, potentially waiting in the wings.
Amodei criticized the Affordable Care Act, saying health care reform is needed but the measure approved without any hearings is not the answer. While it has some good elements, he noted that even former President Bill Clinton recently questioned its success.
Evans countered that Obamacare is now the law and Republican leadership should have found ways to make it better rather than voting dozens of times unsuccessfully to repeal parts or all of it.
Both candidates agreed that any use of the Antiquities Act by Obama to create national monuments in Nevada should first involve discussion and collaboration with residents and political leaders.
Amodei said the process used in Congress to transfer federal lands to the state and local governments works well and ensures that concerns are addressed.
Amodei successfully pushed for the Lyon County Economic Development and Conservation Act, which transferred about 10,000 acres owned by the Bureau of Land Management to the city of Yerington to allow for expansion of the Nevada Copper mine at Pumpkin Hollow.
But Evans criticized Amodei for also proposing a wholesale transfer of public lands to state control. The Nevada Legislature in 2015 approved a resolution seeking such a transfer. It passed on a party-line vote with Republicans in favor.
"I am absolutely opposed to that," Evans said. "Our public lands are a precious resource here in Nevada and we can't just be willy-nilly turning them over for development."
Amodei said his bill to transfer 17 million acres to the state involves 7 million acres already scheduled for disposal. The other 10 million acres would not see any change of use, he said.
Even if the bill is approved, 75 percent of Nevada would still be under federal control, Amodei said.
The debate will air on CW-Las Vegas on Saturday and Sunday at 5 a.m.
Contact Sean Whaley at swhaley@reviewjournal.com or 775-461-3820. Follow @seanw801 on Twitter.