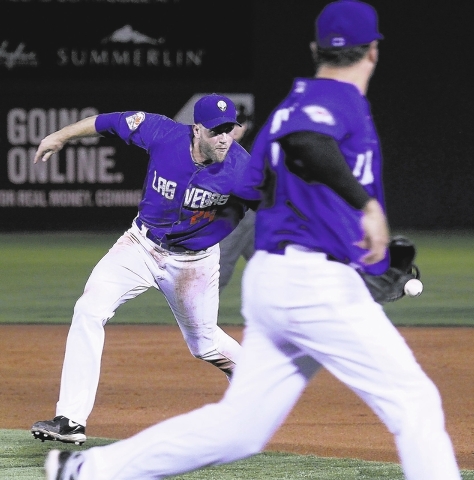 After suffering two walk-off losses to Salt Lake to start the Pacific Coast League playoffs, the 51s took care of business early on Friday night.
Barely.
Reliever Cory Wade escaped a first-and-third, one-out jam in the eighth inning to preserve Las Vegas' 3-2 lead and then stranded runners at first and second in the ninth to close out the win as the 51s staved off elimination before a raucous crowd of 4,548 at Cashman Field.
"You find out what your players are all made of. They played hard. They fought," 51s manager Wally Backman said. "Wade came in at the end and closed the game out. It was a little bit scary, but he got the job done."
Game 4 of the best-of-5 series is scheduled for 12:05 p.m. today at Cashman Field. Veteran right-hander Aaron Harang will oppose Bees right-hander Billy Buckner in a matchup of former big leaguers.
"There's character in there. These guys don't want to lose. They want to win," Backman said. "We have a major leaguer pitching for us tomorrow in Harang. I like our chances."
After former UNLV standout Efren Navarro tripled and scored to cut Salt Lake's deficit to 3-2 in the eighth, Wade struck out John Hester and retired Drew Heid on a foul popup to third.
Tommy Field singled off Wade to lead off the ninth and took second on a sacrifice bunt. Wade got Luis Rodriguez to fly out to left before walking Navarro to end a six-pitch duel that included a drive down the left-field line that went just foul. With the crowd on its feet, Wade struck out Roberto Lopez looking to end it.
"It was wild. It was a good game, very exciting. It was close," 51s third baseman Dustin Lawley said. "We've just got to come out and do the same thing tomorrow. Repeat it. Just stay relaxed and play the game."
Lawley launched a tiebreaking solo home run off reliever Kevin Johnson to put the 51s ahead 2-1 in the sixth.
"I was just sitting on a fastball," he said. "That's my buddy on the mound. I played with him in college ball. He hung a slider, and I just reacted to it."
Ruben Tejada added an RBI single to make it 3-1.
Lawley, the Mets' 19th-round draft pick in 2011, was called up from Single-A St. Lucie (Fla.) on Aug. 28 and batted .300 (6-for-20) with a homer and four RBIs in six regular-season games. He led New York's organization in homers, with 26, and had 96 RBIs in 128 combined games.
"He's a kid with a lot of power," Backman said. "It's a test for him, for sure, but he's gotten some real big hits since he's been here."
The 51s tied it 1-1 in the fifth, when they rallied for a run without getting a hit. Eric Campbell hit a sacrifice fly to score Brandon Hicks, who was hit by a pitch by Salt Lake starter Jarrett Grube to start the inning. Kirk Nieuwenhuis walked, and the runners advanced to second and third on a sacrifice bunt by Tejada. Mike Baxter was intentionally walked to load the bases for Campbell.
The Bees went ahead 1-0 in the third, when Lopez blooped a two-out RBI single to left field. Matt Long scored on the play after reaching on an infield single and advancing to third on a two-out single by Navarro.
"These games are tight, and they're exciting," said Navarro, who's 6-for-9 in the series. "They're a great ballclub, and we're a great ballclub."
Contact reporter Todd Dewey at tdewey@reviewjournal.com or 702-383-0354. Follow him on Twitter: @tdewey33.