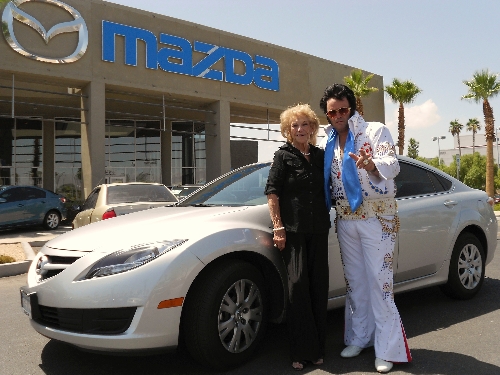 Marjorie Watsky is a vibrant 80-year-old and a 21-year resident of Las Vegas along with being one of the most colorful customers ever at Centennial Mazda in the northwest valley.
"I don't look like an 80-year-old; I don't sound like an 80-year-old and I don't act like an 80-year-old," says Watsky, a native of Alabama who has also lived in New Orleans.
In addition, she doesn't drive cars usually driven by 80-year-olds as evidenced by the fact that she purchased a sporty silver 2011 Mazda6 from the dealership .
"I like sports cars," Watsky said. "I like the way this car drives and I love the way it handles.
"I had been driving a Lincoln Town Car for 21 years and needed a change."
Not one to sit by idly watching the world go by, Watsky has already taken her four-cylinder Mazda6 to San Diego. The vehicle has a fuel mileage rating of 22 city and 31 highway.
"I filled the gas tank up before I left, drove all the way to San Diego and still had a quarter tank left when I got there," Watsky said adding that her car includes an automatic transmission. "This car has everything from a sporty look to great power and comfort. I bought myself a young people's car."
The buying experience at Centennial Mazda was also a good one especially considering that Watsky's sales consultant was Elvis tribute artist Paige "Elvis" Poole a 49-year-old native of Rock Port, Mass., who even sings an Elvis-like song entitled "I'll Have a Blue Mazda for Christmas" taking the words from Elvis' song of "Blue Christmas."
"I think he's fabulous," Watsky said of her sales consultant. "He got me a very good deal and I would recommend him to anyone. The manager was also very good to me. Everyone treated me well and there was no pressure at all."
Situated at 6525 Centennial Center Blvd., Centennial Mazda is spearheaded by General Manager Jan Sheinfeld. The dealership rose to become the No. 1 Mazda dealership in District II which includes Nevada, California and Arizona.
Mazda has a total of 11 models.
More information can be found by calling Centennial Mazda at 702-784-1111 or by visiting www.centennialmazda.com.