9 things you could learn from Betty White's Reddit Q&A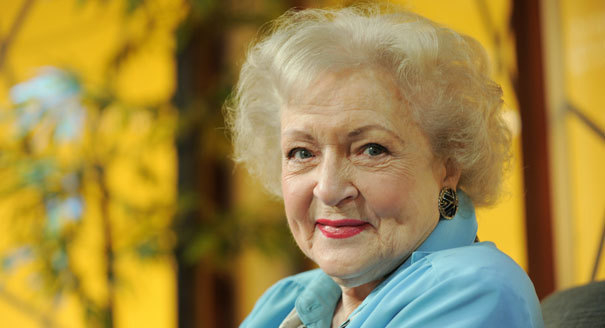 If you missed your chance to ask Betty White a question in her AMA on reddit.com on Monday, it's all right, because over 2,000 people asked her anything you could dream of anyway.
White was online promoting the upcoming 100th episode of "Hot in Cleveland." She also reminded redditors that she's on Twitter: @BettyMWhite.
The 92-year-old actress is known for her kick-butt attitude and her nearly 7-decade long acting career. She loves all animals, "Out of Africa" and her friendship with Late Late Show host Craig Ferguson. She would be a zookeeper if she were never an actor and she burns the candle at both ends, working some days from 6:30 in the morning until midnight.
Here are nine things you can learn about Betty White via her online "Ask Me Anything," cutting out the 200 (give or take) requests to be someone's grandmother.
1. Who she thinks would play her in a movie:
chrisncsu: If they were making a Betty White biopic, who do you envision playing the role of Betty White?
BW: I would love it if it were Meryl Streep or Julie Andrews but they would probably cast someone like Chris Rock.
——-
2. What her favorite moment in life is:
nimartel: If you could relive one specific moment in life, what would it be?
BW: Well at 92, that question gets pretty rough to answer. There have been so many special moments. One of the top ones was marrying Allen Ludden.
For those of you who don't know, White was married to Ludden until he passed away in 1981 of cancer. She told Larry King when asked if she would remarry, "Once you've had the best, who needs the rest?"
——-
3. That she's recognized everywhere:
Kknowsbest: Where is the strangest location that someone has recognized you?
BW: Way up in Ireland, in the countryside.
——-
4. What pleases her senses:
reptar-on_ice: What are your top 3 favorite smells?
BW: New puppies, pine trees, and new kittens.
——-
5. She doesn't have a favorite animal:
When asked of her favorite animal:
BW: Oh, that's asking somebody with 9 children which is their favorite! Anything with a leg on each corner.
——-
6. She doesn't have a favorite because she loves them all:
Belle1010: Can you tell us about any recent involvements with any particular group/organization?
BW: I've worked with the Morris Animal Foundation for over 50 years. We're an animal health organization working for dogs, cats, horses and zoo and wildlife. We have helped developed the feline leukemia vaccine, the parvovirus vaccine, and many more.
I've also worked with the Los Angeles Zoo for over 50 years, as well as many others. Our biggest fundraiser for the LA Zoo this year is Saturday June 14, the Beastly Ball.
——-
7. Her drink of choice:
CrowingNevermore: What's your favorite cocktail to order?
BW: Vodka on the rocks with a big lemon squeeze.
——-
8. Her favorite skit on The Tonight Show:
gdawg99: What's your favorite memory from being on The Tonight Show with Johnny Carson?
BW: So many … being washed off the table during a flood scene. It was during a horrendous rainy season flood we were having here in LA. Johnny and I were sitting at a cafe table on stage and a ton of water came pouring out washing us off the stage! The producers said, pretend it washes you away. Pretend?! It was 500 gallons!
——-
And toward the end of the session, she answers the most important question:
9. 92-year-old Betty White is a waffles kind of gal.
zipbogg19: I like to ask questions that really matter so … pancakes or waffles?
BW: Waffles
Contact Kristen DeSilva at kdesilva@reviewjournal.com or on Twitter: @kristendesilva