A shot in the arm: Women helping to shift public opinion from gun control to owners' rights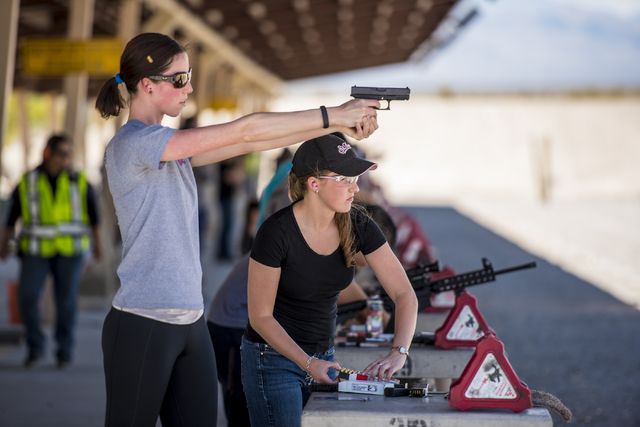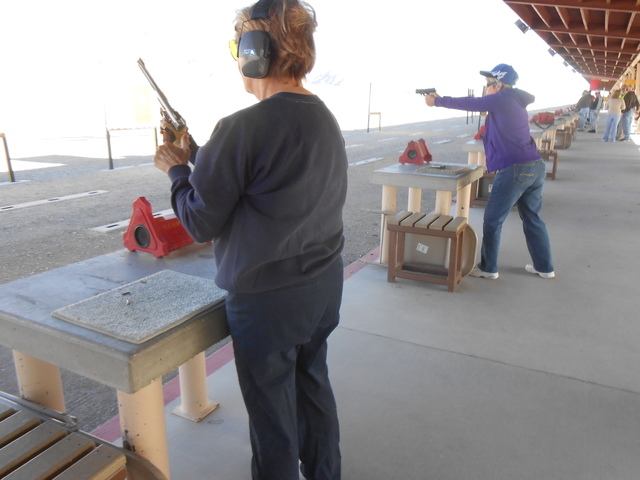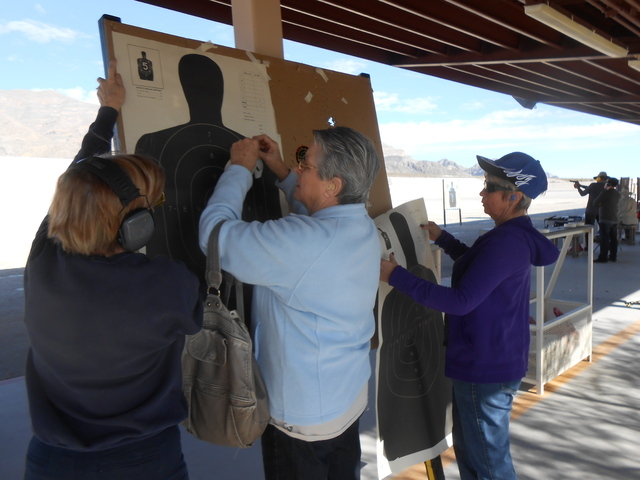 The number of women buying guns is on the rise, with sales to women jumping 20 percent between 2011 and 2012, according to the National Shooting Sports Foundation, an industry trade group.
The information comes on the heels of a December Pew Research Center poll showing that, for the first time in 20 years, there is more support among Americans for gun rights than gun control.
The balance of opinion favored gun control in the immediate aftermath of the Sandy Hook Elementary School shootings in Newtown, Conn., in December 2012, and again a month later. However, since January 2013, support for gun rights has increased from 45 percent to 52 percent while those pushing for gun control has fallen from 51 percent to 46 percent.
'NRA IS NATURAL HOME FOR FEMALE GUN OWNERS'
Women are part of the push by the National Rifle Association to promote buying and carrying guns.
"Women are the fast-growing segment in firearms owners, and the NRA is a natural home for female gun owners," said Catherine Mortensen, NRA spokeswoman. "They want a gun for defense purposes, for self-defense or the safety of their families. Women frequently haven't grown up (with guns), where boys go hunting with their fathers or are exposed through a Scouting program. So, one of the first things women want to do when they get a gun is get safety training. They want to work with a professional. So their No. 1 objective is to get professional training and certification, and the (NRA's) Women On Target program really speaks to that."
She said the program could mark a new tradition among female generations. Just as boys hunt with their fathers, girls could pick up the sport of shooting from their mothers.
"Like, my daughter is a high school student, and she's on her school's rifle team," Mortensen said. "I think it's a natural fit to have women with their daughters (involved in) hunting and shooting as a sport."
The NRA's Women On Target program, which is offered for only women, saw 13,000 participants in 200 instructional shooting clinics held nationwide in 2014.
GUN STORES WELCOMING WOMEN
Gun stores welcome women interested in guns. Jeff Frichette is director of training at The Range 702, 4699 Dean Martin Drive.
"The attitude of macho gun stores are kind of going to the wayside," he said. "At Range 702, we pride ourselves in customer service and try to make (buying a gun) least intimidating as possible."
That includes starting women new to guns out with ones that are specifically designed for smaller hands and introducing them to guns with a smaller caliber so there's not the startling percussion sound or the violent recoil.
"Something easy to control," Frichette said. He estimated 25 percent of women go on to shoot big guns such as AR-15s and shotguns.
"It's an activity that couples can do together," he said. "It's a good stress reducer."
View visited the range at the Clark County Shooting Complex, 11357 N. Decatur Blvd., on a Saturday. The majority of the shooting stations were occupied, and most shooters were male. Three women, who asked to withhold their last names, brought handguns to shoot. They took turns, standing back when not at the firing line. As they shot, spent cartridges zinged out of their guns, flying behind them.
"Sometimes, one will go down your shirt, and you get a nice burn (mark) because they're so hot," Linda said.
This day, the target was set up 10 yards away. Due to the bright sun, binoculars were used to assess how close to the bullseye they'd shot.
Rangemaster Ken Templin said he's been coming to the range for the past four years and that "It seems like (the number of female shooters) is on the increase, from what I see. … I can't give you numbers, but there seems to be a big interest from women. The way we look at it, the more, the merrier."
Judi said she sees shooting as a hobby. She and her husband, David, "were deciding on things to do once we retired, and one of them was target shooting."
HOT WITH HEAT CO-OWNER GOT INTO GUNS FOR PROTECTION
Dane'lle Southern, who is in her 30s, said she grew up with guns in the house. She is the co-owner of Hot with Heat, which offers classes for women on gun safety and to qualify them to get a concealed carry permit.
She said she got her own gun in 2010 for protection, prompted by the birth of her second son and knowing she might have to protect her kids one day. Soon after, she got her concealed carry permit. She said she carries her gun "all the time" and prefers the Glock 26, a semi-automatic handgun.
Her top concern is a home invasion, with the second "just being attacked and not being able to protect myself or my children … I have a brother in law enforcement, and I've always been the type to prepare myself for anything, and I don't want to be stuck in a situation where I wouldn't know what to do," Southern said.
She said she's never been in a situation where she felt she might have to resort to pulling out her gun. So, in what scenario would she see herself using it?
"Definitely if somebody was approaching me and (not heeding her warning) to 'back away from me' and kept coming at me," she said, "or if somebody grabbed me, where I felt in fear for my life."
Southern did not see it likely that she might be surprised and knocked unconscious only to come to with the bad guy holding her gun on her. Why?
"Because of where I'm carrying it; I see it as less likely, rather than wearing it on the hip, where it would be exposed," she said.
As for having the number of guns being sold increasing and hence, more on the streets, Southern said, "It's great people are going out and getting guns, but it comes with a responsibility. … They should have a healthy fear. This is a very powerful thing. It can hurt somebody if you relax your respect for it."
The statistics on increased gun sales do not stipulate who is a repeat customer. Southern is a perfect example of that — she would not say how many guns she owns, only that it's more than a couple.
"It's like when you buy shoes," she said. "You go, 'Oh, that one's cute, and that one's cute,' and you just keep buying them. We're women. We need choices."
For more information on Hot with Heat, visit hotwithheat.com.
FIRING A GUN DURING A DISTRESS SITUATION IS 'LIFE-CHANGING' EVENT
Women who own guns are often big spenders, according to the National Shooting Sports Foundation. The average female gun owner spends $870 annually on firearm purchases and another $405 on accessories, such as sights, targets and gun cleaning products, its study showed.
Bob Irwin, owner of The Gun Store, 2900 E. Tropicana Ave., said women are targeted by criminals and are often at a disadvantage simply because of their smaller size. The threat of a gun is often enough to deter the crime, he said. His business encourages women to take one of its courses on gun use and being safe. One of those courses qualifies a person to get a concealed carry permit. It's so popular, he said, it's taught three times a week.
"We try to teach (participants) not to fire the gun if at all possible," Irwin said, "because when people do, it's a life-changing event."
Irwin estimated more than half of the women who take the course go on to get the concealed carry permit, with about 10 percent opting to carry a gun all the time. He said part of it is inconvenience, along with the weight of the gun and the way a concealed carry holster adds a bulge.
In the classes, women are discouraged from carrying their weapon in their purse where it's not easily accessible and takes two hands to get out. If the woman is the victim of a purse snatcher, her gun is now in the hands of a criminal, Irwin added.
The Metropolitan Police Department could not say how many women have concealed carry permits, as its database does not distinguish by sex. A gun can be carried in a vehicle within city limits without a concealed carry permit.
"I always give them advice (to) do a little bit of research and look at the city (to which) they'll be traveling," said Metro Public Information Officer Miguel Garcia, "because even though the city of Las Vegas allows them to carry the weapon in the vehicle, (another urban area) may have some different restrictions."
A map detailing states that honor other states' concealed carry permits can be found at tinyurl.com/concealcarrystates.
DEVELOPING THE BACKGROUND CHECK SYSTEM
The Center for American Progress reports that, from 2003 to 2012, 40 percent of women murdered in Nevada were killed by an intimate partner, and of those, 50 percent were killed with guns. The study also concluded that 48 percent of women living in Nevada will experience rape, physical violence or stalking by an intimate partner in her lifetime.
The National Instant Criminal Background Check System, mandated by the Brady Handgun Violence Prevention Act of 1993, launched on Nov. 30, 1998. More than 100 million checks have been performed nationally in the last 10 years, resulting in more than 700,000 denials.
The FBI reported that in 2014, Nevada saw 116,735 background checks for firearms, which are required before a store can sell anyone a gun. Background checks are not categorized by sex. Over the last five years, according to the Nevada Department of Public Safety, the number of times individuals in the state were denied firearms based on a background check included: 1,575 in 2008, a rejection rate of 1.7 percent; 1,399 in 2009, a 1.3 percent rejection rate; 1,460 in 2010, a 1.4 percent rejection rate; 1,560 in 2011, a 1.3 percent rejection rate; and 1,924 in 2012, a 1.3 percent rejection rate.
A major flaw in the background check system was exposed in 2007 when Virginia Tech student Seung-Hui Ch, previously diagnosed with severe anxiety disorder, shot and killed 32 people and wounded 17 others at the school. He had been cleared through the system to buy a firearm despite being previously committed to a psychiatric hospital.
The massacre prompted Congress to expand the background check system to include individuals who have been deemed mentally ill. In 2009, Nevada became one of the first states to receive federal funding to improve its data collection system to transfer relevant court records to NICS. Nevada's share of the funding was $798,471.
In 2009, the Nevada Legislature passed Assembly Bill 46, which requires state courts to transfer records to the state criminal history repository that include orders regarding the involuntary admission of individuals to mental health facilities. Courts also are required to submit records of individuals who have been appointed guardians due to mental illness or have been determined to be incompetent to stand trial. Such individuals are prohibited under federal law from purchasing firearms.
As of October 2011, Nevada had submitted 484 mental health records to NICS.
CHANGING FAVOR: FROM CONTROL TO THE RIGHT TO ARM
A December Pew Research Center poll reports that 52 percent of Americans say it is more important to protect the right to own guns, while 46 percent say it is more important to control gun ownership.
The Pew report also found a shift about whether gun ownership in the U.S. does more to protect people or put people's safety at risk. Nearly six out of 10 Americans, or 57 percent, say gun ownership does more to protect one from becoming a victim of crime, while 38 percent say it does more to endanger one's safety. In the days following the Sandy Hook Elementary tragedy, 48 percent said guns do more to protect people, and 37 percent said they placed people at risk.
Serena Evans is a college student at the University of Nevada, Reno who is working against legislation to allow guns on campus.
Evans said that if concealed carry citizens got involved in a shooting situation, there would be bullets flying in all directions, ricocheting off pavement and buildings. She asked, if average citizens were shooting their concealed weapons, how would law enforcement "know how to identify the actual shooter, the perpetrator?"
"The main reason people give for having a handgun in the home is protection, typically against stranger violence," wrote David Hemenway, director of the Harvard Injury Control Research Center and author of a 2011 meta-review for the center. "However, it is important to recognize that the home is a relatively safe place, especially from strangers. For example, fewer than 30 percent of burglaries in the United States (2003-07) occur when someone is at home. In the 7 percent of burglaries when violence does occur, the burglar is more likely to be an intimate (current or former) and also more likely to be a relative or known acquaintance than a stranger. Although people typically spend most of their time at home, only 5 percent of all the crimes of violence perpetrated by strangers occur at home."
Everytown for Gun Safety was formed in response to the Sandy Hook shootings. It seeks to ensure that laws keep guns out of the hands of those who have mental issues, are convicted felons/criminals and those who show aggression in domestic violence situations.
How does its communications director, Erika Soto Lamb, view people who say, "I've got a gun, so I'm safe?"
"What people need to recognize is the flip side. Should other people have loaded, hidden guns and do I live in a state that has the right requirements for being able to carry a loaded gun on me?" she said. "One of the pieces of legislation being considered would lower the standard to the lowest bar, and there are states that have very low requirements. Florida, which has the most conceal carry permits, has a really low bar, and Nevada is considering dropping its standards to allow people with a Florida permit to carry in Nevada.
"So, I think the question is not about you, yourself, and passing a background check and receiving a conceal carry permit, but the people around you, should they have guns? And it's up to our lawmakers to make sure that the laws in your state provide for that, that the people who are carrying should be."
"We are opposed to dangerous people carrying, whatever their (sex) might be," Soto Lamb said.
Soto Lamb said the rising number of women buying guns "goes back to the persuasive marketing campaign by the NRA and the gun lobby to sell more guns, to develop new markets by scaring people into believing that they have to be armed to protect themselves."
Indeed, in 2014, the NRA launched an outreach campaign called NRA Women, which aimed to teach young, single women how to be "Armed and Fabulous," fall in "Love At First Shot" and "Refuse To Be A Victim."
Despite the increase in gun sales to women, the number of gun owners in America is dropping. Fewer people have guns, although more of the same households are buying them.
"So, once you've tapped out the traditional male gun owner, you have to move toward women and a younger (demographic)," Soto Lamb said.
Editor's note: This is the final story in a three-part series about women and guns. For past stories, visit viewnews.com.
To reach Summerlin Area View reporter Jan Hogan, email jhogan@viewnews.com or call 702-387-2949.