Accidental zookeeper got carried away with his hobby
October 6, 2013 - 3:25 pm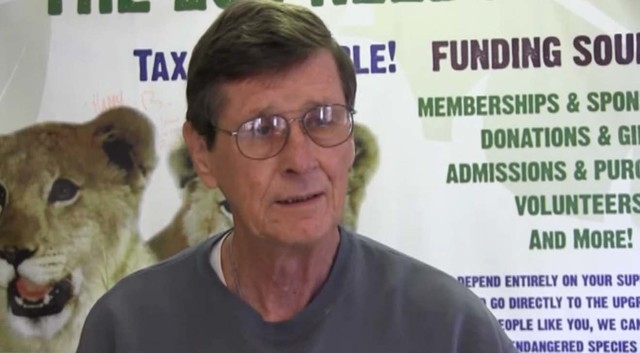 A pair of thoroughly confused peacocks meanders past the entrance to the shuttered Las Vegas Zoo on Thursday morning just off Rancho Drive.
The birds are forgiven for being disoriented. Their home is nearly empty. After 33 years in operation, accidental zookeeper Pat Dingle's diminutive community menagerie has closed for good.
Its critics, and it had no shortage of them in recent weeks, filed numerous complaints and no doubt will feel a sense of satisfaction for helping to shove it out of business. In recent months, Dingle was besieged by state and city inspectors. They scrutinized everything from his wall plugs to his water quality and buried him in a blizzard of minor violations.
Folks who find zoos antiquated and cruel by their nature will cheer its demise. Watch local media accounts of the zoo's final days, and you'll come away certain that those long-suffering animals needed to be confiscated and rescued.
The United States Department of Agriculture has oversight over zoos and animal sanctuaries, and local news reports made much of the federal officials' presence on the premises.
During my interview with Dingle, a USDA official volunteered that no animals were either "confiscated" or "rescued." They were simply relocated to licensed zoos and animal sanctuaries from Utah to Florida.
In the three decades Dingle kept track, the zoo drew more than 1.3 million visitors. The vast majority of those who found their way to its offbeat location were local working families. For two decades the nonprofit foundation also offered a high school internship program for local students.
Although it always lacked for space and corporate foundation support — the generous employees of local Wal-Marts being one recent exception — the zoo never had a shortage of self-appointed experts willing to donate their advice. As those animals couldn't exist on a diet of considered opinion and broken promises, Dingle just kept plugging away.
Looking over the arc of Dingle's time as an accidental zookeeper, it's easy to see he was in over his head from the start. He was a Vietnam veteran and North Las Vegas Police Department narcotics and homicide detective, not a university-educated animal expert. In his police days, the zoo he worked included murderous heroin dealers, mobsters and the occasional serial killer. Off-duty, his passions were limited to his wife Muffye and a growing aviary of exotic birds.
"It's the case of a hobby that got carried away," Dingle, 66, says.
His USS Yorktown cap hangs behind him, and architectural renderings of an ill-fated expansion plan rest against one wall.
The Rancho Drive property wasn't big enough for a grand zoological park back when he bought it, but it was the best he could do. It included one structure built around World War II. Over time, the bird sanctuary added discarded animals, including a lion cub he named Arnie.
Dingle appreciated his limitations, but didn't allow them to stop him. Early on, he developed a mentoring relationship with the world-famous San Diego Zoo, which after making site visits often loaned its animals.
Although some animals came from licensed facilities, others were orphans. The zoo's mountain lion, for example, was literally left in a box on Dingle's doorstep.
Then there's Terry, the zoo's solitary chimpanzee. Despite his TV and air conditioning, the chimp often looked bored and lonesome. Most visitors didn't know that Terry's owner, Lucien Meyer, came to visit him during the week.
Although Dingle's operation had its share of bureaucratic citations and no shortage of concerned citizens who lambasted it for everything it was not, he was particularly proud of being included in a program to help breed fossas in captivity. The predators, native to Madagascar, are slightly larger than a house cat but a lot more aggressive.
They don't flash their teeth as often as some of his detractors, he says, chuckling a little. Dingle has lost his zoo, but not his sense of humor.
In his office, Dingle laughs again about keeping his personalized license plate "ZOO DO" and adds, "I'm the guy at the end of the parade with the push broom."
Despite the controversies and sniping, he is proud he kept his little zoo going for so long. Now Southern Nevada's only animal exhibits are either attached to a casino or part of a private collection.
On a table next to Pat Dingle's desk are several boxes holding the cremated ashes of animals that have died at the zoo over three decades.
What will become of those?
"Those ashes?" the accidental zookeeper says. "They'll be mixed with mine."
John L. Smith's column appears Sunday, Tuesday, Wednesday and Friday. Email him at Smith@reviewjournal.com or call 702-383-0295. Follow him on Twitter @jlnevadasmith.