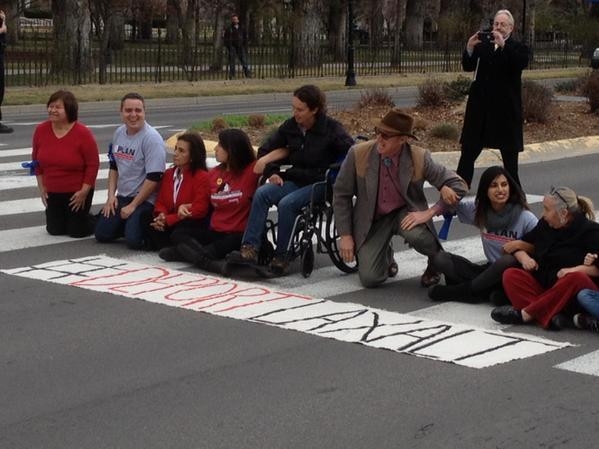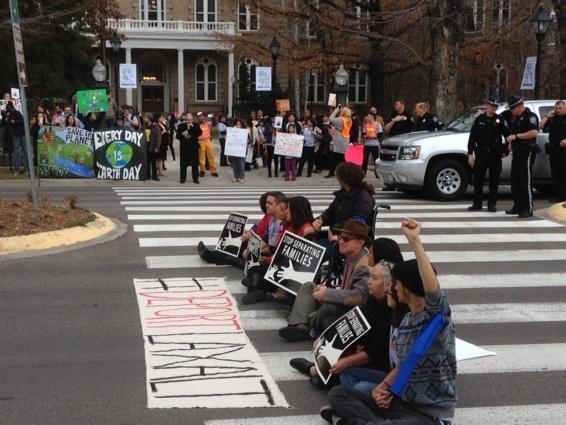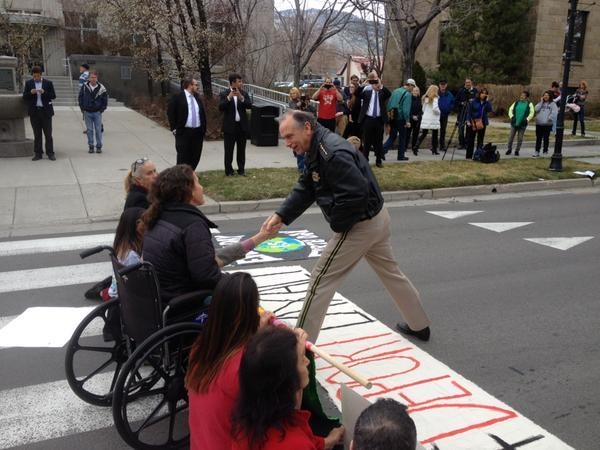 CARSON CITY — About 100 activists wanting to meet with Attorney General Adam Laxalt over his decision to join a lawsuit challenging President Barack Obama's action on immigration blocked the highway in front of the state Capitol on Wednesday.
At times chanting "Deport Laxalt," the group had sought a meeting with Laxalt to talk to him about his decision to join the lawsuit filed in Texas.
Elvira Diaz, a U.S. citizen from Sparks, said she attended the protest because the father of her child is eligible for the Deferred Action for Parents of Americans and Lawful Permanent Residents (DAPA) program.
"My son spends the weekends with his father and is afraid one day his dad will be deported," she said. "I want Mr. Laxalt to know that the president's action gives my family peace of mind and keeps us together. Please support our families, and withdraw Nevada from the lawsuit."
Laxalt left the attorney general's office building across from the Capitol as the protest was forming.
Shortly after about half a dozen protesters blocked the southbound lanes of U.S. Highway 395, which is Carson City's main thoroughfare, law enforcement officials diverted traffic around the gathering. The street was shut down from about 11:30 a.m. to about 1 p.m. No arrests were made.
Carson City Sheriff Ken Furlong shook hands with some of the protesters sitting in the street.
Sens. Kelvin Atkinson and Ruben Kihuen, both D-Las Vegas, stopped by to speak to the crowd as well.
Eventually the protest dissolved.
Laxalt has defended his action to challenge the authority of the president to issue the executive order. A federal judge in Texas recently ruled in favor of the challenge. That decision is on appeal.
"We stand in solidarity with immigrant families and continue to pledge our deep commitment to keeping families together," said Bob Fulkerson, state director for the Progressive Leadership Alliance of Nevada. "I fight for families who know firsthand just how much our current immigration system is broken."
The activists also planned to attend an afternoon hearing in the Senate Legislative Elections and Operations Committee on a measure to raise the minimum wage. Senate Joint Resolution 8, authored by Sen. Tick Segerblom, D-Las Vegas, would raise the minimum wage to at least $15 an hour.
Contact Sean Whaley at swhaley@reviewjournal.com or 775-687-3900. Find him on Twitter: @seanw801