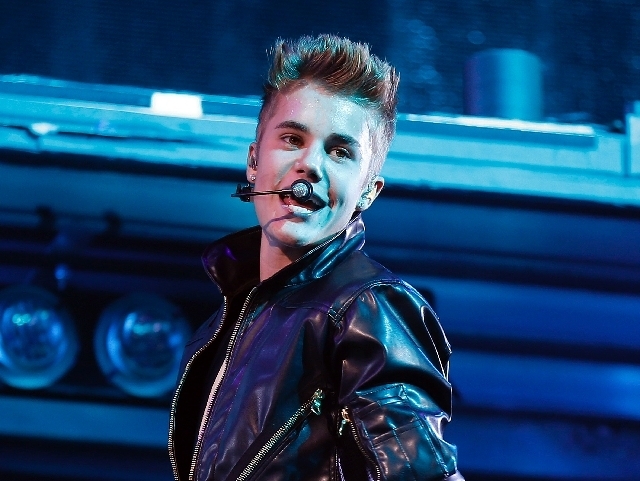 Australian actor Liam Hemsworth — and now, apparently, ex-beau of Miley Cyrus — reportedly got the breakup message from her via Twitter while in Las Vegas for the big boxing match.
Cyrus, 20, unfollowed the "Hunger Games" star on Saturday after a spat, according to HollywoodLife.com.
Hemsworth attended several private VIP pre-fight events with Jeff Beacher of "Beacher's Madhouse" and Ashley Greene of the "Twilight" series, one in the Mansion at the MGM and Showtime party at the MGM Grand Garden.
He walked down the Showtime red carpet event with his head down, avoiding media before attending the Floyd Mayweather Jr.-Saul "Canelo" Alvarez fight.
Hemsworth and Cyrus met on the set of "The Last Song" in 2009 and got engaged last year.
Rumors intensified when Hemsworth didn't attend the Video Music Awards on Aug. 25, now infamous for Cyrus' raunchy dance routine with singer Robin Thicke.
Cyrus and Hemsworth have been regulars at "Beacher's Madhouse," located in the Roosevelt Hotel in Hollywood.
BIEBER BACK
Justin Bieber accompanied Mayweather into the ring Saturday for the second time since May 2012.
This time, he also showed up at the post-fight news conference, wearing dark sunglasses and sitting near the podium with Mayweather's children.
Bieber entered the MGM Grand Garden alongside Mayweather, while rapper Lil Wayne walked with them, performing one of his songs.
The Mayweather-Bieber friendship started more than a year ago.
Bieber even showed up to sing at the 13th birthday of Mayweather's daughter, Iyanna, a massive Bieber fan.
Bieber's been getting more attention for his bratty behavior over the past year than for his music career.
Twitter went wild Saturday after Bieber's latest appearance in Mayweather's entourage.
"Nonbeliebers" had their fun.
"The only way this fight will be worth 75 Dollars is if Mayweather knocks out Bieber while they are walking to the ring," tweeted @MMARoasted.
Just another day in the gangsta world of Bieber.
THE SCENE AND HEARD
The oldest boxing champ in the MGM Grand Garden? Had to be billionaire Kirk Kerkorian, founder of what became the current MGM Resorts International empire. Kerkorian, who turned 96 in June, was a former amateur fighter — he reportedly fought under the name "Rifle Right Kerkorian" — and won a Pacific amateur welterweight title.
SIGHTINGS
Jack Nicholson, working a lollipop before the fight. Others at the fight included: Sean "Diddy" Combs, Heidi Klum, UFC heavyweight champ Cain Velasquez, Magic Johnson, Joe, Nick and Kevin of the Jonas Brothers, hip hop star Rick Ross, NBA veteran Kevin Garnett, Michael Phelps, Michael Strahan, William Macy, Owen Wilson, Paul Pierce, Jon Voight, Rosie Perez, Ray J and 2 Chainz.
THE PUNCH LINE
"According to the tabloids, they are saying that it looks like Khloe Kardashian and Lamar Odom are done. If that turns out to be true, then Khloe would get the 12th pick in the NBA Draft." — Jay Leno
Norm Clarke's column appears Sunday, Monday, Wednesday and Friday. Reach him at 702-383-0244 or norm@reviewjournal.com. Find more at normclarke.com. Follow @Norm_Clarke on Twitter. "Norm Clarke's Vegas" airs Thursdays on "Morning Blend" on KTNV-TV, Ch. 13.