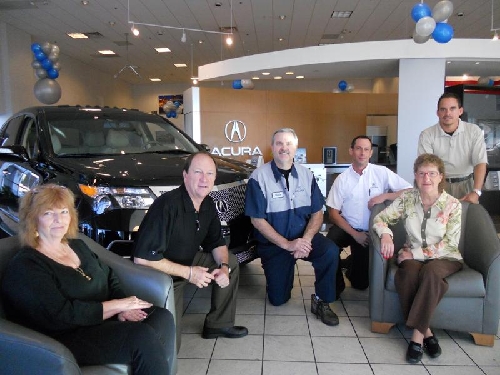 Six valuable members of the Acura of Las Vegas staff have a combined total of more than 90 years in the car business.
Leading the employees with long tenure are sales consultants Louie Doblado, Mary Weisbrod and Sean Berkebile; Kathy Paul, office manager; Brad Eull, service adviser; and Brian Stroud, shop foreman.
Paul has 11 years; while Doblado has 20 years; Eull has five years; Weisbrod has 24 years; Berkebile has 11 years; and Stroud has 22 years.
For Paul, the combination of the car business and accounting is a natural.
"Accounting is a passion of mine," said Paul, a native of Devils Lake, N.D. "I have gone into other careers, but always returned to the car business. The car business is simply very addictive. I love it."
Weisbrod, a native of New York City who has lived in Las Vegas for nine years, loves the sales end of the car business. She has customers from several states, including Montana, Idaho, Colorado, Utah, Arizona and California.
"I like making something big happen for people," she said, adding that she will sell cars as long as she can walk and talk. "It's a great feeling when people are taking delivery of their new car. I especially appreciate that I have so many repeat customers who trust me. A car is the second biggest purchase a person makes, so it's vital that we take care of the customer.
"I sell Acuras because I believe in them. They are safe, they are well-equipped, they are pretty and they give people affordable luxury."
Doblado, a 42-year resident of Las Vegas with extensive ties to the community, said the combination of the Acura brand and leadership of the dealership has created the ideal environment.
"I could work anywhere," said Doblado. "I am with Acura of Las Vegas because there is a solid foundation with an excellent following. People from all over the country will vacation here and purchase a car from us at the same time."
Berkebile, a native of Florida, said the Acura brand is gold in the car business.
"Acura is going to be the Apple (computer brand) of the automobile industry in five years or less," said Berkebile.
Stroud and Eull lead a very strong numbers in the service department as the dealership continues to score high on its all-important Customer Satisfaction Index.
"These people are the core of our store," said General Manager Tim Donnelly. "I cannot imagine this dealership operating without them."
Situated at 7000 W. Sahara Ave., Acura of Las Vegas is part of the Super Store Auto Group which has five stores in Southern Nevada and more than 26 in the country.
Further information regarding Acura of Las Vegas can be found by calling 367-7000 or visiting www.lasvegasacura.com.