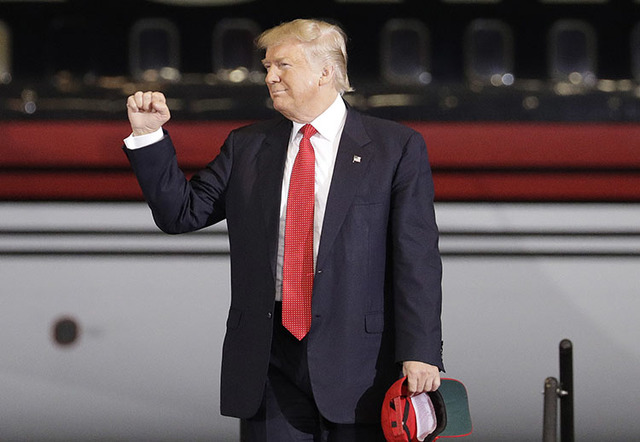 CARSON CITY — The AFL-CIO is launching a campaign blitz this week targeting Republican presidential nominee Donald Trump and GOP Rep. Joe Heck, running for Nevada's open U.S. Senate seat.
The organization said Tuesday it is sending three mailers to more than 20,000 union households in Nevada, one of eight battleground states included in the ad campaign. The other states are Ohio, Florida, Indiana, Missouri, Pennsylvania, New Hampshire and North Carolina.
Two fliers take aim at Trump, the billionaire real estate magnate and reality TV star.
"Donald Trump only cares about making money and he'll hurt anyone to do it, including his own workers," reads one flier.
Another piece focuses on the Taj Mahal casino in Atlantic City.
"Trump takes millions in salary and bonuses, then manipulates the rules and files for bankruptcy — because that protects his company, but lets him break the union contract," it says.
Trump is no longer affiliated with the casino he opened in 1990 and that has been through several bankruptcies. It is scheduled to close next month.
A third mailer claims Heck, seeking to succeed Democratic Minority Leader Harry Reid in the Senate, received campaign backing for supporting corporate tax breaks and outsourcing of jobs. Heck is in a close race with Democratic candidate Catherine Cortez Masto.
The AFL-CIO said it will also send mailers in targeted state legislative races "to regain a pro-worker majority" in the Nevada Senate and Assembly.
Republicans now hold an 11-10 edge in the Senate and 25-17 advantage in the Assembly.