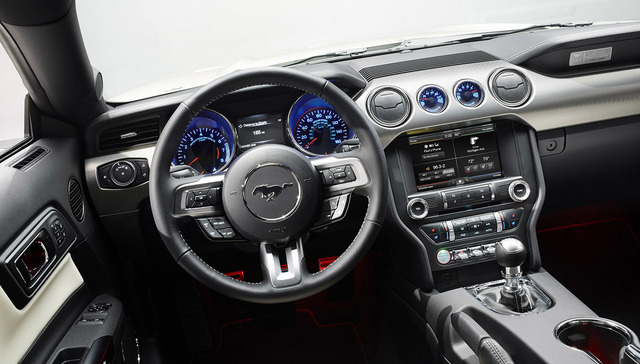 It's interesting that a 50-year-old brand that sells in relatively limited quantities continues to garner such massive interest.
Chalk it up to the magic of the Mustang, a car that first saddled-up back in 1964. Now, a half-century later, the public still won't let go of the reins.
Ford has high global hopes for the latest 'Stang since both left- and right-hand- drive versions are being shipped off to Europe and Asia. That could also explain a certain Euro-styling vibe that the Mustang exudes, especially in the delicate sweep of the roofline where it meets the rear deck and swoopy tail panel.
At the opposite end, the grille and lower air intake are remarkably, and perhaps reassuringly, similar to that of the 2014 edition.
It would seem as if the designers tried to walk a fine line in appeasing traditional steeped-in-nostalgia Mustang buyers, enticing fresh converts to the fold and appealing to citizens in European and Asian lands to forsake their traditional vehicle purchases for a taste of the American Dream. That's indeed a tall order, but if successful it's one that should pay dividends in the long run.
Dimensionally, the new Mustang remains true to the outgoing model. Both are nearly equal in length and identical in distance between the front and rear wheels, while the newbie gains 1.5-inches in width. There's also more passenger volume and trunk space, although it's not a huge differential.
The Mustang does have plenty to crow about in one important area. For 2015, the Mustang has finally ditched its stone-age solid rear axle and replaced it with a more modern independent rear setup, along with a less radically altered front suspension. Ford's engineers state that these changes mean an improved ride and better handling. The distance between the left and right wheels has also been slightly widened for greater stability and the Mustang now sits a bit lower to the ground.
As you might expect, the cabin has also been completely retooled, including larger round gauges and air vents and an equally sizable touch-screen that donates the control panel.
Essentially unchanged are the 3.7-liter V6 that makes 300 horsepower (down slightly from 305) and the 435-horsepower 5.0-liter V8 in the GT (up 15 hp). Slotted between the two and priced only moderately above the $24,400 base V6 is a turbocharged 2.3-liter four-cylinder that's rated at 310 horsepower. All three engines are available in the Mustang coupe and convertible, the latter with a top that raises and lowers twice as rapidly as before.
Fuel economy with the V6 is rated at 17 mpg in the city and 28 on the highway, which is lower than the previous 19/31 mark.
Meanwhile, the turbo engine with the automatic delivers 21/32. Of course the V8 is the thirstiest of the lot, but its owners likely won't mind too much.
The Mustang's standard six-speed manual transmission has been reworked to deliver smoother shifts. A six-speed automatic, now with available steering-wheel-mounted paddle shifters, is optional.
Of all the Mustang's standard features, one of the more intriguing is a Track Apps package.
It consists of a small screen between the tachometer and speedometer that can display, record and store lateral g-force data, 0-30, 0-60- and 0-100-mph acceleration times plus 1/8th- and 1/4-mile elapsed times. For GT models with manual transmissions, the Track Apps can be supplemented with Launch Control (for track use only, of course) that delivers extra-quick and controlled starts with virtually no wheel spin. In a similar performance vein, the GT's line lock feature holds the front brakes so the driver can, in Ford's words, "warm up the tires." Or, more commonly referred to as burnouts.
Will the latest Mustang's emphasis on electronic gizmos and design softening play to audiences in North America and beyond?
No doubt, opinions and loyalties will remain divided, but ultimately you don't survive past 50 without learning a few tricks about sustaining your popularity.
2015 FORD MUSTANG
— Type: Two-door, rear-wheel-drive sport coupe and convertible
— Engines (hp): 3.7-liter DOHC V-6 (300); 2.3-liter DOHC I4 (310); 5.0-liter DOHC V-8 (435)
— Transmissions: Six-speed manual; six-speed automatic (opt.)
— Market position: The Mustang, along with the Dodge Challenger and Chevrolet Camaro, are part of a North American phenomenon that began in the mid-1960s. All three carry on, selling in sufficient quantities to a loyal fan base.
— Points: Redesign is a neat blend of old and new styling that works; New turbo four-cylinder option should prove popular outside of North America; Line lock and Launch Control will be a hit with gear-heads; Rear-suspension improvements bring the Mustang ahead 10 years; Look for more powerful models to follow soon.
— Safety: Front airbags; side-impact airbags; side-curtain airbags; anti-lock brakes; traction control; stability control.
— MPG: (city/hwy): 17/28 (V-6); Base price (incl. destination) $24,400
By comparison
— Chevrolet Camaro
Base price: $24,700
Both the Camaro and Mustang sell in almost equal numbers.
— Dodge Challenger
Base price: $28,000
Updated coupe offers the most performance with 707-hp Hellcat model.
— Hyundai Genesis Coupe
Base price: $27,600
Sporty coupe is available only with a punchy 348-horsepower V-6 for 2015.