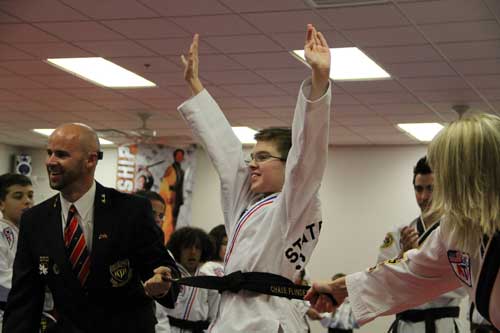 In one night, Chase Flinders, 13, broke three things while getting his black belt in tae kwon do: He broke one board with a punch, a second board with a kick, and, most important, any stereotype that having autism has brought him.
"We were driving home (after he got his black belt), and Chase said to me: 'When people talk about me, they say I am autistic. What does that mean?" said Jennifer Flinders, Chase's mom. "There was such an innocence about the way he asked it. I pulled the car over so I could talk to him and explained a little that people use the word to explain certain tendencies. But then I told him that by getting his black belt, he had redefined every definition of autism. It is a triumph what he did."
When Chase was 9 months old, Henderson residents Jennifer Flinders and her husband, Scott, noticed their son wasn't meeting milestones.
"I have a background in special education, so I know the signs," Jennifer Flinders said. "There comes a point when you look in the mirror and say, 'It's time.' And that day you make that decision to take him to not just the pediatrician but the developmental pediatrician. You have to submit and prepare to take what's not going to be the best news."
Chase was diagnosed at age 3 with severe autism with moderate mental retardation, sensory integration dysfunction, severe language delay, visual impairment and developmental coordination disorder.
The world the Flinderses had imagined for their son had been rattled.
Flinders said she remembers that when Chase was 8 months old, they took a photo of him wearing a Dallas Cowboys hat with a caption that read, "Our future football captain."
"It had been 24 hours after the diagnosis," Flinders said. "I had just put the kids down. I pulled out the photo album and saw the photo of Chase and just lost it. It was so overwhelming, the weight of it all."
But as it turned out, the next 10 years were a journey of hope for the Flinders family members as they watched the impossible become reality.
The family decided not to medicate Chase. They also put him on a strict gluten-free diet and enrolled him in occupational, physical and speech therapy.
Kathy Patten, his occupational therapist, helped the Flinderses with the goal of merging Chase into the community.
When Chase first came to her at 8, he had no concept of where he was in space and had very little control over his body movements, leaving him anxious and scared.
"We would do lots of movement activities," Patten said. "He would find movement frightening, and it would cause him a lot of anxiety. Sometimes in session, he would look at me and say, 'I can't do it, Mrs. Patten,' and I would say, 'Yes, you can.' "
Every night before bed, Flinders would ask God to bring Chase just one friend. Mason Sateren, 13, was that friend.
Even though he isn't autistic, Mason reached out to Chase for friendship.
"By the time they were in fifth grade, they were inseparable," Flinders said.
Mason even sacrificed time to help his friend.
"(Chase's) occupational therapist asked if (Mason) could come to sessions so Chase had a peer to model," Flinders said, holding back tears. "For two years, he came to sessions once a week. He is an angel."
Patten said it is important to have peer interaction because the social dynamics of the disorder are another obstacle to overcome.
"And Mason was just an amazing mentor," Patten said.
Mason also was involved with martial arts and was working to get his black belt at Dillow's ATA, 183 N. Gibson Road.
Mason's family suggested Chase get involved, too.
"I only had the rough and tough stereotype of martial arts," Flinders said. "I thought if you get him in a large crowd, it would be too overwhelming for him."
Patten encouraged Chase's involvement.
"I was ecstatic," Patten said when she learned he was being enrolled. "It was such a big deal for him to be able to do things other kids were doing."
The instructor, Travis Dillow, further convinced the Flinderses that it was the right environment and that Chase was in good hands.
"Getting started, the biggest thing was convincing Mom this was for him," Dillow said. "It is more than just punching and kicking. It teaches you life skills and gives you confidence."
When he first started, either Dillow or one of the other assistants, James Curry or Jan Wicha, would teach Çhase step-by-step what to do. They would balance it so Chase would feel like the rest of the students. When times called for it, they would take Chase hand-in-hand, moving his body into the intricate steps of forms and strikes.
"The first time he was able to do five or six moves on his own, we were amazed," Dillow said.
Dillow allowed Flinders to take six months of free lessons so she could better understand what Chase was enduring.
Three years later, on Feb. 18, Dillow tested Chase for his black belt, which included breaking boards, sparring, performing forms and a physical fitness test.
"I told them I would work with them," Dillow said. "But I said Chase would still have to meet requirements."
When Chase first arrived at the studio in 2008, he could barely hold himself up for a push-up.
That night, for his test, he did 20 push-ups, along with sit-ups, punch-kick combos and other physical challenges.
"I had tears of joy," Patten said. "See, that is why I do what I do. I watched a once-frightened little boy — I mean he would get so frightened and wring his hands — accomplish this, and it was the biggest mountain in the world. He was in a mob of people and he didn't run from the pressure he was under. It was the pinnacle of hard work."
There was no triumph without struggle.
Flinders remembers one day when Chase was little, he got into some honey and couldn't get it off his hand.
"He was just screaming," Flinders said. "When he screams, it can be ear-piercing. I got it off and put on 'Thomas the Train.' He was sitting there rocking, and I ran upstairs to my closet and just lost it. I heard a voice in my head saying, 'Don't you dare. You can't break down. You have to be stronger than the disorder.' "
Flinders made a banner that said, "You have to be stronger than the disorder," and put it up in her closet as a constant reminder.
She now goes to support groups to help others. When she looks into another family's eyes, she sees the same struggle she once faced and tries to give them hope.
"If God entrusted me with Chase, he knows I can do this," Flinders said. "I just can't do it alone. You need support groups. You need to lean on your family."
In the end, it wasn't just Chase's tendencies that were redefined but the family's tendencies, too.
"It is hard enough having the child with special needs," Flinders said. "But then to have to ask for help from family, it's too much."
Flinders' retired parents moved from Texas to Henderson to help in whatever way they could. Her brothers would send money, too, helping with the cost of therapy, which could be about $500 a week.
"At one point, we were paying more for Chase's diet and therapy than we were paying for our mortgage," Flinders said. "It is nice to have a family that says, 'If one of us is weak, we will help build them up.' "
During the car ride home after he earned his black belt, Chase asked his mother what label defines her.
"I guess that would be love," Flinders said. "People need to be reminded that it is our love that defines us."
Contact Henderson and Anthem View reporter Michael Lyle at mlyle@viewnews.com or 387-5201.