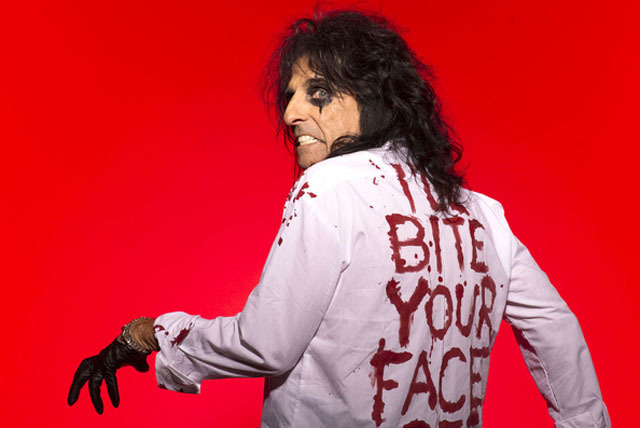 Here's a funny story for you performers out there who do the same stage act every night. Alice Cooper met Jimi Hendrix in 1967, and he says Hendrix already was complaining about playing "Foxy Lady" nightly.
Cooper was 18 or 19 when Hendrix invited him and his band backstage.
"So we're back there, and I'm hearing Jimi go, 'If I have to play "Foxy Lady" one more time, I'm gonna go insane,' " Cooper says.
"That (Hendrix) album was out that year! And I'm going, 'Wow, he's already tired of "Foxy Lady?" ' I mean, it actually stunned me. I sat there and said, 'He must have played that 100 times?' "
All due respect to Hendrix, but if he were alive today, he would be playing "Foxy Lady" for about the 9,000th time at either the MGM Grand Garden Arena or Palace Station.
Cooper — who performs Wednesday night at the Palms — says he never gets bored of singing hits.
"I would have thought that by now, getting onstage and doing 'Eighteen' and 'School's Out' and 'Billion Dollar Babies' would be boring. But you know, every single audience is different.
"And how lucky are you to have a song or 10 songs that everybody knows? It just takes a long time of doing it a lot, and not losing interest in it. I'm the last guy that's ever gonna say, 'Turn that down.' I'm the guy saying, 'Make it harder, make it faster.' "
I mentioned to Cooper how he's a legend, since he essentially started goth and glam and theater-rock.
But Cooper alludes to himself as a "myth."
"I think when you get to the Iggy point, or the Lou Reed point, there's a point where you become a myth," he said.
"You become legendary, mythical, because people have heard so many stories about you for 40 years. Their parents told stories about you. And you're still out there" on the road.
"You're not real anymore, because they can't believe all this stuff happened to you. And then they see you onstage, and you are mythical, because you're woven into the tapestry of America. You're Americana.
"And that's something I never thought Alice Cooper would be, to go from the most hated — or not hated, but most controversial character — to, 'Isn't he wonderful?' "
Cooper laughs.
"You've been there so long, you become Vincent Price."
He says his show now is tighter than ever, thanks to his band and his sobriety.
"It's probably higher energy than it was in the '70s, because in the '70s I was medicated most of the time."
And his life is blissful, he says, largely because of the awesomeness of his long marriage.
"My wife and I are empty-nesters. We've been together 37 years. She plays the insane nurse in the show," he says.
"It's absolutely essential now we don't go anywhere without each other. I spend all my time with her. We have so much fun. We go shopping every day. We go to movies. We're on the bus together. If she's not there, I feel like I'm not half there.
"I'm one of those lucky guys that married the exact right person. People say, 'How does that happen?' I say, 'Well, it's a good idea to marry the person you're in love with, not the most popular stripper.'
"I know guys that are literally at a point where they go, 'This is my fourth wife, she's also a stripper.' And I go, 'Gee, I wonder what's going wrong with this pattern here?' "
Doug Elfman's column appears on Page 3A in the main section on Mondays, Tuesdays, Thursdays and Saturdays. He also writes for Neon on Fridays. Email him at delfman@reviewjournal.com. He blogs at reviewjournal.com/elfman.