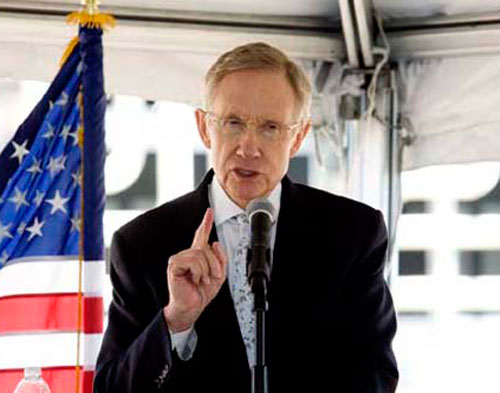 As we enter the last week before the election, it's all bad news for Sen. Harry Reid.
Early voting has the GOP surging. After spending most of his time trying to lift Reid and tamp down the Angle candidacy, liberal political reporter Jon Ralston calls the trends "ominous" for Reid, Titus and Ds. You can bet that was painful for him to write.
Then, late this morning Rasmussen Reports released its latest poll taken last night. Angle now has a 4 percent lead (49-45).
In the morning papers, courtesy of Fox News, the Review-Journal, AP, the LA Times and Roll Call were among the many to report the breaking story that an aide to Reid repeatedly lied to federal immigration and FBI agents and submitted false federal documents to the Department of Homeland Security to cover up her illegal seven-year marriage to a Lebanese national who was the subject of an Oklahoma City Joint Terror Task Force Investigation.
The story was not carried in the Las Vegas Sun. (Shocker!) It was dismissed as a GOP ploy by Reid and his unofficial spokesman, Jon Ralston. (Can you believe those GOP sympathizers over at the LA Times?)
And finally, there's another potentially damaging story floating through Las Vegas that goes to Sen. Reid's "fixed income" wealth. If it can be verified, it will be very embarrassing to Sen. Reid. Stay tuned.
No matter how you cut it, however, it's been a bad start for Sen. Reid to the final week of the election.