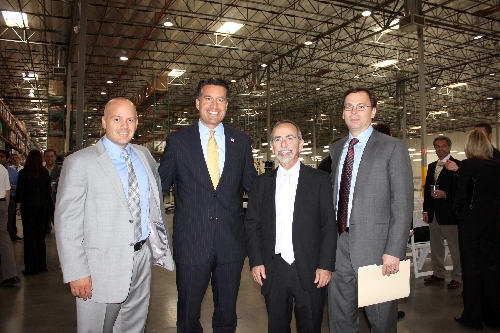 The sounds of whirring machinery inside the new Amonix solar power facility in North Las Vegas drowned out Gov. Brian Sandoval as he spoke about its economic impact.
But the buzzing was music to the ears of the financially strapped city.
Sandoval addressed a warehouse full of federal, state and city officials, including Rep. Shelley Berkley, D-Nev., Mayor Shari Buck, local business owners and media outlets as workers produced green energy products in the back of the warehouse.
"This is the essence of what we're trying to accomplish in this great state," Sandoval said. "Months ago, this facility was vacant. Now, all you have to do is open your ears and open your eyes and look at these Nevadans who are at work."
The 214,000-square-foot facility, at 4975 N. Pecos Road, employs 333 clean- energy, private-sector jobs — that's 55 more than what was anticipated by the Nevada Development Authority.
And Amonix officials said they are still hiring.
The project is expected to contribute $18 million in payroll and $12 million in taxes to the local economy over the next five years.
The company is manufacturing concentrated photovoltaic solar power systems, which means the products will directly convert the sun's rays into electricity without the use of steam turbines.
It's a newer form of solar energy technology and is often much less expensive to produce because the concentration allows for the production of a much smaller area of solar cells.
The manufacturing facility is expected to bring $580 million in overall economic development over the next five years. The project was financed with a $5.9 million investment tax credit from the federal stimulus package and another $12 million in private capital.
Berkley suggested the area could become the "epicenter for renewable energy."
"We could be creating an entire economy based on these jobs," Berkley said. "Not only does it stimulate the economy and gets people to work, but it's an environmentally smart thing to do because we won't pollute."
She then discussed the importance of becoming energy independent.
"This nation simply cannot afford to be allies with countries that do not wish us well, that wish us harm," Berkley added. "We find ourselves holding hands with the Saudis, the Venezuelans and Nigerians, all because we're desperate for their oil."
North Las Vegas Mayor Shari Buck expressed her gratitude to Amonix for locating a satellite facility within the city.
"We're open for business in North Las Vegas," Buck said, quoting a line from her State of the City address. "North Las Vegas really has such potential for these types of projects."
She presented a key to the city to Brian Robertson, CEO of Amonix. He previously had given her a key to the project, which she held up and dangled for the crowd.
Robertson said his company plans to have the facility running 24 hours a day, seven days a week.
Contact Downtown and North Las Vegas View reporter Kristi Jourdan at kjourdan@viewnews.com or 383-0492.