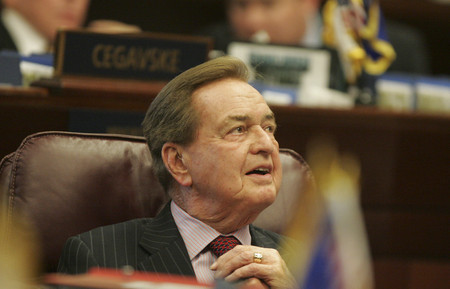 Former Republican Assemblyman Jason Geddes has joined ex-GOP county boss Jim Uster in blasting Sharron Angle for her verbal abuse of Bill Raggio following the state Senate Minority Leader's reluctant endorsement of Harry Reid. Geddes currently serves as vice chairman of the state University Board of Regents.
"Sharon Angle's out-of-line attack on Senator Bill Raggio is a clear indication that she is not ready to be a US Senator," Geddes said in a news release. "Senator Raggio's record of public service and his commitment to fiscal conservatism is impeccable. Senator Raggio has been serving Nevada Republicans for decades. His service to the Republican Party in Nevada has been instrumental in defending conservative values long before Ms. Angle decided to infiltrate the Nevada Republican Party to achieve her personal political goals. Sharron Angle owes Senator Raggio and Nevada voters an apology."
What are the odds Raggio will get one?