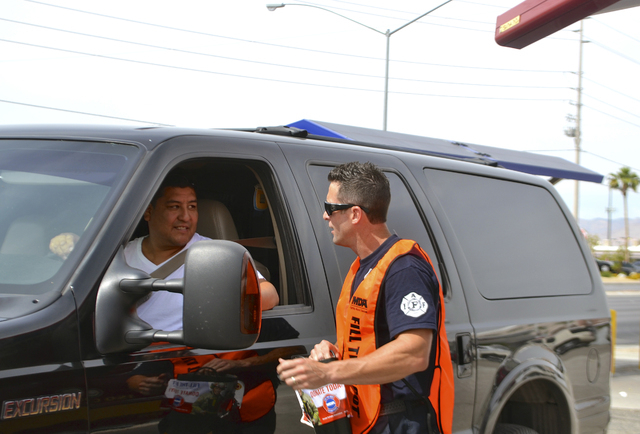 FIRE RESTRICTIONS ADDED AT STATE PARKS
Additional fire restrictions were implemented May 15 at Big Bend, the Valley of Fire and Spring Mountain Ranch State Park because of the high potential for wildfires, according to the Nevada Division of State Parks and the Nevada Division of Forestry.
The following acts are prohibited in the designated areas:
— Smoking, except within an enclosed vehicle or in an area that is barren or cleared of flammable vegetation.
— Operating vehicles or motorized equipment off of paved, gravel or dirt roads.
— Operating vehicles or other motorized equipment in wildland areas without an ax, shovel and at least 1 gallon of water.
— Igniting fireworks.
— Operating a welding torch or any other device that may cause a fire.
— Building or using a fire or stove outside an established fireplace in a picnic area or campground or places of habitation. Portable stoves using jelled petroleum or pressured liquid fuel are an exception. Charcoal grills are allowed in designated areas but will be restricted on windy or critical fire days. Restrictions will be implemented as indicated by the National Oceanic & Atmospheric Agency and the National Weather Service. Daily information is available at wrh.noaa.gov.
Violations are considered misdemeanors and are punishable by fines of up to $1,000, imprisonment for up to six months or both.
RTC UNVEILS NEW SOUTHERN NEVADA BICYCLE MAP
The Regional Transportation Commission of Southern Nevada recently unveiled a new Southern Nevada bicycle route map in celebration of National Bike Month in May.
The map includes new and updated bicycle routes, lanes and shared-used paths for beginners and experienced bicyclists.
The map is available at rtcsnv.com/cycling and is set to be distributed to area bicycle shops and at community events throughout the valley. Some of the more popular, family-friendly bicycle rides include:
— Henderson: Beginning at the corner of Chapata Drive and Casady Hollow Avenue, head north on Chapata Drive, then take the shared-use path east. The path crosses Gibson Road and continues to Acacia Park, 50 Casa Del Fuego St. The ride is less than 2 miles, with parks at each end.
— North Las Vegas: Beginning at West Ann Road and Ferrell Street, travel south one block along Ferrell Street. Merge onto the shared-use path alongside the flood channel and continue east. The path crosses Simmons and Clayton streets and connects to Sandstone Ridge Park over a pedestrian/bicycle bridge on the left. Sandstone Ridge Park, 1661 W. Hammer Lane, has a bicycle path circling the park.
— Summerlin: Beginning at 9550 Trails Center Drive, travel west on the shared-use path that runs under Spring Gate Lane. Continue west, crossing under Crestdale Lane. The path ends at Snow Trail Drive. The ride is 1.8 miles round trip, with park facilities at each end of the trail.
For more information, visit rtcsnv.com.
SUMMIT TO FOCUS ON EMERGENCY PREPAREDNESS IN THE HOSPITALITY INDUSTRY
A Crisis Management in the Hospitality Industry summit is scheduled from 8 a.m. to 4:30 p.m. June 12 at the UNLV Stan Fulton Building, 801 E. Flamingo Road.
The event will focus on emergency planning and creating a culture of preparedness. Anyone employed in the hospitality industry is encouraged to attend, including executives, owners of hospitality companies, security and human resources personnel, public relations and crisis management professionals, health care managers and others.
U.S. Army Col. Russell Kern is set to provide the keynote address. Other speakers are slated to include communications professionals and first responders.
For more information or to register, visit unlv.edu/hotel/chrc.
CROSSING GUARDS SOUGHT BY NORTH LAS VEGAS POLICE DEPARTMENT
The North Las Vegas Police Department is seeking crossing guards to work near elementary schools for the upcoming academic year.
Crossing guards are responsible for assisting young students across busy intersections on their way to and from school.
The part-time position pays $9 hourly, and shifts are usually from 6:30 to 9:15 a.m. and from 1:30 to 4 p.m. when school is in session.
Applicants must possess a high school diploma or GED; pass a police background check and a drug test; and possess a valid Nevada driver's license. Being bilingual is a plus but not required.
Residents can apply by visiting cityofnorthlasvegas.com and clicking on "employment."
For more information, call the crossing guard supervisor at 702-633-1017, ext. 6671.
APPLICANTS SOUGHT FOR HENDERSON LEAD PAINT REMOVAL
The remediation of lead paint from a downtown Henderson home was recently completed, marking the first major project under the city's Neighborhood Services Lead Hazard Control and Healthy Homes Program.
The home is owned by expectant parents Eddie and Barbara Whitney, who opted for the program to make their home safer for their unborn child. Work on the home's exterior lasted about 45 days at a cost of about $15,000. Inside the home, the doors and door frames were replaced, along with mold removal at a cost of about $6,500.
The program is free to Henderson residents who own or rent their homes. To be eligible, homes must have been built before 1978, house a child 5 or younger, house an expectant mother or be frequently visited by a child 5 or younger. The family income must be less than 80 percent of the area median income, which is $49,200 for a family of four.
The city was awarded $2.3 million in grants through the U.S. Department of Housing and Urban Development's Office of Healthy Homes and Lead Hazard Control to reduce lead-based paint hazards in homes with children or pregnant women.
The adverse health effects of lead exposure in children include intellectual and behavioral deficits, according the Centers for Disease Control and Prevention.
The city aims to address lead hazards in 80 homes over the next three years and is seeking applicants.
For more information, visit cityofhenderson.com/lead or call the city of Henderson Neighborhood Services Division at 702-267-2000.
HENDERSON SUMMER SAFETY FAIR SCHEDULED MAY 30
The city of Henderson plans a Super Summer Safety Fair from 3 to 8 p.m. May 30 at the Henderson Multigenerational Center, 250 S. Green Valley Parkway.
The event is aimed at educating residents about child and infant safety around the water.
For more information, visit hendersonlive.com.
SITE OFFERS TOOLS TO HANDLE FAMILY LAW PROCEEDINGS
Mills & Mills Law Group, 703 S. Eighth St., recently launched an online document preparation platform, nevadapowerlaw.com, to allow users to represent themselves in matters involving family law.
The site is designed to make the legal process easy, more affordable and more efficient, according to the firm. Family law issues include divorce, paternity, visitation, termination of parental rights, name changes, custody, child support, guardianship, nonparent visitation, adoption and relocation.
An in-person consultation with a family law attorney from Mills & Mills Law Group is included with every purchase made from the website, the firm said.
CITY TO EXPLAIN PERMITS, CODE VIOLATIONS DURING HOMEOWNERS NIGHT
The city of Las Vegas plans its third annual Homeowners Night at 6 p.m. May 29 at the Development Services Center, 333 N. Rancho Drive.
The event is set to offer three 30-minute sessions that cover permits, code violations, working with contractors and electrical safety. City staff members and representatives from the Nevada State Contractors Board are slated to attend to answer questions. Light refreshments are scheduled to be offered.
Attendees can take advantage of the city's year-round amnesty program, which waives penalties for homeowners who disclose nonpermitted or noncode-compliant work previously conducted on their homes.
Reservations are required. For more information or to make workshop reservations, call 702-229-2355 or email otcpermits@lasvegasnevada.gov.
POLICE PROVIDE PLACE FOR RESIDENTS TO DONATE TO HOMELESS
The Metropolitan Police Department's Downtown Area Command recently offered a safe place for residents to provide face-to-face donations to area homeless people.
Officers with the department's Homeless Evaluation Liaison Program conducted the Giving Project event May 10 in the parking lot of the Fraternal Order of Eagles, 1601 E. Washington Ave.
The goal of the event, which takes place monthly at different locations, is to raise awareness of responsible giving.
COUNTY TO PROMOTE DROWNING PREVENTION AT POOLS
The Clark County Parks and Recreation Department plans a Super Summer Safety Fair from 5 to 6 p.m. May 30 at the Desert Breeze Aquatic Facility, 8275 Spring Mountain Road, and the Hollywood Aquatic Center, 1550 S. Hollywood Blvd.
The events are being held simultaneously at Southern Nevada Child Drowning Prevention Coalition partner pools across the valley to educate parents, guardians and day care providers.
Participants will receive information about safeguarding their homes, preventing accidents and how to respond in an emergency. Information about sun safety also will be provided.
Attendees will receive free admission for open swim from 6 to 8 p.m. The cost for those not attending the fair is $2 for youths ages 3 to 17, $3 for visitors 18 to 54 and $1 for those 55 or older.
For more information, call the Desert Breeze Aquatic Facility at 702-455-7798 or the Hollywood Aquatic Center at 702-455-8508 or visit clarkcountynv.gov/parks.
SCHOOL PROGRAM DONATES $2,000 TO SUICIDE PREVENTION NONPROFIT
The local nonprofit International Suicide Prevention recently announced receiving a $2,000 grant from the We R Community public education program at Las Vegas High School, 6500 E. Sahara Ave.
International Suicide Prevention has developed new procedures that shorten emergency hotline calls to 10 minutes without repeats and two innovative self-help procedures translated into several languages, according to the organization.
We R Community helps high school students learn about the world of philanthropy by teaching them how to choose area nonprofits to support financially and through volunteerism.
International Suicide Prevention said it has no paid employees or permanent office.
For more information, visit supportisp.org.
TAKE STEPS TO STAY COOL DURING WARM WEATHER
The Valley Health System recently offered heat-related safety tips for residents as the weather begins growing warmer.
— Run errands in the early morning or late evening to avoid the hottest parts of the day.
— Wear light-colored, loose-fitting clothing, a hat and sunscreen while outside. Use umbrellas to fend off the sun's harsh rays.
— Cool your car as much as possible. Crack the windows for ventilation and cover your steering wheel and car seats.
— Keep close watch on younger children and create a communication plan with older relatives and friends so they know how to reach you in case of an emergency.
— Schedule hydration breaks throughout the day. When playing outdoors, take water breaks every 20 to 30 minutes. Always bring extra water when running errands.
— Water is the best source to rehydrate your body, while sports beverages can help replace the salt and minerals lost during exercise.
— Know the signs and symptoms of heat illness, including those for heat exhaustion: muscle cramping; heavy sweating; weakness; cold, pale and clammy skin; a fast but weak pulse; and nausea or vomiting. Heat stroke symptoms include body temperatures of more than 103 degrees; hot, red, dry or moist skin; a rapid and strong pulse; and unconsciousness.
For more information, visit valleyhealthsystemlv.com.
LAS VEGAS, HENDERSON PLAN DROWNING PREVENTION EVENTS AT POOLS
The cities of Las Vegas and Henderson plan to host free Super Summer Safety Fair events this week in collaboration with the Southern Nevada Child Drowning Prevention Coalition.
The Las Vegas events are planned from 6 to 8 p.m. May 30 at the Municipal Pool, 431 E. Bonanza Road, and the Pavilion Center Pool, 101 S. Pavilion Center Drive. Participation is free.
The Henderson event is scheduled from 3 to 8 p.m. May 30 at the Henderson Multigenerational Center Activity Pool, 250 S. Green Valley Parkway.
The events are being held simultaneously at Southern Nevada Child Drowning Prevention Coalition partner pools across the valley to educate parents, guardians and day care providers about infant and child safety in and around the water.
Participants will receive information about safeguarding their homes, preventing accidents and how to respond during emergencies. Information about sun safety will also be provided.
Those attending the Las Vegas safety fair will receive free admission to the pool between 7 and 8 p.m. Children younger than 7 must be supervised by an adult within arm's reach at all times.
Visitors attending the Henderson safety fair between 3 and 6 p.m. will receive free admission to the activity pool between 4 and 8 p.m. Children younger than 8 must be supervised by an adult within arm's reach at all times.
For more information on the Las Vegas event, call 702-229-4726 or visit lasvegasnevada.gov. For more information on the Henderson event, call 702-267-5836 or visit cityofhenderson.com.
VALLEY EVENT TO PROMOTE WILDFIRE AWARENESS
Mount Charleston's annual Pine Needle Pickup & Barbecue is scheduled for June 7.
A 7 a.m. cleanup is planned, followed by a free barbecue from 11 a.m. to 2 p.m. at Mount Charleston Fire Station 81, 25 Ski Chalet Place off state Route 157 in Kyle Canyon.
The Clark County Fire Department is partnering with local, federal and state agencies to put on the event, aimed at promoting wildfire awareness and reminding residents about the potential for wildfires during spring and summer, when vegetation is driest.
For more information on the Mount Charleston event, call Liz Claggett at 702-387-3111.
SAFE SUMMER NIGHTS TO FEATURE MUSIC, ENTERTAINMENT AND INFORMATION
Residents are invited to enjoy free entertainment, refreshments, health services and a resource fair while getting to know each other during upcoming Safe Summer Nights events put on by the city of Las Vegas.
Music, children's games and face painting are planned, and free hot dogs and water will be available while supplies last. Attendees also can learn about community resources, including summer activities for youths, health services, community safety, money management programs and adult education opportunities.
The events are set for:
— 5:30-7:30 p.m. May 30 at Booker Elementary School, 2277 N. Martin Luther King Blvd.
— 5:30-7:30 p.m. June 25 at the Stupak Community Center, 251 W. Boston Ave.
— 6-8 p.m. July 18 at the East Las Vegas Community Center, 250 N. Eastern Ave.
For more information, contact Lisa Campbell at 702-229-5406 or lcampbell@lasvegasnevada.gov.
INFANT AND CHILD CPR CLASSES AVAILABLE AT UMC
University Medical Center plans an infant and child cardiopulmonary resuscitation class at 9 a.m. June 7 and 2 p.m. July 8 at the Family Resource Center, 1120 Shadow Lane.
The class requires a refundable $10 deposit.
For more information or to register, call 702-383-2229.