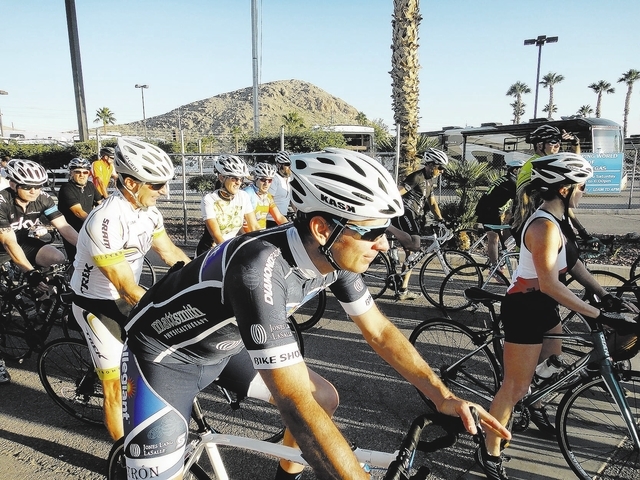 SUBMISSIONS SOUGHT FOR ANTI-GRAFFITI ART CONTEST
The Regional Transportation Commission of Southern Nevada is seeking submissions for its seventh annual anti-graffiti art contest, open to area elementary and middle school students. This year's theme is Keep Southern Nevada Graffiti Free.
Submissions must be an original concept produced in color on an 11-by-17-inch landscape piece of paper. No photography or glitter artwork will be accepted. Art tools may include markers, crayons, colored pencils or paints.
The top entries are slated to be featured on an RTC vehicle and other transit amenities for up to one year. Crime Stoppers of Southern Nevada has also donated 10 shelter ads through Outdoor Promotions to display the top 10 pieces of art.
The entry deadline is 5 p.m. Oct. 17. Submissions can be mailed or hand-delivered to the RTC administrative office, Attention: Aileen Pastor, 600 S. Grand Central Parkway, Suite 350, Las Vegas, NV 89106.
More entry details can be found at rtcsnv.com. For more information, contact Pastor at pastora@rtcsnv.com or 702-676-1735.
1ST TUESDAY TO FOCUS ON WAYS TO AVOID BEING A VICTIM
Police are slated to mark National Crime Prevention Month in October by discussing various ways that residents can avoid being victims.
Officers will share the tips during the Metropolitan Police Department's open house-style 1st Tuesday event, planned for 7-8 pm Oct. 1 at area commands around the valley.
For more information, including area command locations, visit lvmpd.com or call 702-828-3111.
WARD 3 NEIGHBORHOOD MEETING TO ADDRESS WALKABLE COMMUNITY PLAN
The city of Las Vegas plans community meetings to discuss a proposed walkable community plan for the Ward 3 area.
The plan is aimed at assessing the ability of residents to walk to essential services and activities easily and safely while creating a self-sufficient and less auto-dependent community.
The meetings are set for 6-7 p.m. Oct. 15 at Hollingsworth Elementary School, 1776 E. Ogden Ave., and 6-7 p.m. Oct. 23 at Crestwood Elementary School, 1300 Pauline Way.
The plan would not change zoning or property land-use designations but will focus on physical improvements, such as crosswalk enhancements, sidewalk upgrades and the addition of shade trees, city officials said.
The purpose of these initial meetings is to obtain input from residents and business owners. To learn more about the plan or take an online survey, call 702-229-6051 or visit lasvegasnevada.gov/walk.
HENDERSON POLICE DEPARTMENT WELCOMES RECRUITS
The Henderson Police Department recently announced the graduation of nine recruit police officers and one recruit corrections officer from the Southern Desert Regional Police Academy.
The recruit police officers received more than 720 hours of academic and practical training on various topics, including police ethics, criminal law, defensive tactics, firearms, investigation, community policing and emergency vehicle operations. The recruit corrections officer received more than 480 hours of similar training.
The recruit police officers are scheduled to attend a five-week advanced academy, followed by a 17-week field training program. The recruit corrections officer, meanwhile, is scheduled to complete a 14-week field training program.
The 21-week Southern Desert Regional Police Academy is a partnership between the Henderson and North Las Vegas police departments and the College of Southern Nevada.
HEALTH DISTRICT REMINDS RESIDENTS ABOUT IMPORTANCE OF PREPAREDNESS KITS
The Southern Nevada Health District encourages residents to develop preparedness plans that can be implemented in an emergency.
The kit can help families and businesses sustain themselves in the event of an illness outbreak or natural disaster.
Family emergency supplies can be stored in a large container, a backpack or a suitcase and can be assembled over several months by adding one or two items to a grocery list. A kit should include food, water, a first aid kit, tools, copies of important documents, clothing and bedding, medications and pet supplies. A household preparedness kit should include enough supplies for three weeks.
For more information about emergency preparedness or how to develop an emergency preparedness kit, visit snhd.info.
FREE SMARTPHONE APPS HELP USERS DURING WILDFIRES, OTHER DISASTERS
The American Red Cross has launched a free app that offers wildfire tips and news updates.
Instructions inform users what to do before, during and after wildfires. A news section offers links to all U.S. firefighting agencies' Twitter feeds and websites. The app helps users find American Red Cross shelters in their area and communicate with family and friends using Facebook and Twitter status updates, emails and texts. The app also includes a flashlight and audible alert functions, among other features.
The app is available at redcross.org/mobile-apps/wildfire-app.
Meanwhile, the Federal Emergency Management Agency offers a free app that offers disaster safety tips, an interactive emergency kit list, emergency meeting location information and a map listing open shelters and FEMA disaster recovery centers. Users also can submit GPS photo reports of disasters so they can be displayed on a public map.
To download the app, visit fema.gov/smartphone-app.