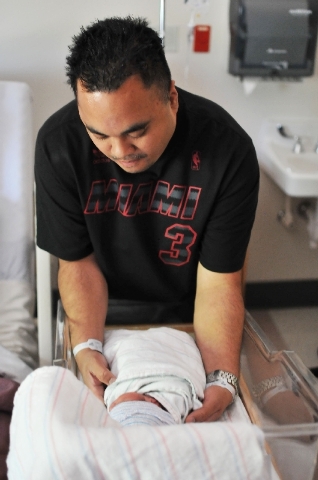 Last month, View Neighborhood Newspapers introduced southwest-area residents Ana and Mark Nicolas, who won a free in vitro fertilization treatment last year after trying to have children for four years. Ana gave birth to healthy twins, Hope and Maxwell, April 29 at Spring Valley Hospital, 5400 S. Rainbow Blvd.
Mark Nicolas had a 15-year-old daughter from his previous marriage and said he is learning to be a dad all over again.
"It's been 15 years since I had Gabbie," Nicolas said. "It's exciting; it's brand new. I'm kind of worried (that) by the time they grow up, I'm going to be a senior citizen."
Nicolas, 40, said he "totally forgot what it was like" taking care of newborns.
"I don't remember 15 years ago what it was like, and now it's double," he said.
The biggest adjustment?
"No sleep," he said.
Nicolas said he is often exhausted from waking up every two hours and sometimes gets frustrated as many parents do.
"But then you're like, 'Oh my God, this is what we've been waiting five years for,' " he said. "… It's hard work, and it's great to work together with your wife. It takes both of us to maintain our sanity."
Nicolas said Hope and Max will accompany him and Ana to his parents' house in Las Vegas for Father's Day.
Another dad, Mountain's Edge resident Bryan Burnstein, will be celebrating his second Father's Day this year. Maybe this time he will remember it.
His son, Ethan, was born last year on June 4. Burnstein said he forgot the holiday was even coming up.
"I didn't even realize it was Father's Day until I woke up, and Brooke (his wife) gave me a card," he said. "It was such a whirlwind the first couple weeks, it hadn't even dawned on me."
He is aware of and looking forward to this year's holiday and "every one after it."
"We've never been big Mother's Day (or) Father's Day people, but maybe this will change it a little bit," Burnstein said. "It's kind of nice to have another day to appreciate family."
Burnstein, the strength and conditioning supervisor for Cirque du Soleil, said he feels fortunate to be able to raise his son in Las Vegas.
"There are so many things you can do that provide activity and a stimulus and learning environment — something for him that he gets a laugh out of," he said. "Whether he remembers it or not doesn't matter."
A Michigan native who "ran away with the circus" six years ago, Burnstein said his plan for fathering will draw from his own childhood.
"We all just take the lessons we learned growing up and hope to some degree we can do one better ourselves," he said. "I guess I just try and think of all the things I had an opportunity to do and experience and try to make sure (Ethan) has the same opportunities."
Contact View education reporter Jeff Mosier at jmosier@viewnews.com or 702-224-5524.