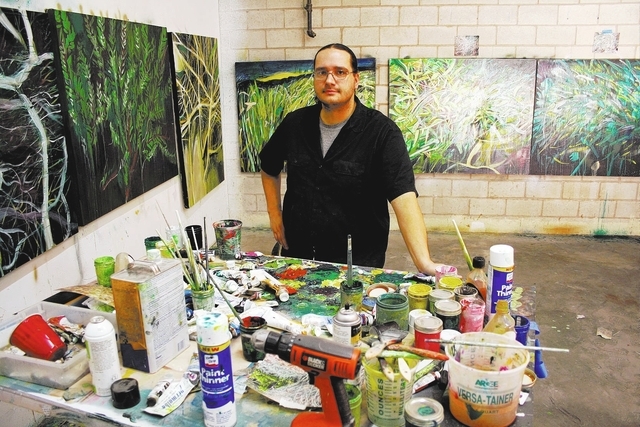 A new exhibit at the Winchester Cultural Center is expected to provide a glimpse into Clark County Wetlands Park at sunrise. It takes the viewer into an unusual path where the artist found his escape from the world.
Local artist Sean Russell returns for his second exhibit, titled "Unanimous Decision," scheduled for Nov. 19 to Jan. 10 at the Winchester Cultural Center, 3130 McLeod Drive. Similar to the name of the exhibit, Russell said he came to a decision when he changed the focus of his show.
"This exhibit is slightly different than previous exhibits," he said. "Normally, I focus on political and current events. When I started taking walks around Wetlands Park, all of that stuff just faded away, and I didn't care anymore."
Russell said he started taking morning walks around Clark County Wetlands Park before he had to teach classes at the College of Southern Nevada.
The Sunrise resident would head to the park at around 5 a.m. and walk under the dark sky. His walks would continue until sunrise before he cleared his head.
"Everything just seemed right in the morning there," he said. "It didn't seem to matter what was happening in the world. So I started to bring a camera and just take photos of these kind of abstract collections."
Russell's exhibit is set to feature eight paintings focused on the density of the foliage of plants.
A recent preview of his paintings showed loud and animated colors of stems and leaves intertwined into one entity.
"The landscapes are done in a manner that I've never seen before," said Darren Johnson, curator for the Clark County Government Center Rotunda Gallery and the Winchester Cultural Center gallery. "He incorporated all of his techniques with bold expressionist strokes. The paintings are very much alive."
Russell received his Bachelor of Fine Arts with an emphasis on sculpture at the University of Wisconsin-Stout and his Master of Fine Arts with an emphasis on painting at UNLV.
In order to support his passion for art, the 34-year-old works as a professor and assistant department chairman of the Department of Fine Arts at the College of Southern Nevada.
He teaches art appreciation, introduction to contemporary art and portfolio emphasis.
"Art appreciation is mainly for non-art majors," Russell said. "Initially, most of my students see that class as a barrier to get their degree. In the end, they find that art is more prominent in their lives than they thought. It becomes about how the world works and how we see things."
Russell, who moved from Wausau, Wis., has been living in Las Vegas since 2002 with his wife, Melissa, an art teacher for kindergarten through fifth grade. He has left his mark in the city with his large-scale painting and public art projects.
Past public art projects include a group effort led by Russell for a colorful and illuminated centennial mural titled "The Big V" at UNLV. The mural was removed in 2007 due to lack of upkeep on the part of UNLV, according to Russell's website seandavidrussell.com.
Russell participated in a group exhibit titled "Skull" this year at the College of Southern Nevada Fine Arts Gallery in which he shot bullets through a wax skull and then cast the skull in lead. The piece was in response to last year's Sandy Hook Elementary School shooting.
Russell recently finished a series of eight large paintings for Las Vegas City Hall. The paintings are based on photographs of people shaking hands with water splashing between them. Russell added that it took him between two and three years to complete.
"It's supposed to represent images of the citizens and the city coming together," Russell said.
Russell has exhibited his work nationally and locally. He enjoys working with different mediums inside a studio that he shares with other artists.
His work varies, depending on what inspires him at the time, although he said he gravitates toward political expression when the mood hits him.
An artist reception for "Unanimous Decision" is scheduled for 5:30 to 7:30 p.m. to take place on Nov. 22 and is set to include food and beverages.
"Art was the first thing that we did," Russell said. "Art is core to civilization and humanity. As a professor of art, it would feel disingenuous to my students to not continue making and exhibiting artwork."
Contact Sunrise/Whitney View reporter Sandy Lopez at slopez@viewnews.com or 702-383-4686.