ARTrageous Vegas! to celebrate expression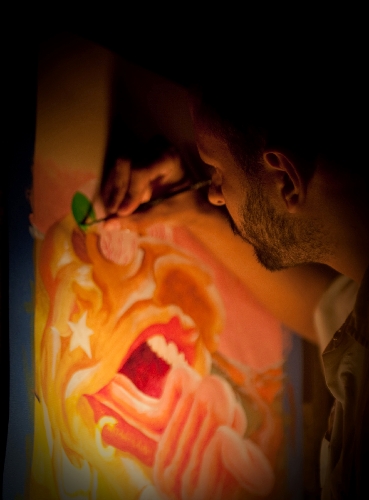 An upcoming gathering of music, culture and art promises to be truly ARTrageous.
The second annual ARTrageous Vegas! is planned for 6 to 11 p.m. July 23 at The Cosmopolitan Las Vegas, 3708 Las Vegas Blvd. South.
Organizers have pooled the talents and original works of local artists to help patrons answer the question, "What is art to you?"
Tickets are $25, and proceeds will benefit the Gay & Lesbian Community Center of Southern Nevada, 953 E. Sahara Ave., Suite B-31.
The show was formerly known as The Center's Art Show before founder Desiree Duncan thought to gift the experience to a broader audience.
"A lot of people feel like art is out of their reach, out of their league," she said. "We want people to know no matter what you do, you're probably an artist."
Visitors can expect a fashion show, body painting, burlesque, performance art, a juried art show and more, Duncan said.
The event is set to kick off with an art reception at 6 p.m., and performances and other attractions are slated to open at 7 p.m. There also will be a silent auction. Many of the works in ARTrageous will be for sale, too.
The Condesa rooms of The Cosmopolitan will be renamed the Salon de Rageous for the event, and each section will get a semi-French moniker, a la Salon de free style or Salon de art.
"The premise is to have an element and ambience for everybody," Duncan said.
The Gay & Lesbian Community Center of Southern Nevada has hosted an art show for the past eight years, and last year's inaugural ARTrageous raised $5,000, said Candice Nichols, center executive director.
"We're hoping having it at The Cosmopolitan brings in a lot more people because it's a great venue," she said. "The Cosmo theme is all about art."
Duncan said having the casino and hotel play host attracted a higher caliber of artists.
"The excitement for this event has grown substantially," she said. "This event grew faster than I thought it ever would. ARTrageous reache s farther than the queer community to the mainstream community."
For more information or to purchase tickets, email artrageousvegas@
gmail.com, call 733-9800 or visit thecenterlv.com.
Contact Centennial and Paradise View reporter Maggie Lillis at mlillis@viewnews.com or 477-3839.