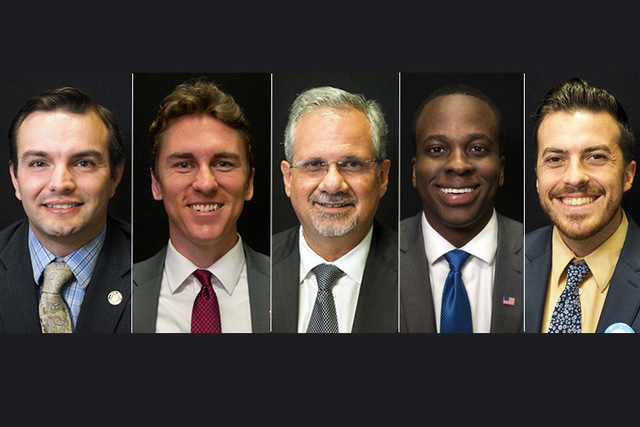 Four Democrats and two Republicans are running in the primary to represent Assembly District 2 in the Legislature next year, but the battle that is drawing the most attention is between GOP incumbent John Hambrick and challenger Clayton "Kelly" Hurst.
Hambrick, who served as speaker during the contentious 2015 session when Republicans won a surprise majority for the first time in 30 years, voted for Gov. Brian Sandoval's $1.5 billion tax package, which is primarily aimed at improving public education in Nevada.
With 12,015 Democrats and 14,011 Republicans in the district, the June 14 GOP primary battle is likely to determine who will serve in the seat in the 2017 session.
Because he signed the Taxpayer Protection Pledge in an earlier term, Hambrick is being targeted by anti-tax Republicans, as are other GOP lawmakers who voted for the tax package.
Hambrick defended his votes, saying that when he signed the pledge the state was in the midst of a severe recession when new taxes were not an option.
But in the 2015 session, Hambrick said he agreed with Sandoval that the economy looked strong and that it was time to increase education funding along with a number of reforms, including school choice and a structural change to the Clark County School District.
"It was a hard sell but it was the right thing to do," he said of the tax vote. "Business hasn't been hurt. All kinds of companies are looking at Nevada now thanks to Tesla and Faraday Future."
Republican voters in District 2 are more interested in education reforms than the tax package, he said.
But Hurst, who ran against GOP Sen. Patricia Farley in the 2014 primary, said he supported Hambrick until the 2015 session tax votes. Hurst also ran in 2012 in Assembly District 9 and brought a residency challenge against Democrat Andrew Martin, who won the race and served one term.
"I can tell you that when I am at the door with voters, and I explain that John voted for 100 percent of the taxes and fees last session, they are not happy," he said. "I just feel like he isn't representing the people in the district."
Hurst said he has signed the Taxpayer Protection Pledge and opposes the commerce tax approved last year because an income tax on a business' gross income will stifle investment.
"Before we start raising taxes we should have zero-based budgeting so we know where the money is going," he said. "So let's get control of spending now and make sure funds are being used effectively."
DEMOCRATS
On the Democratic side, four candidates, Owen Carver, Garrett LeDuff, Ronald Nelsen and Joe Valdes, are seeking the party's nomination. Valdes provided no contact information and could not be reached for comment.
Carver is a former Zappos employee who started his own Web development company.
"I would work hard to introduce new progressive legislation to empower our teachers and schools so they can expand our most successful education initiatives," he said. "I support innovative businesses that help grow and diversify our economy and I want to make it easier for everyone to take the steps needed to make Las Vegas a national leader in environmental sustainability and renewable energy."
While money might be a partial answer to improving student achievement, Carver said fixing the structural problems within the school district to allow innovation could make a big difference without additional expense.
Nelsen said he would bring his experience to bear in the Legislature to make government work better.
"I want to bring some common sense to the office," he said. "I would leave my door open and listen to everyone, then make a decision. I am not an ideologue."
Nelsen said he does believe public education needs more funding, but the money has to be spent efficiently. There is waste in the system that needs to be addressed, he said.
While he sends his children to a private Catholic school, Nelsen said he does not support the educational savings account program passed in 2015 that is now embroiled in legal challenges.
"It is an ill-conceived law that is unconstitutional on four different levels," he said. "We need to pass laws that can stand up to legal scrutiny."
LeDuff, an Air Force veteran on disability, said he is running because the Legislature needs people who are going to follow the will of the people.
"We need legislators who are going to do the right thing, use common sense and carry the state forward," he said. "We have opportunities here. We have potential. We need to take advantage of it."
LeDuff, who ran unsuccessfully in the 2014 primary against Democrat Marilyn Dondero Loop in the state Senate 8 race, said Sandoval and most lawmakers went against the will of the people when they voted for the big tax package, including the new commerce tax. The commerce tax had just been rejected by voters in 2014, he said.
"When legislators ignore the will of the people, they have to go," LeDuff said.
Contact Sean Whaley at swhaley@reviewjournal.com or 775-461-3820. Find @seanw801 on Twitter.