October 16, 2010 - 11:00 pm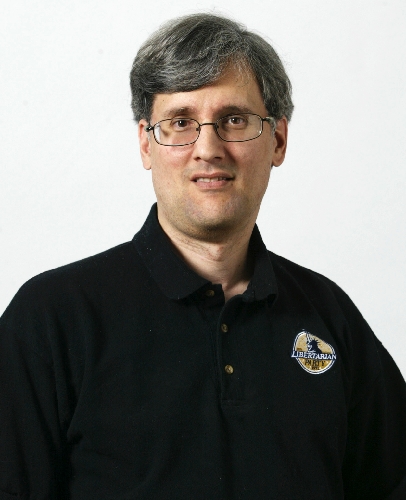 It's round two for voters in Assembly District 34, as the three candidates who squared off in 2008 are again vying for the seat held by Democrat William Horne since 2002.
Republican Richard Deeds and Libertarian William Hols return for the rematch in the heavily Democratic district.
Deeds, who lost to Horne by nearly a 2-to-1 margin two years ago, doesn't have any grand illusions about his chances, but he said someone needs to speak up against what he calls out-of-control state spending.
"I'm sort of the lone wolf screaming about everything that needs to be screamed," Deeds said.
With a financial crisis facing Nevada, services need to be cut to the "bare minimum" and taxes must not be raised, he said.
"It just seems that everyone wants to spend as much as possible, and they don't care they're hurting the taxpayer," Deeds said.
Education spending also is on his radar. Schools should have to operate with less money, even if that means larger class sizes, he said, recalling the more than 60 students in his classes in Catholic school.
The Clark County School District is top heavy with administrators and is paying salaries that are "out of line," he said.
Hols, who first ran for public office in Hawaii, said the state budget must be cut if the revenue isn't there.
"It has to be cut. There are no ifs, ands or buts," he said. "We can't raise taxes."
Hols said he would eliminate property taxes on owner-occupied homes and believes government should provide only the most basic of public services, such as roads, police and firefighters.
Although he doesn't consider himself a Tea Party member, Hols said he shares many of the same views.
"I've had enough of the two-party system," he said. "Democrats. Republicans. None of them are really getting anything done."
Horne could not be reached.
On a questionnaire, he said he has sponsored legislation to protect Nevadans from home foreclosures and opposed tax increases on working families.
His website mentions several bills he sponsored during the 2009 legislative session, including one that made strangulation in domestic violence cases a felony.
Contact reporter Brian Haynes at bhaynes@reviewjournal.com or 702-383-0281.
2010 GENERAL ELECTION VOTER GUIDE
ASSEMBLY DUTIES
The duties of Assembly members include passing legislation, reviewing, amending and approving the state budget submitted by the governor, and reviewing the performance of state agencies. They serve two-year terms. Candidates who prevail in this year's election will be paid $8,760 for the first 60 days of the 120-day regular legislative session. They also will receive $161 a day for living expenses and reimbursement for housing, travel and other expenses.