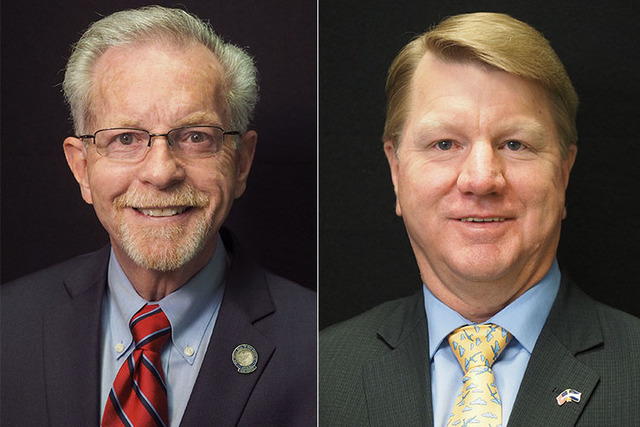 Assemblyman Glenn Trowbridge is in a primary fight to keep his seat.
The Las Vegas Republican was appointed to the position last year after his predecessor left to work for state Attorney General Adam Laxalt.
Now Trowbridge is one of many Republican incumbents being targeted for their participation in what has been called the largest tax increase in state history.
Trowbridge was identified by the Nevada Policy Research Institute, a Las Vegas-based conservative think tank, as one of five Republican swing votes without which the $1.5 billion package of new and extended general fund taxes could not have passed the Legislature in 2015.
And businessman Jim Marchant is calling him out for it. The voters he has talked to in his district are angry at the thought that consumers will ultimately pay the price of the tax increase, he said.
Marchant sees his campaign as a battle against establishment politics. He said Trowbridge and the other legislators who backed Sandoval's tax plan refused to even consider the alternative proposed budgets.
"It's easier to just pass taxes," he said. "We have to put legislators out there that will do the hard work, not kick the bucket down the road again."
Rather than raise taxes, Marchant said the Legislature should have been more concerned with eliminating wasteful spending and corruption and finding new revenue sources.
Trowbridge was not available for an interview, but in a response to a Las Vegas Review-Journal questionnaire, he said "there is no greater responsibility of parents, educators and taxpayers than to provide sufficient funding to educate our next generation."
Whoever wins the Republican primary will face the sole Democratic challenger, Las Vegas attorney Sean Lyttle, in the November general election.
The district has existed in current form in the northwest valley since about 2003, when it was first represented by a Democrat for several sessions.
In 2015, Republicans had a marginal advantage with 415 more registered Republicans than Democrats, suggesting third-party and nonpartisan voters (22 percent of the district in 2015) and voter turnout might be key for a November victory.
Contact Wesley Juhl at wjuhl@reviewjournal.com and 702-383-0391. Find @WesJuhl on Twitter.
Glenn Trowbridge *
Party: Republican
Age: 72
Occupation: Professional fight judge
Jim Marchant
Party: Republican
Age: 60
Occupation: Retired businessman