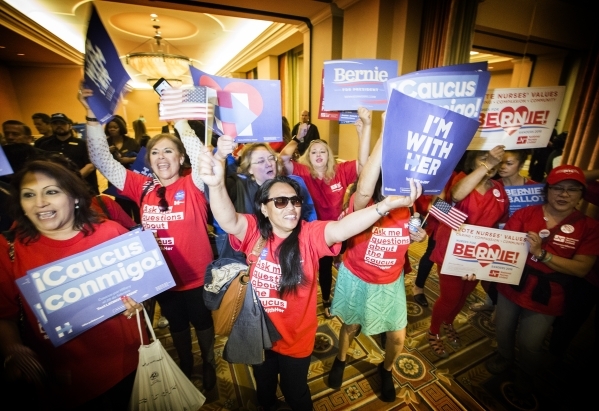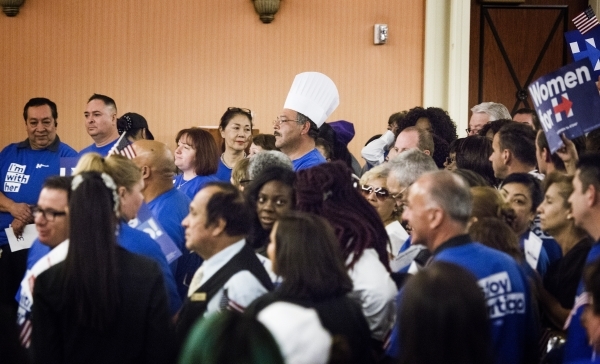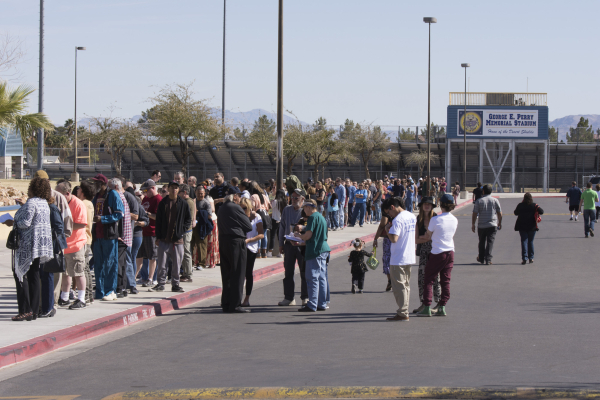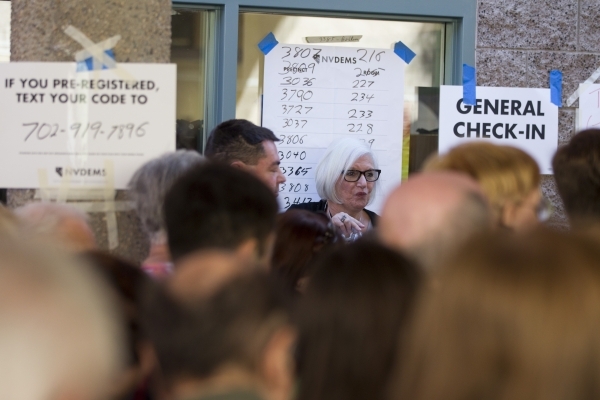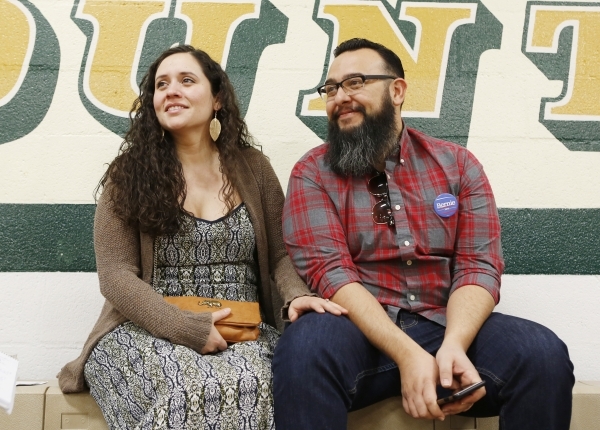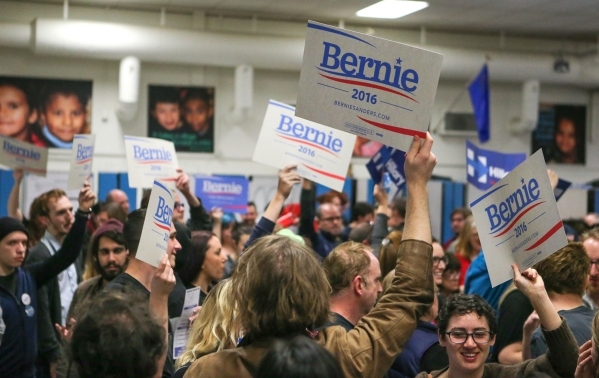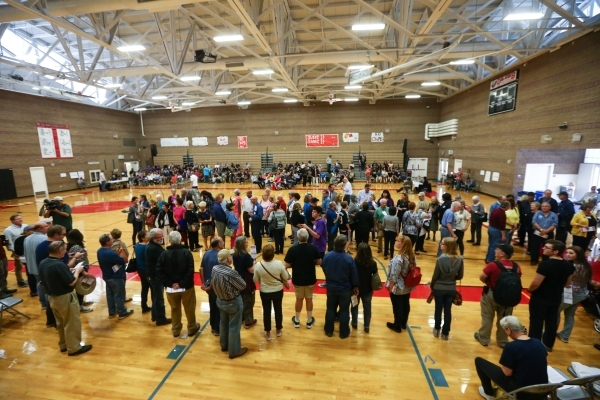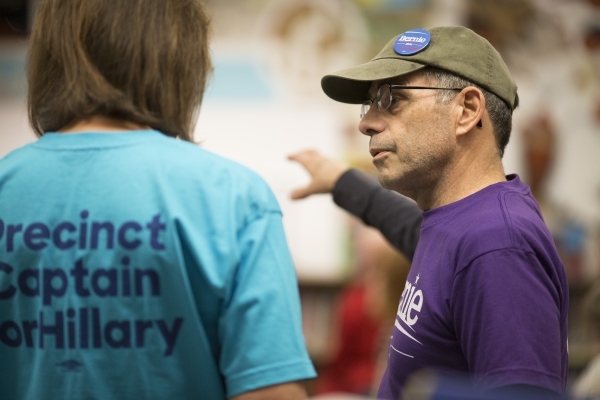 AT-LARGE PRECINCT AT CAESARS
In the heart of the Strip, hundreds of culinary workers and other Strip employees convened at six sites set up to allow them to break away from their jobs and caucus.
At Caesars, nearly 300 people lined up well before the noon caucus. Chants of "I'm with her" from Clinton supporters rang through the hall leading up to the ballroom, with "Feel the Bern" shouted in response.
Uniformed housekeepers, cooks and front desk clerks alike joined together, breaking from their work routine of serving tourists on the Strip to caucus for Bernie Sanders or Hillary Clinton.
Foreshadowing her victory statewide, Clinton's support was decisive — 190 supporters to 81 for Sanders in a Latino-heavy diverse caucus.
The oldest caucus-goer was likely Sherman Uchill, 82, who works part-time at an Apple store.
Uchill first voted in 1956 for presidential candidate Adlai Stevenson, a Democrat who lost to Republican incumbent President Dwight Eisenhower. He called Clinton "head and shoulders" above all other candidates, pointing to her life experience.
"She's smart," he said. "She's knows how to work with people."
—Ben Botkin
CHEYENNE HIGH SCHOOL, 3200 W ALEXANDER ROAD, NORTH LAS VEGAS
Some people couldn't stand the caucus process. Literally. A long line snaked out of the chaotic cafeteria, into the school courtyard and around the outside of building, leaving many on their feet, in the sun, confused.
Some got fed up and left.
"Nobody knows what they are doing. It's utter chaos," said Robert Shapiro, 75, who left with his wife. "We wanted to participate in the system and we can't."
The couple was alarmed after waiting in line to discover only two volunteers manning mobbed computers. People kept shouting instructions, and those instructions kept conflicting, he said.
Phil Falzone, 58, called the process "a nightmare," and also left.
"The people that are running it in there are running around with their heads cut off," he said
To alleviate the unrest, state Sen. Kelvin Atkinson, D-Las Vegas, opened doors to allow caucus-goers to wait in a shaded courtyard.
"Sit down! We can't have people leaving," he said with a smile. "I'm Sen. Atkinson. It's not my deal. I'm just trying to help."
He ran up to people who appeared dejected and asked "Where y'all going? You're not leaving?"
Then he ran to the cafeteria to fling open more doors, only to be told those who crowded inside were being sent back out.
The actual voting took place in the high school's small classrooms, where capacity proved a challenge.
"I don't know why they chose the smallest rooms on Earth," said Araseli Cortez, 24. Cortez, a California State University, Long Beach, was student and Sanders campaign volunteer observing her first caucus. She wasn't impressed.
"Caucuses suck for the voters," Cortez said. "On paper it sounds like a great idea."
— Bethany Barnes
ERNEST BECKER MIDDLE SCHOOL, 9151 PINEWOOD HILLS DRIVE, LAS VEGAS
Caucus chaos reigned.
At 12:30 p.m., half an hour after the scheduled start time, dozens of participants still waited to register. Caucus-goers who'd found their precinct rooms were restless to begin.
"This has been annoying, disappointing, enervating. It's just disorganized beyond anything you can imagine," said Susan Abramson as she stood inside the school cafeteria with 105 others from her precinct.
"We didn't anticipate so much turnout, which is a good thing," said Artie Blanco, Democratic National Committee member, as she guided people to their precincts.
One precinct captain who declined to give his name estimated that roughly 600 people caucused at Becker. He agreed the party didn't expect those numbers, and said a crush of people switching party affiliation to Democrat contributed to delays.
Retiree Nancy Dumont was one of those voters.
Dumont, 75, was a lifelong nonpartisan who flipped to the Democrat column Saturday to support Hillary Clinton.
"She's always fought for children and women," Dumont said.
Not everyone knew early on whom they'd support, and for some of those undecideds, the process was especially disappointing.
Registered nurse Norman Wright, 66, was the lone undecided caucus-goer inside the Becker cafeteria. At 12:45, when the room divided into two sides, Wright had to make a snap decision, with no debate or discussion.
He allied himself with Bernie Sanders as boos echoed across the cafeteria from the Clinton side.
"My daughter texted me about supporting Bernie," Wright said. "Who'll be living in the world 30 years from now? My daughter and my grandchildren. They're the ones who are going to inherit the world."
Wright said he was unhappy with the lack of discussion, and frustrated because there were no young adults — Sanders' core support — in his precinct.
"Where are the millennials?" he asked.
In the end, Clinton prevailed. Over six precincts, the vote total was 271 for her; 98 for Sanders.
— Jennifer Robison
RANCHO HIGH SCHOOL, 1900 E. SEARLES AVE., LAS VEGAS
One reason Nevada is viewed as a bellwether state is a demographic that parallels the U.S. population. That diversity — Young. Old. Black. White. Hispanic — was on display at Rancho High's 10 precinct caucuses.
You could also include big and small. In two precincts, only two people showed up, one for each candidate. In keeping with Nevada election law, the ties were decided by card draws. Sanders won both.
While the registration line was more than 100 deep most of the morning, the crowd sang Christmas songs on a 70-degree day pass the time — when not shouting election slogans. Sanders won that, too, because somebody found a bullhorn.
Once inside, the caucusing was mostly orderly.
"I think just about everybody who came in knew who they were going to support before they got here," said Brent Buffone, 23 and a first-time precinct chairman whose caucus went Clinton 5-3.
"I wish we could have had more debate so that we could talk about the issues and the differences in the candidates," Buffone said. "But in the end, it's all about neighbors getting together and sharing ideas and our humanity."
But not everybody was happy.
Lona Harris, a precinct captain for Sanders, said Clinton backers violated the rules by passing out small campaign stickers and food that attendees brought inside the building.Feeding Clinton supporters — but not Sanders backers — was particularly galling.
"Hillary already has an overwhelming advantage," Harris said. "Why does she have to cheat?"
— Richard N. Velotta
K.O. KNUDSON MIDDLE SCHOOL, 2400 Atlantic St., Las Vegas
Engaged to be married in exactly a month, Ashleigh Pacheco, 30, and Jose Sotelo Jr., 31, started Saturday morning on different political pages.
He wore a Bernie Sanders button on his plaid shirt. She carried no campaign gear, and professed no allegiance.
"I'm leaning. I want to experience the caucus," she said. "I want to hear what people have to say."
He didn't try to sway her to Sanders.
"There isn't much to create a divide," Sotelo said. "It's minuscule differences in our eyes."
Both native Nevadans and school teachers, they started dating about eight years ago, a few months before the election of President Obama, whom they both supported.
When asked what he likes about Sanders, Sotelo replied: "I like that he has room to negotiate."
As for his fiancee's view: "I believe very much, and I believe in making a better world for the Middle Class, and I think that's where Bernie really gets me. But I like a lot of Hillary's policies. I like her experience. And Hillary is really an advocate for women's rights."
As people gathered, they climbed to the top of the gymnasium bleachers, where supporters for each candidate were expected to group together.
"Well, is this the first time we're not going to sit together?" he asked.
She stayed quiet, and remained by his side.
"I was always leaning Bernie," she said.
Most of the precincts at the school leaned otherwise.
Seated in the cafeteria and wearing a Clinton 2008 T-shirt with two Clinton stickers and clutching a Clinton campaign sign, retired hairdresser Donna Mathre, 69, called herself a "total feminist," said said "We need a woman in office."
But Justin Dworak said he fell asleep Friday night, uncommitted. At 10:20 a.m. Saturday he rolled out of bed, hungover, and decided to support Sanders. He arrived just before noon, in a blue T-shirt and red shorts — the last in before doors closed.
As Clark County Commissioner Chris Giunchigliani signed his red-and-black "end of line" card, he seemed still on the fence.
"I could walk to the Hillary side and not feel guilty," he said. "It seems they're more or less the same."
— David Ferrara
LIBBY BOOTH ELEMENTARY SCHOOL AND UNIVERSITY OF NEVADA, RENO
A Hillary Clinton supporter who couldn't wait around kept the former secretary of state from picking up any delegates from one Reno precinct.
It was a clean sweep of 14 for Sanders in Precinct 3009. Clinton backers fell one short "viable," even after convincing two undecided voters to join their ranks.
"One of our folks we thought was going to the bathroom and apparently had somewhere she had to be and left the building," said Brian Birch, precinct chair for the Clinton campaign. "And that left us one person short."
Birch said they were expecting about 70 people. Instead, 177 came in.
A loud cheer from the Sanders camp capped the two-hour caucus at Libby Booth Elementary School in an older, middle class neighborhood near the heart of downtown Reno.
The crowd, a mix of young, old, white and minorities, was overwhelmingly in Sanders' corner.
Jenny McKay, 46, who came to the United States from Northern Ireland 20 year ago and gained her citizenship, reveled in the process.
"I caucused in 2008 for Obama," she said. "I thought it was so wonderful! Democracy in action."
This time she's behind Sanders.
At times it was organized chaos. In one room with less than two-dozen people, the caucus worker stepped in when sassy banter was exchanged between Clinton and Sanders supporters.
"Whoa, whoa, whoa," piped up Kathryn Reiter, a volunteer with the state Democratic Party. "This is the Democratic Party. We're all Democrats and we will support the nominee."
— Sandra Chereb
DAVID M. COX ELEMENTARY SCHOOL, 280 CLARK DRIVE, HENDERSON
Hectic, beyond stressful and a mess — that's how Robert Arroyo, site leader and a temporary precinct chair described his day. Only one other precinct chair showed up on time to help set up the sign-in area and post notices.
Arroyo said he received one hour of training for his job and thought the party would send reinforcements. Instead, he was told to draft other volunteers.
Voters began filtering in. One other precinct chair arrived, but Arroyo was still three short, he said.
"It was just not enough people to sign everybody in because once you got behind on that, it was hard getting to the rooms, starting the caucuses," he said.
He was able to get the sign-in desk staffed as the line snaked through the school halls, but recruiting precinct chairs took longer. Voters were split among six rooms, where they sat waiting in child-sized blue desk chairs long after they were scheduled to begin caucusing.
"People were getting upset. They were coming, yelling at me, complaining," he said.
In the school's library, where precinct 7685 met, Melissa McGovern held her son Tommy, 3, as she listened to both sides trying to win her vote.
She told the crowd she loves Bernie Sanders' ideas, but she felt Hillary Clinton was the candidate dealing with reality.
In the end, she decided to go with Bernie, to the delight and applause of his supporters.
"I kind of went with hope-and-change again," she said.
In the end, though, the room swayed 43 votes for Clinton and 24 votes for Sanders, with five of the precinct's eight delegates going to Clinton.
— Pashtana Usufzy
DEL E. WEBB MIDDLE SCHOOL, 2200 REUNION DRIVE, HENDERSON
Nevada's senior U.S. Senator was officially undecided when he arrived at his local caucus, and left in the same condition.
Sen. Harry Reid said he didn't want to endorse anyone, out of fairness to each.
"I'm staying out of it," said Reid, promising to declare his feelings later.
His fellow Democrats were much less reserved: Clinton won 8 out of 10 precincts meeting at the school.
In the line to enter the school Saturday morning, Nancy Kim, 33, of Green Valley supported Hillary Clinton. Kim cited Clinton's foreign policy experience as a major plus.
"While I like Sanders, I need to back someone with more foreign policy experience," she said.
Two lines over, Kim's husband Kenneth Tierney, 32, cradled their 14-week-old-old in one arm as he argued that the senator from Vermont has a better handle on domestic issues.
"I'd rather fix what's broken in the U.S. first," he said.
While most precincts had decided by 1 p.m., precinct 1511, meeting in the cafeteria, still had six undecided voters late in the process.
Valley teacher Geoff Walker, 39, was one of them.
Walker listened as Clinton and Sanders supporters made fifteen-minute pitches. Clinton supporters boasted the former secretary of state's foreign policy experience and scoffed when Sanders supporters said Clinton would lose to any Republican nominee.
"I don't wanna do this," muttered Walker as he marked an "X" beside Clinton on his ballot. "I'm doing what I gotta do to win. I just don't know if he can win."
— Alex Corey