Author combines romance, history in 'The Bungalow'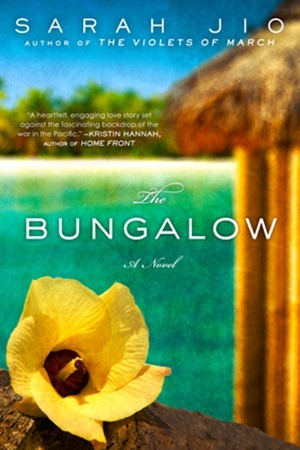 Author Sarah Jio takes readers back to 1942 in her novel "The Bungalow." The summer of '42 finds the world in flux with the war ramping up in Europe and in the Pacific. The year also finds 21-year-old Anne Calloway living a quiet, sheltered life in an upper-class neighborhood of Seattle.
Anne recently graduated from nursing school and is newly engaged to the wealthy and handsome banker Gerard. The longtime childhood friendship between Anne and Gerard has evolved into a warm relationship, but Anne keeps having moments of doubt. She longs for passion, a spark of romance, something to tell her that she is doing the right thing.
Then on the day of her engagement party, Anne's best friend, Kitty, shows up hours late with a huge announcement. She signed up for the nursing corps and will soon be headed to the South Pacific. Spontaneously, Anne agrees to go with her friend — maybe this is the adventure she needs in order to face her carefully planned future.
Once on the tiny island of Bora Bora, Anne finds her friendship with Kitty suddenly strained as Kitty seems determined to meet the man of her dreams while they are stationed there. But it is Anne who finds her own bit of romance on the island, in the form of Westry Green.
Unable to resist the emotions she feels, Anne is soon sneaking away to see him in a hidden tropical bungalow they discover on the beach, a former artist's retreat that has a mysterious and somewhat forbidding past.
Anne and Westry's relationship soon blossoms into a passionate romance. Caught in a time of war, they know they can't afford to waste a moment and in the tiny bungalow the two carve out a little piece of paradise.
But one night, the two lovers witness a horrible crime. Knowledge of this brutal act and the necessity of keeping it a secret takes a toll on Anne and Westry's relationship. When they are parted by the war, they are also separated by an ocean of time and misunderstandings. They each return to their own lives, but Anne clings to the one memento of her life on the island, a gold locket worn around her neck.
Now, 70 years later, a letter arrives for Anne, postmarked Tahiti. There has been an inquiry into a murder that occurred while Anne was on the island, and the writer urges her to return, that there is something waiting there for her. As old secrets and memories come flooding back, Anne agrees to travel to the island where she lost her heart, hoping to at last put all lingering doubts and worries to rest. What she finds are answers that are surprising, heart-breaking and ultimately life-changing.
Jio's beautiful novel "The Violets of March" was one of my favorite books of 2011. With her second novel, "The Bungalow," Jio once again combines a lovely romantic story with a bit of history and a twist of mystery to create a story that will further endear her to readers.
Jio has a magical way of telling a story that captures the reader's heart and soul. "The Bungalow" is not only a historical romance in terms of the era in which the majority of the story is set, but it also includes an intriguing mystery that has many unexpected turns.
Jio's main characters of Anne and Westry are charismatic, but the fascinating secondary cast — Anne's dysfunctional family, her beloved family servant, and her friend Kitty's own passel of problems — keep the action moving. This is truly a novel to be savored and enjoyed.