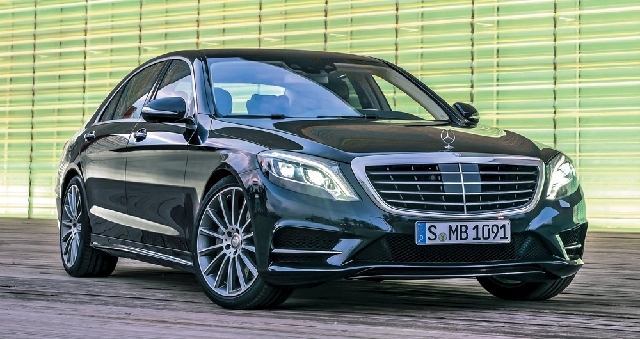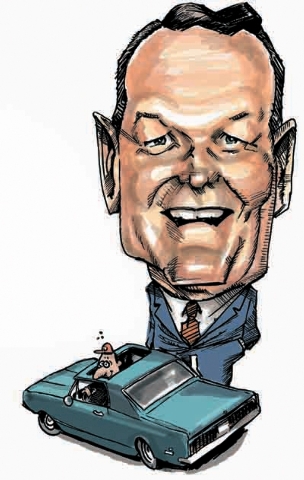 Drawing Board
2014 Mercedes-Benz S-Class: With the demise of its high-end Maybach line, Mercedes-Benz is counting on an all-new premium-level S-Class — both regular- and long-wheelbase versions — to be its luxury torchbearer. Among the many interesting features, the car is completely light-bulb-free, using a total of 391 light-emitting diodes for all interior and exterior illumination. An array of engine choices will be offered, starting with a 455-horsepower, 4.7-liter V-8 followed by V-12 engine, a gas-electric hybrid and a diesel option. The new S-Class arrives later this year.
Auto Trivia
n About 15.5 million tons of salt are applied to North American roads every winter, 5.5 of it in Canada.
n Motorphobia is defined as a fear of automobiles. It is a very real affliction but can be treated and controlled primarily through therapy.
Who am I?
To guess his identity, read the following clues.
1. He was born in Germany in 1942 and made millions of dollars selling and installing sunroofs in North America.
2. As head of the American Sunroof Co., he would eventually be credited with popularizing auto accessories.
3. By 1978, ASC had modified 1.6 million American-made cars.
4. ASC even designed the folding metal roof for the Chevrolet SSR truck.
5. Although he died in 2001, his company continued on with more than 5,000 employees worldwide.
Still stumped?
Despite his success and that of his company, Heinz Prechter suffered from severe clinical depression and took his own life in 2001. Seven hundred people came to the funeral.
What's up, auto doc?
In terms of saving fuel, there's a common misconception that hybrids are automatically better than regular vehicles. That comes with a condition. Like any other vehicle, if you have a heavy foot, the hybrid advantage is minimized. And because most are designed to have the electric motor assist the gasoline engine while accelerating at low speeds, hybrids are not much better than "normal" economy cars on the highway.
If most of your driving is on the highway and you're looking to save fuel, consider a modern diesel, which is also peppy and thrifty around town. Although diesels are primarily the domain of the German automakers, Mazda plans to add a diesel to the Mazda3 line, and Chevrolet has added a diesel version of the Cruze. The point is that although "economy" and "hybrid" go together, hybrids are tailored for feather-footed urban commuters. If you don't fit that description, a hybrid might not be the best value and there are other options.
eBay watch
1964 Rambler American 440 convertible, sold, $6,400: Other than the two-seat AMX, American Motors products from the 1950s and 1960s aren't as desirable as more mainstream domestics, but they make ideal models for budget-minded collectors. The Rambler American ragtop, part of a lineup that also included a hardtop coupe and a station wagon, featured stylish lines and relatively peppy (and fuel-efficient) 127-horsepower, six-cylinder engine. This extra-clean 30,000-mile example elicited plenty of bids but ultimately sold for a very fair price.
Top Gear
DashCommand, Palmer Performance Engineering, www.palmerperformance.com:
The DashCommand interface by Palmer Performance Engineering turns the Apple iPhone/iPod/iPad into a high-resolution display to keep tabs on how your vehicle is performing. Dash Command software taps into the Apple device's built-in GPS and accelerometer functions to provide motion-based activity readouts — skid-pad, inclinometer, horsepower and torque readings — as well as fuel consumption (including distance and time to empty).