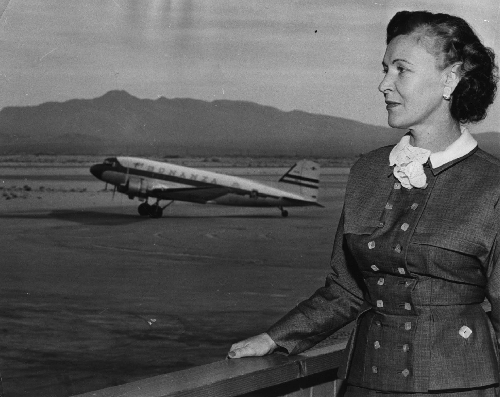 Much has been said and documented about late Las Vegas businesswoman and aviation pioneer Florence Murphy.
But it was her family that had more to say about the first Nevada woman to receive a commercial pilot's license and the first woman in the United States to serve as a vice president of a regularly scheduled airline.
Darcy Wellington was Murphy's granddaughter, and the pair spent countless hours together, including the moment Murphy died in 2006, Wellington said.
"She took more care of me than my mom did," Wellington said. "I spent most of my growing up years with Nana. She was there for my first everything. We were very close."
Murphy outlived her only child, Wellington's mother, and had two grandchildren and several great-grandchildren. Her grandson, Robin Sendlein, is a former linebacker with the National Football League's Minnesota Vikings, and his son, Lyle Sendlein, is a center for the Arizona Cardinals.
"She was extremely proud of us," Wellington said.
Two of her senior-aged nieces live in Las Vegas, as well.
The family intended to videotape Murphy talking about her life. She moved to Las Vegas in the mid-1930s, and her first phone number was A34, Wellington said.
She lived on 15th Street for years and sold the house to her daughter and son-in-law. Wellington grew up in the home.
"She talked about coming to town and what a small town it was," she said. "She knew everyone."
She, her husband and a business partner opened what is now the North Las Vegas Airport. Wellington said their choice to sell the prime real estate was "bittersweet" to Murphy.
"She had a love of flight and loved the airport and loved what she was doing," she said.
She was widowed in 1959 and never remarried.
Colanthe Avenue in Spring Valley was named for Murphy's legal first name, used at her request. She allowed friend and developer Lawrence McNeil to use her name in a new subdivision on the condition that he name a road after his little-known middle name, Gilmary.
"The older she got, she was running the show," Wellington said.
Murphy supported herself as a real estate agent and dealt in residential and commercial properties. She and Wellington were business partners for 10 years.
"She had a magnificent mind, and she was good with finances and investing," Wellington said.
She was the one of nine children and the last of the lot to die, Wellington said.
Murphy would have been 100 on Dec. 13, Wellington said.
"She continued to sell real estate almost until the very end," she said. "She accomplished so much and was the matriarch of our family. She was just a great lady."
Contact Centennial and North Las Vegas View reporter Maggie Lillis at mlillis@viewnews.com or 477-3839.
For more
To read more about Florence Murphy and Colanthe Avenue, check out last month's Naming Las Vegas at tinyurl.com/colanthe.