Bascom Group buys first local apartment complex
October 6, 2013 - 2:58 pm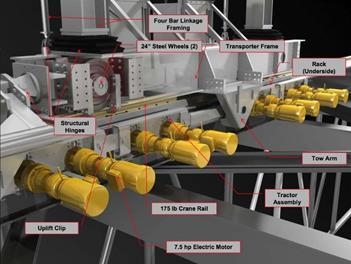 A California private-equity firm has invested in its first local apartment complex.
The Bascom Group of Irvine, Calif., bought Broadstone Montecito, a 336-unit, Class A community at 9745 Grand Teton Drive, for $36.6 million.
"We are excited to be extending our presence into Southern Nevada," Bascom principal Scott McClave said. "Montecito represents a great opportunity to purchase a well-built, high-quality property in the trough of a rebounding market. Market fundamentals will continue to improve dramatically in the Las Vegas market and we look forward to creating a place our residents can call home."
Bascom has bought nine apartment complexes in 2013, mostly in other Western states.
Managing partner Jerome Fink said Broadstone Montecito won't be the company's only local purchase.
"We see a strong recovery in the Las Vegas market and look forward to growing our presence there," Fink said.
The sale price per door was $108,854. That's well above the $65,000 average in the market this summer. The property's price lift may have come from its newer age, as well as its location.
Alliance Residential built Broadstone Montecito in 2007. The property has 17 three-story buildings on 15 acres, and it's near employment centers, such as Centennial Hills Hospital and Medical Center, and close to U.S. Highway 95 and the Las Vegas Beltway. It's also near several planned or under-construction master plans, including Providence.
Chris Bentley and Melissa Salas of ARA Real Estate Investment Services listed and sold the apartment complex. McClave and Dennis Lim represented Bascom in-house.
CIBC provided debt financing. The funding was arranged by Brian Eisendrath and Troy Tegeler of CBRE Capital Markets.
■ Marcus &Millichap Real Estate Investment Services brokered the sale of a Walgreens drugstore at 4905 W. Tropicana Ave. Tina Taylor and Ray Germain coordinated the $5.9 million sale of the 15,016-square-foot store. The buyer was an unidentified real estate investment trust. According to Clark County assessor records, the seller was 4105 Trop LLC, a company registered to Walgreens' corporate headquarters in Deerfield, Ill.
The company bought the property in 2003 for almost $5.1 million.
"There is a severe shortage of solid, net-leased properties like this, which played a key role in enabling us to secure multiple offers within only one week of marketing and finally selling to one of the most reputable buyers in the market," Germain said.
■ Sun Commercial Real Estate closed several recent deals.
Jeff Berg and Mica Berg represented One Nevada Credit Union in its sale of an 18,334-square-foot building to Kirvin Doak Communications. Kirvin Doak bought the property at 5230 W. Patrick Lane for $1.32 million. Mike DeLew and Greg Pancirov of Colliers International represented Kirvin Doak in the deal.
The Bergs also represented landlord Teddy Enterprises and Associates in its lease to Craig Rose, DDA, and Sonya Ruiz Rose, DDS. The $308,562 lease was for 2,483 square feet of office space at 8490 S. Eastern Ave.
Mikel McCullough, Cathy Jones, Paul Miachika, Jessica Beall and Roy Fritz represented landlord Red Rock Capital LLC in a lease expansion and extension with Keller Williams Realty Southwest at 6180 Brent Thurman Way. Keller Williams expanded its space to 17,143 square feet, and extended its lease as well. The expansion was valued at $732,683, while the extension was worth $563,449.
Jeff Berg, Mica Berg, Cathy Jones, Paul Miachika, Jessica Beall and Roy Fritz represented landlord CECO Enterprises LLC in its lease to Fitness by Boris. The lease, valued at $225,120, was for 3,200 square feet of space at 3306 St. Rose Parkway.
Contact reporter Jennifer Robison at jrobison@reviewjournal.com. Follow @J_Robison1 on Twitter.